Young Carti Global
The 22-year-old rapper has already gone through multiple eras and become a generational icon. Tucked away at home in Atlanta, he says he's growing up and making the best music of his life.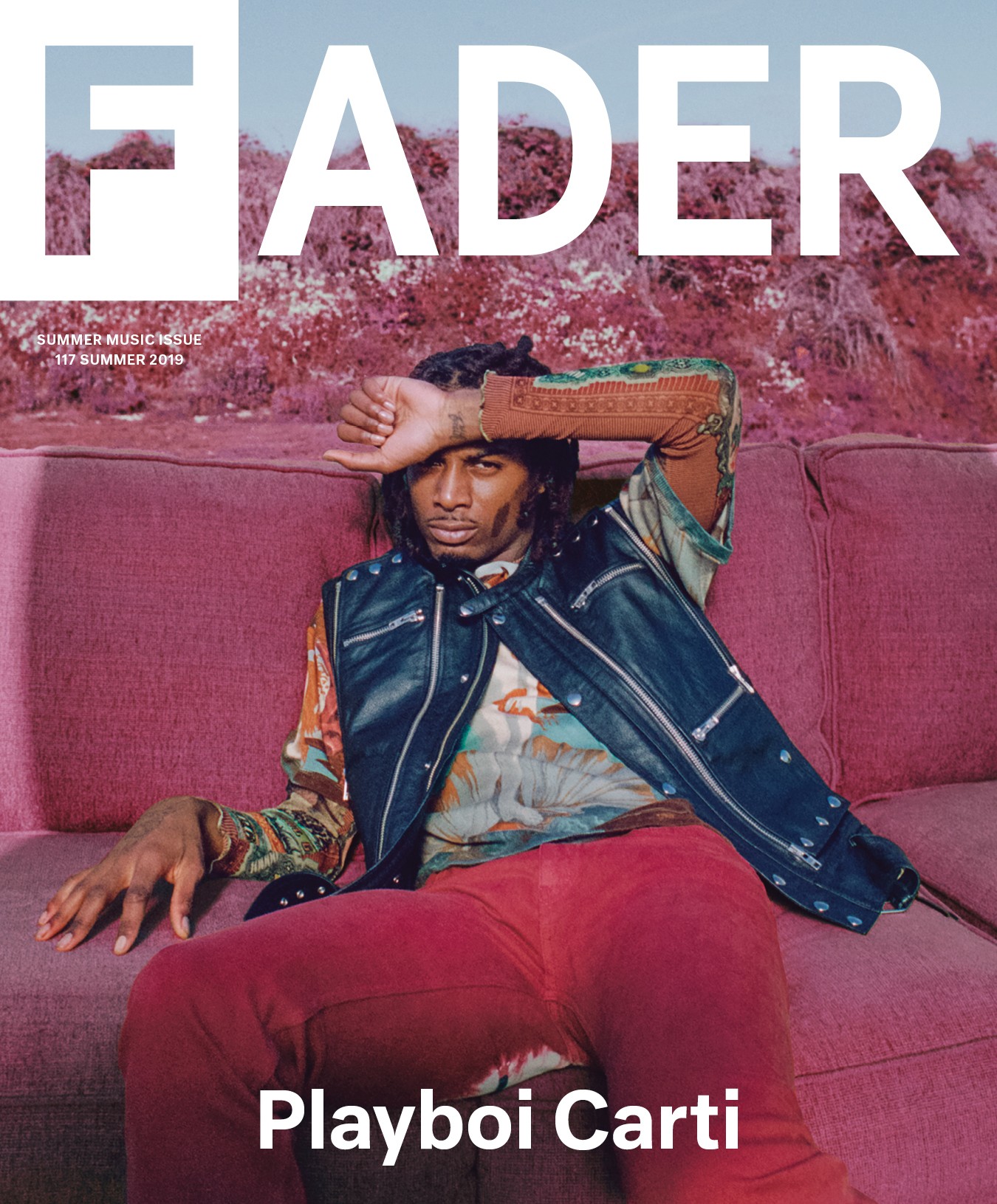 Buy a print copy of the Playboi Carti issue of The FADER, and order a poster of his cover here.
---
Playboi Carti lives in the woods — at least it feels like it at first. Almost half of Atlanta is covered by trees, and his house, located in the upscale neighborhood of Buckhead, feels especially shaded. It's at the end of a winding driveway and surrounded by dense forest on every side, hiding the neighbors from view. On a muggy spring afternoon, Carti is standing on the front porch, looking up through the branches at the storm that's rapidly rolling in. He's dressed in a blue and black plaid shirt and Vetements sweatpants; his double-stranded dreads, bleached blonde just the week before, are now the color of a Cherry Coke can.
"I'm thinking about cutting some of these trees," he says. Heavy rain starts pouring onto the roof above us, and his eyes shift to his manager's white Porsche SUV, which is parked directly under the tallest tree in the yard. "If one of those fuckin' branches falls, it's over with."
Inside the house, the living room looks like it's barely been lived in. There's a furniture set covered by a sheet, a print of the infamous photoshopped image of Martin Luther King Jr. throwing up the middle finger, and a brightly painted piece of abstract art. The kitchen shows more signs of life: big glass jars filled with cereal and cookies line one shelf on the wall, and old photos of a white family sit in frames on another. A tuberose-scented candle, Carti's favorite, is burning on the wood-topped island in the middle of the room.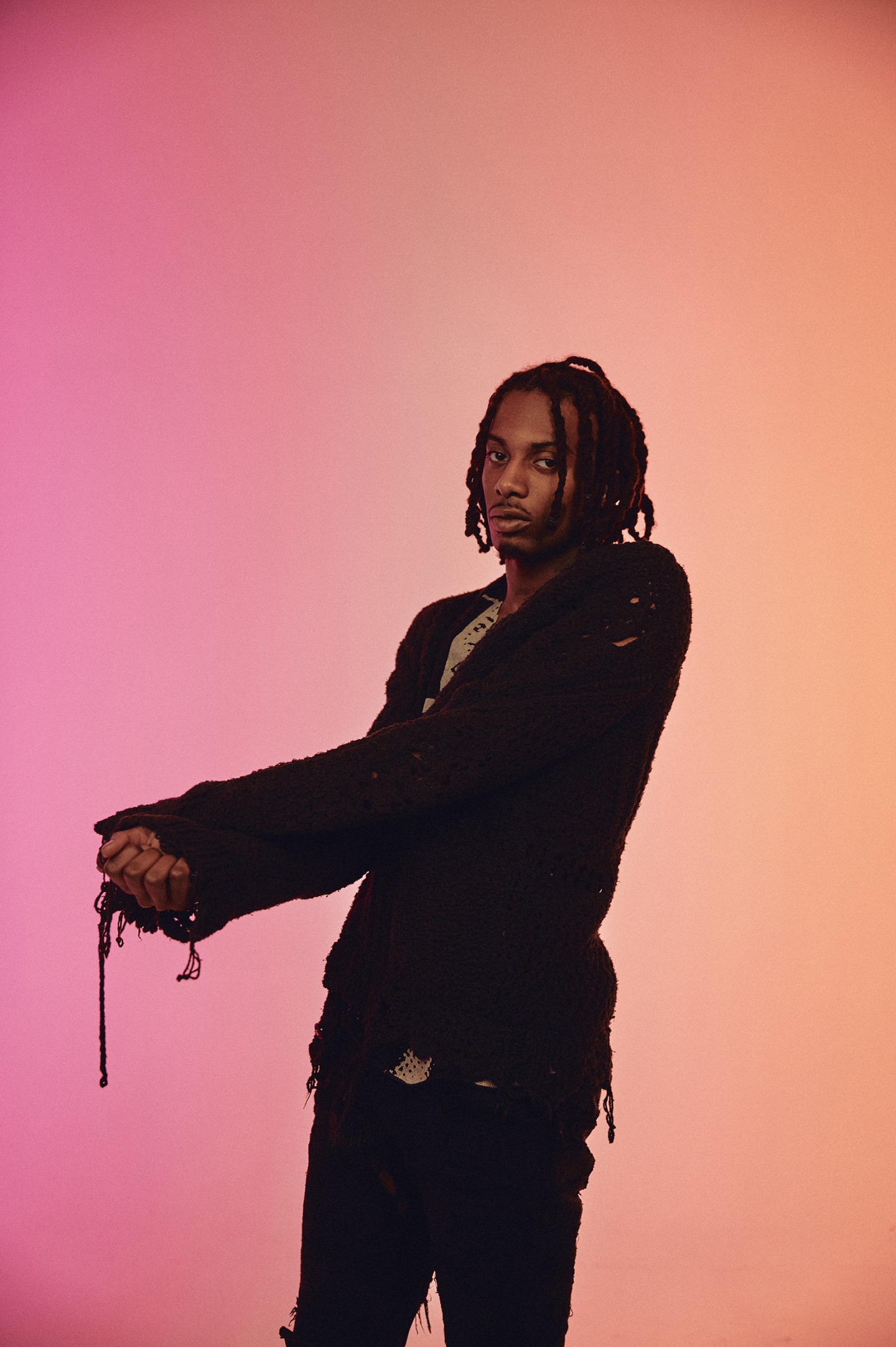 The Atlanta native and his girlfriend, the rapper Iggy Azalea, have been living here for the past six months, having relocated from Los Angeles. The family photos are Iggy's — Carti says she handled the interior decorating: "I ain't do all this, that was her" — but there are a few clear signs that he lives here too. On the wall near the refrigerator, there's a framed gun range target sheet with a cluster of mostly accurate bullet holes in the outlined head and chest. Carti says the gun range is one of the few activities that gets him out of the house. Besides going to the studio, there isn't much for him to do in his hometown. He likes it that way.
When I first arrived at the house, at around 5 p.m., Carti was still waking up. In between back-to-back weekends of Coachella performances, he had been up for days recording in L.A. with Metro Boomin. Though the two have known each other for years, this was their first time working together one-on-one. "I got a whole 'nother tape with this nigga," Carti says. "That's why my head's fucked up. This shit could go on my album, but if it goes on the album, then we gotta change the whole thing."
The album he's talking about is Whole Lotta Red, his highly anticipated third full-length and second studio album. It's been a year since his last release, 2018's Die Lit, and his fans have been clamoring for new music. On social media, accounts dedicated to covering the rapper's every move have been diligently ripping previews of unreleased music from Instagram, reproducing the beats, and leaking songs when they can get their hands on them. After he debuted his new red hair at the second weekend of Coachella, fans posted pictures on the Playboi Carti Reddit page, speculating that it was a sign of the album's imminent release.
Outside, as the rain falls in thicker drops, Carti walks to the end of the porch and looks down to the side of the house.The black Lamborghini Huracán Iggy bought him last Christmas is safely parked in a covered garage, away from the storm. When I ask if him if Whole Lotta Red is finished, he shrugs: "I could be done if I wanted to. I'm just trying to top shit. I might make the hardest song ever tomorrow."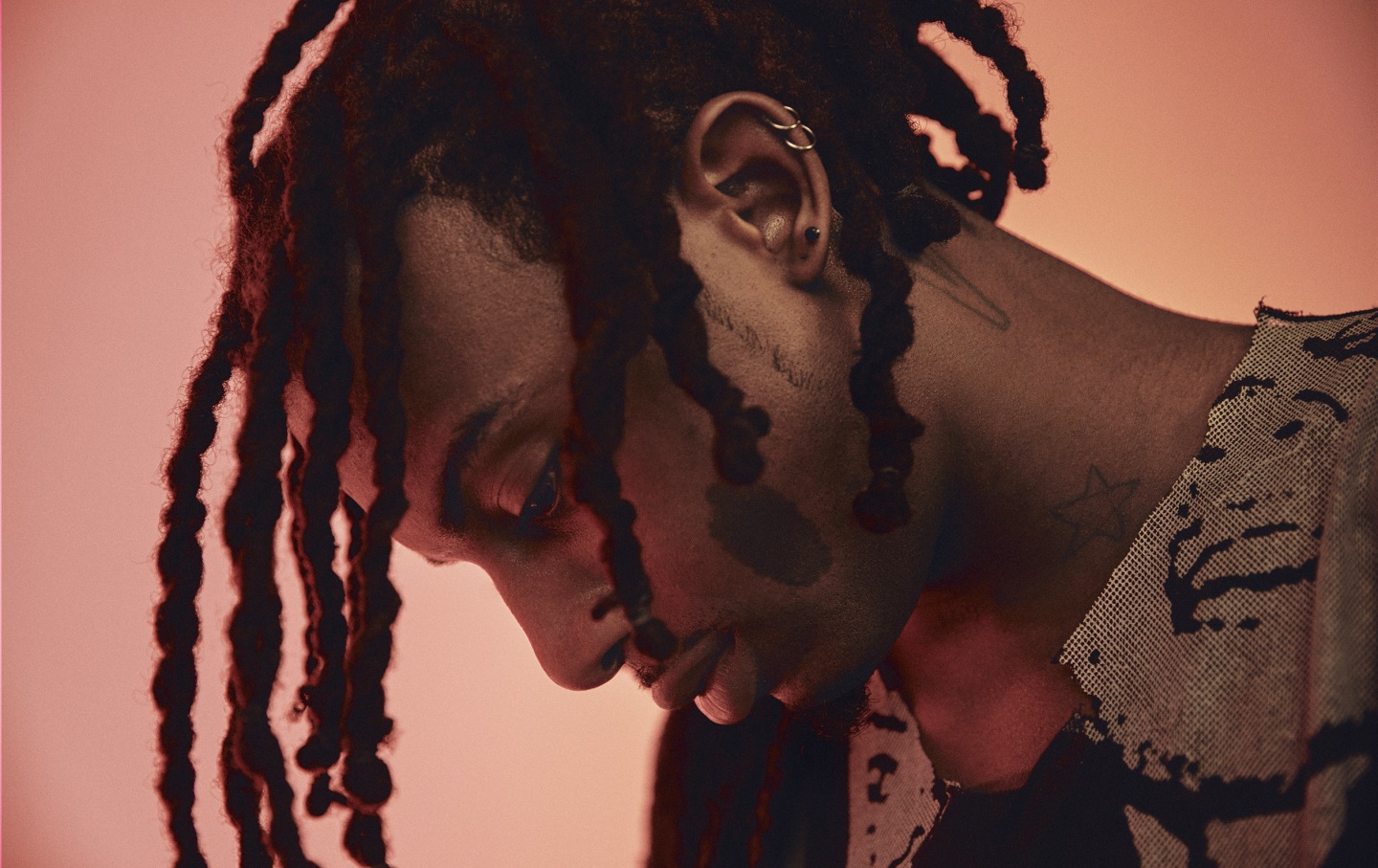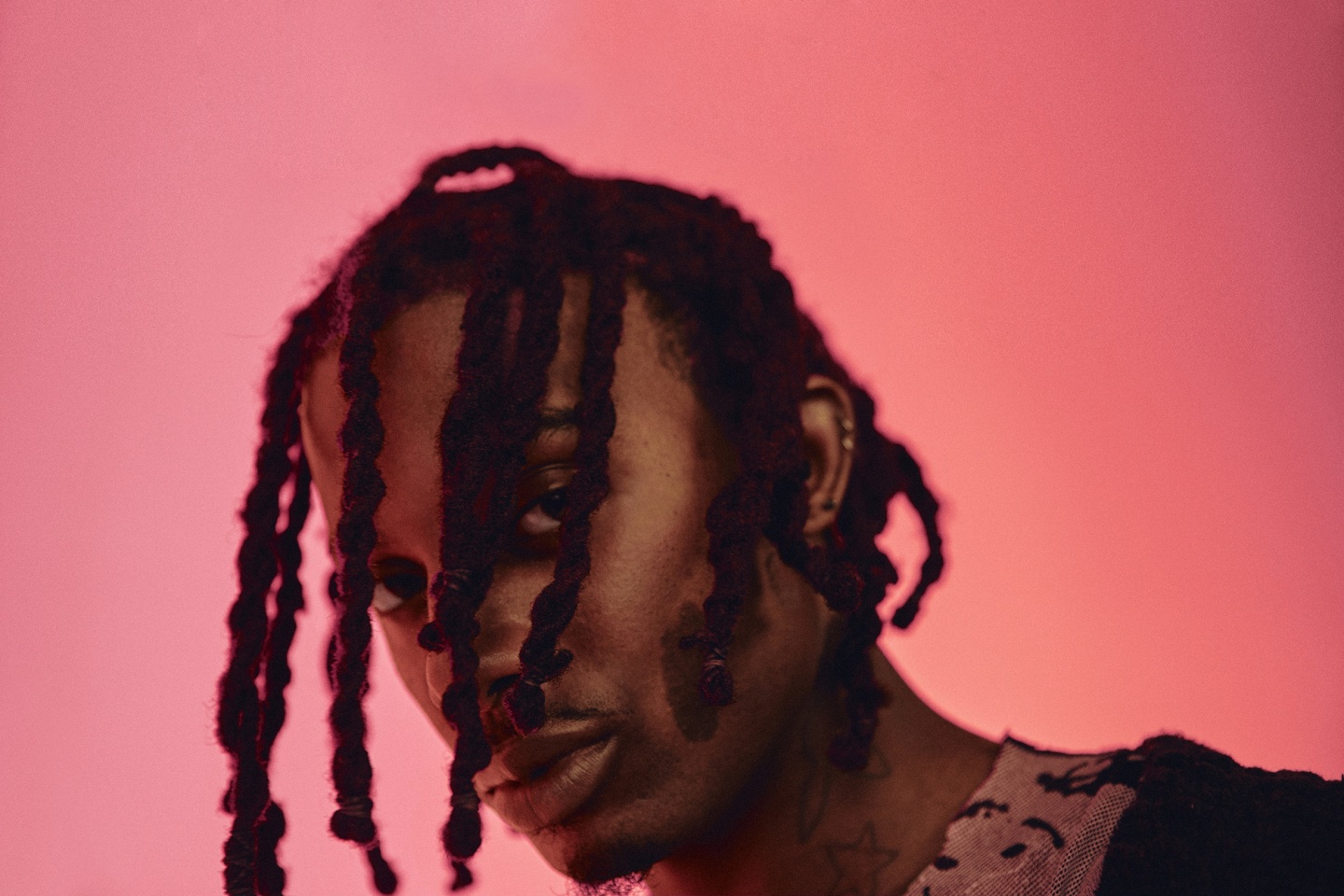 Carti, who once referred to himself as the "Jay Electronica of mumble rap," is used to making people wait. Before the release of his self-titled mixtape in 2017, he spent three years building a feverish buzz off SoundCloud loosies and guest appearances without ever dropping a project. The mixtape, or its absence, came to take on its own mythology; when it finally did come out, it seemed to signal that SoundCloud, and the lo-fi rap sounds that had been proliferating on the platform for years, had found their way into the mainstream. Carti's flow — short and repetitive bursts of words punctuated by constant ad-libs that become part of the beat rather than standing on their own — predictably angered a set of rap purists. Meanwhile, his fans thought he had invented a new genre of music.
Two years later, a lifetime on the internet, Carti has become one of the best indicators of where the sound of rap music is headed. At 22 years old, he's already gone through multiple eras, cycling through friends, collaborators, and vocal styles but always emerging ahead of where he's been. He's spent time living and working in New York, Houston, L.A., and Miami, but he says being at home in Atlanta pushes him to make his best music. "This is the home of the whole hip-hop," he explains. "Niggas ain't fucking with us on this music shit, and I ain't just talking about me. I'm talking about the next nigga that we don't even know about right now, making a song. He's from Atlanta."
Soon after waking up, and after hunting through a few cabinets and drawers, Carti realizes he's out of Backwoods. He asks for his housekeeper, a short woman with twinkling green eyes he calls "Ms. Robyn," and sends her to the nearest store. She returns with a box of the leafy cigars and Carti takes a seat at a long white table in the kitchen, reaching for a huge, rainbow-colored bag of weed. While Carti begins the rolling process, Iggy arranges hot cross buns that her family sent her from Australia on a baking sheet. It feels like I'm witnessing a bizarre rapper version of playing house — theirs just happens to be a multimillion-dollar one.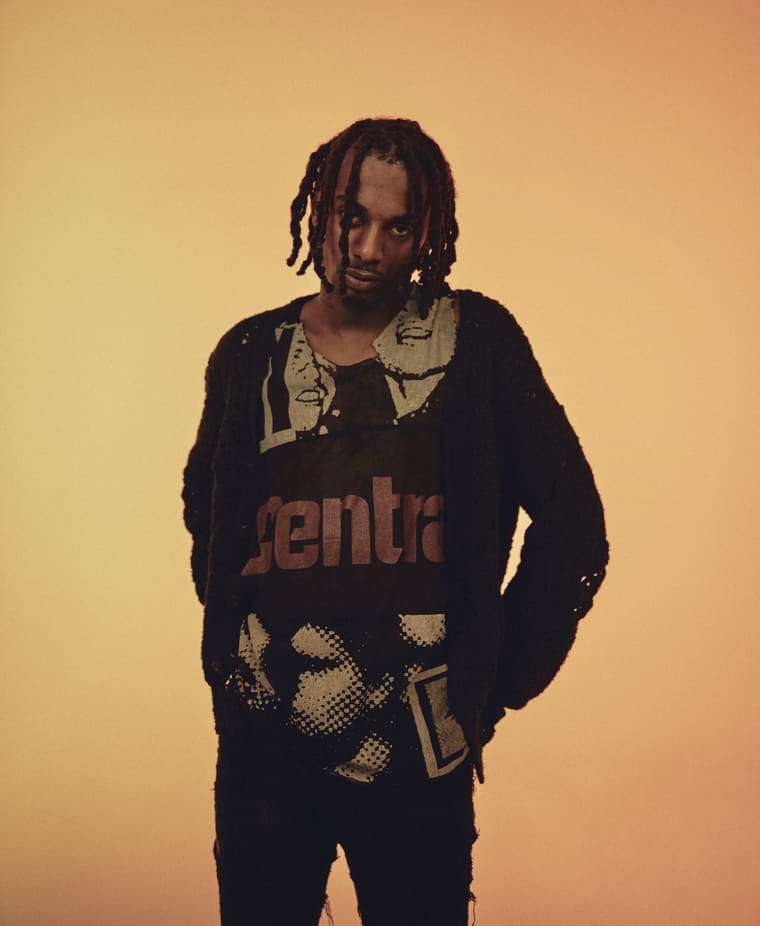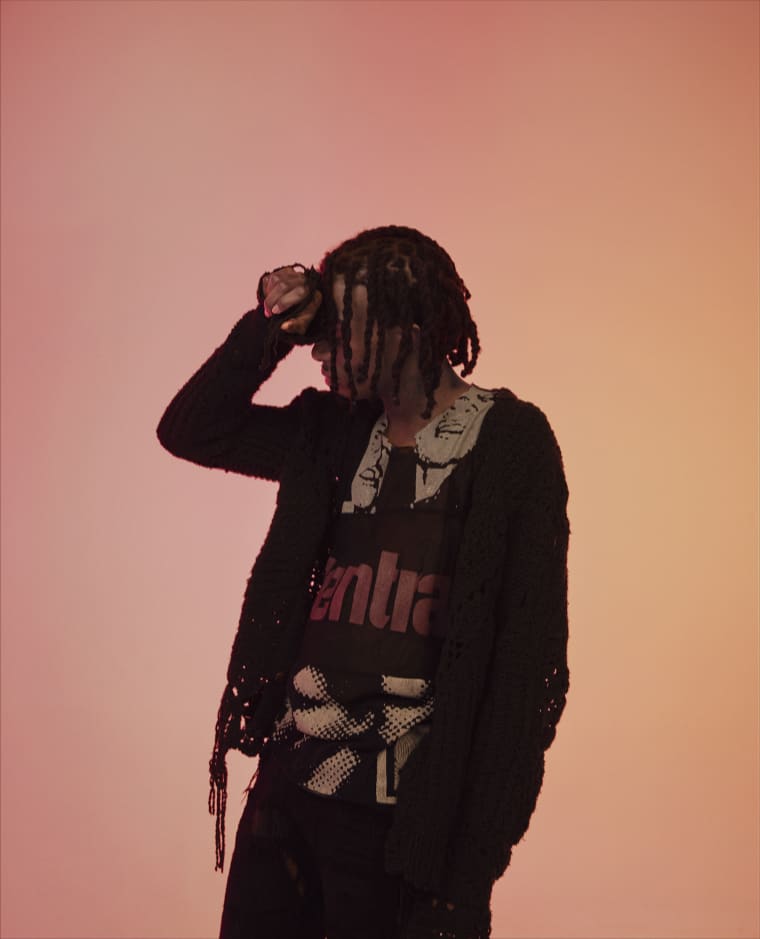 The two met in 2018, while Carti was overseas on tour. "Once I started talking to her, I just cut off everybody," he says. "It was over with." They moved in together by December of that year. For Iggy — who's seven years Carti's senior, at 29 — it was a return to the city where her rap career began; for Carti, it was a move back to the place where he spent the first 18 years of his life. Carti says their relationship is strictly personal; they haven't made any music together and don't have plans to. "That's a whole 'nother thing," he says. "I support everything she does."
Over the past five years, Carti has been perpetually surrounded by people and constantly on the move. But, at home in Atlanta, he seems happily removed from the industry and the social hierarchy that comes with it. In conversation, sitting at his kitchen table, he's supremely confident and calculated. Multiple times, he goes back and forth between wishing peace and prosperity on everyone he's ever met and dismissing unnamed people who would stand in the way of his forward movement. At one point, he warns, "You not gon' be able to talk to me and not hear me say, 'Fuck everybody.'"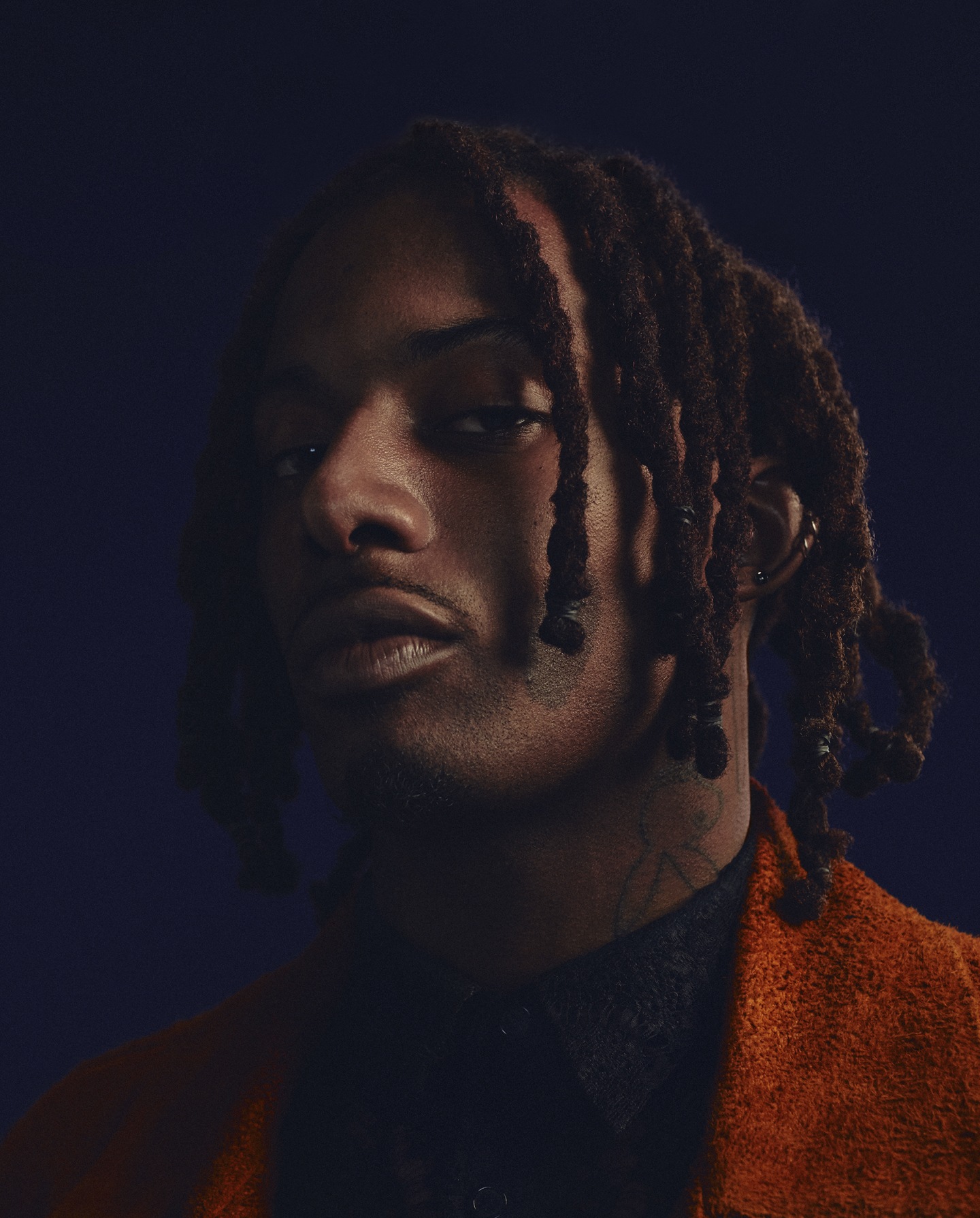 Playboi Carti was born Jordan Carter on September 13, 1996 — the same day that Tupac Shakur died, a fact that's become something of a meme among Carti fans. He grew up in South Atlanta, a neighborhood on the opposite end of the city from where he lives now, but equally removed from the bustle of Atlanta's downtown. "It's a little slower than the city," he says of the neighborhood. "Niggas out there got something to prove. Niggas turn gangsta overnight over there."
In his early teenage years, basketball was his main focus, and he credits the sport with keeping him out of trouble. "That separated me from everybody else," he says. "Going to practice, on the road traveling for games, all year round." He looked up to his big brother, Reggie, who put Carti onto Gucci Mane and the rest of the music driving the streets of Atlanta at the time.
In high school, he started skipping class and going to a friend's house to record, eventually releasing two projects and a handful of music videos under the name Sir Cartier. In his first-ever music video, a 14-year-old Carti, easily recognizable by the oval birthmark on his left cheek, roams around South Atlanta strip malls and parking lots with a crew — all while making bashful but steady eye-contact with the camera. It's easy to pick out the influences on that early material: Wiz Khalifa and Curren$y's stoner anthems, then, around 2012, Odd Future's synth-heavy skate raps.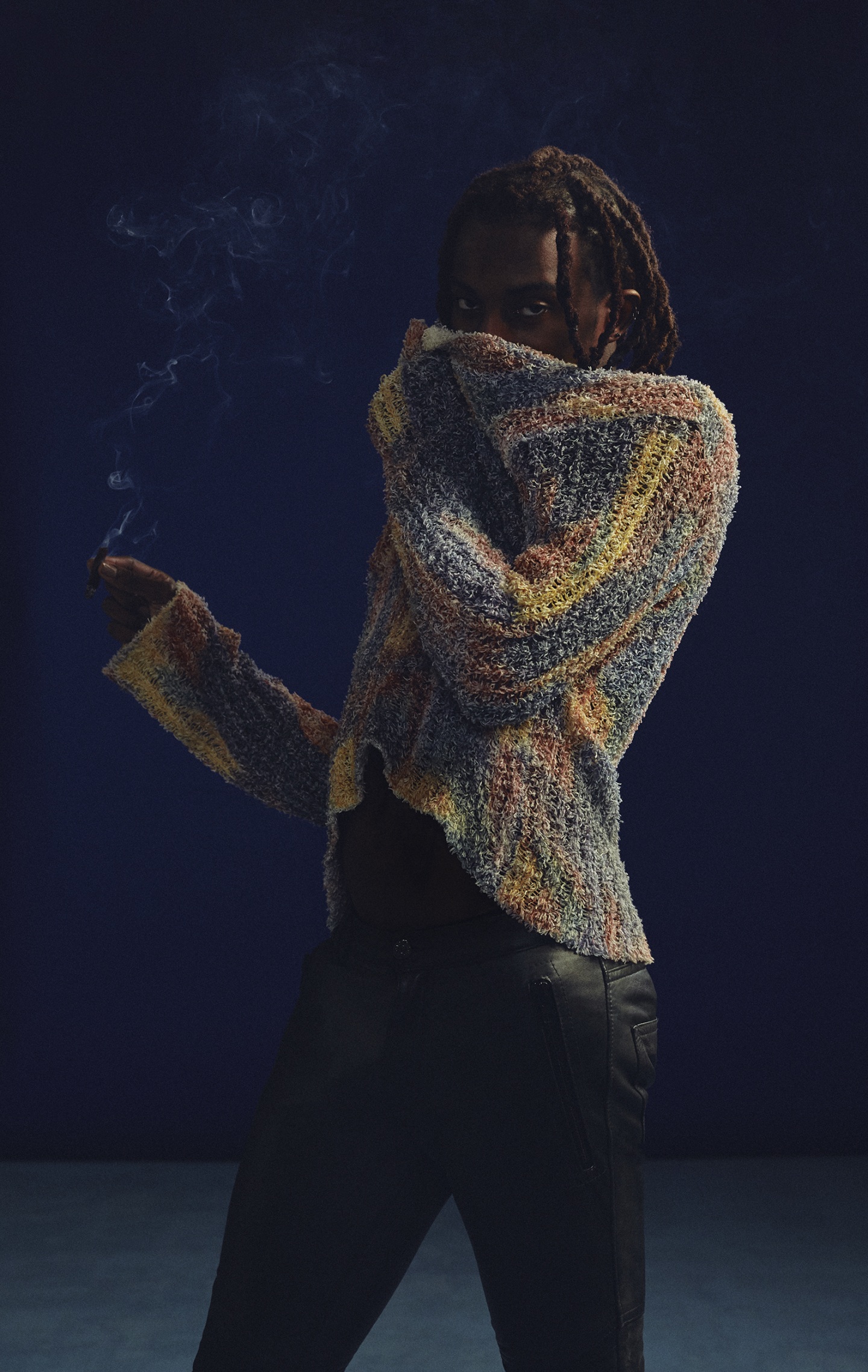 "I always wanted to do more than anything I was doing," Carti says. "I used to come to basketball practice with a skateboard. I wanted to be like Allen Iverson and Terry Kennedy." After a disagreement with his coach, he quit the basketball team and started spending more time in the studio. He missed so many days of school during his senior year that he didn't know whether he was going to graduate until the day of his actual graduation. "I was in class with freshmen finishing work, and if I finished the nine assignments before this time I could graduate," he says of the days before the ceremony. "I didn't even have family there, 'cause nobody knew if I was gonna graduate."
In 2013, via a mutual friend, he connected with the rapper and producer Ethereal of Awful Records. Carti was drawn to the DIY spirit and unconventional sound of the Atlanta collective and soon became the crew's "little brother." "I was hanging around people that were totally different from me, but they accepted me for who I was," he says. On "YUNGXANHOE," one of the first songs he ever made with Ethereal and his first upload to SoundCloud as Playboi Carti, he raps over a beat that samples the PlayStation 2 startup noise.
With his buoyant anthem "Broke Boi" and other one-off SoundCloud releases bubbling online, Carti had begun to outgrow Atlanta's underground scene by 2015. "My momma showed me too much for me to be staying in one place," he says. "My mom dukes from Brooklyn, so coming to a smaller city she was like, Boy, this ain't just it." At 18, he left Atlanta and moved to New York City, living with family and friends while he plotted his next moves.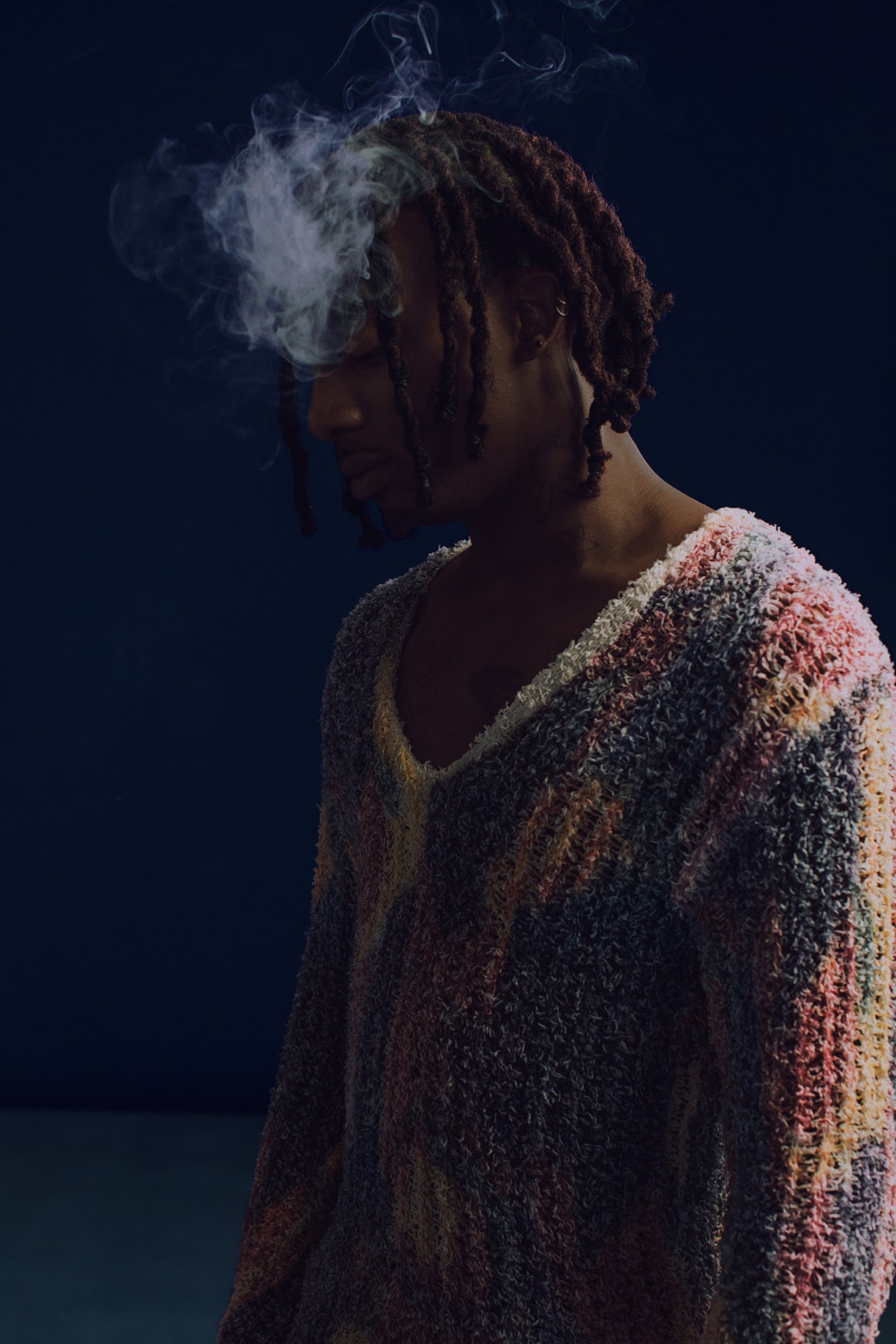 "I might make the hardest song ever tomorrow." —Playboi Carti
From there, Carti's rise has been well-documented. He fell in with the young SoHo fashion crowd and two of its most prominent figures — A$AP Mob co-founder and VLONE creator A$AP Bari and stylist and designer Ian Connor — took him under their wing. They introduced him to A$AP Rocky at SXSW in 2015. Carti's focus shifted from Awful's grassroots mentality to A$AP's more business-minded infrastructure. A little over a year later, he signed a deal with Interscope Records.
In the years since, the crew that took Carti under their wing has been embroiled in controversy. In 2016, multiple women publicly came forward to accuse Ian Connor of sexual assault, while others have anonymously accused him of sexual assault and misconduct (Connor has denied the allegations). Bari plead guilty to one count of sexual assault in London last January, avoiding jail time, after a disturbing video of the incident surfaced online in 2017.
Carti and Connor, once constantly at each other's sides, have hardly been seen together in public since Connor was first accused in 2016. When I mention that it seems like he'd distanced himself from Connor, Carti deflects: "I distanced myself from everybody. I'm grown as hell. I can't be hanging around. I gotta grow up, and I gotta stay focused on what the fuck I got."
Asked to clarify his current relationship to both Connor and Bari in a follow up email the day after our interview — in light of the accusations and guilty plea, respectively — Carti declined to elaborate further: "It's 2019. That has nothing to do with my music. [You're] asking me to speak for other people that aren't me."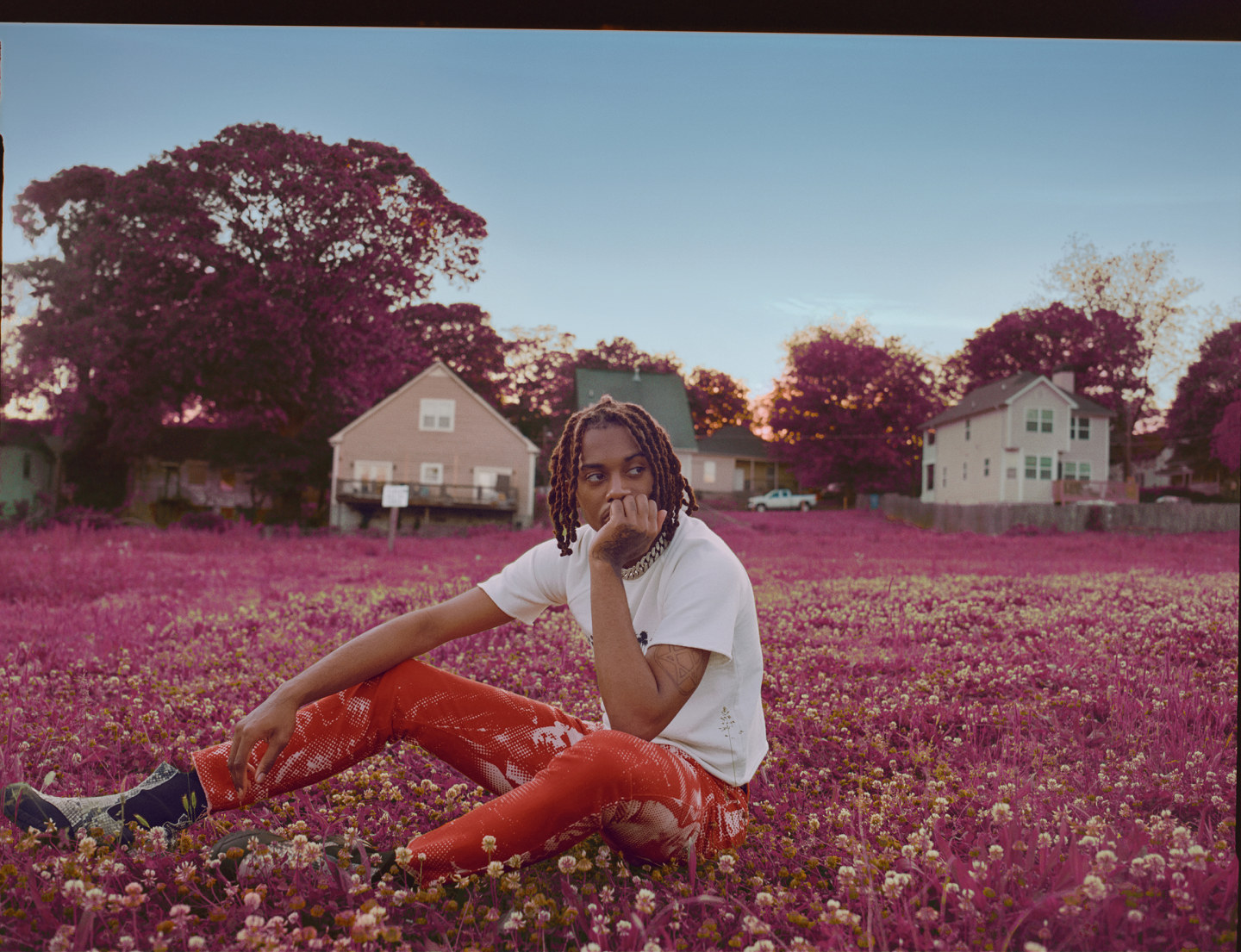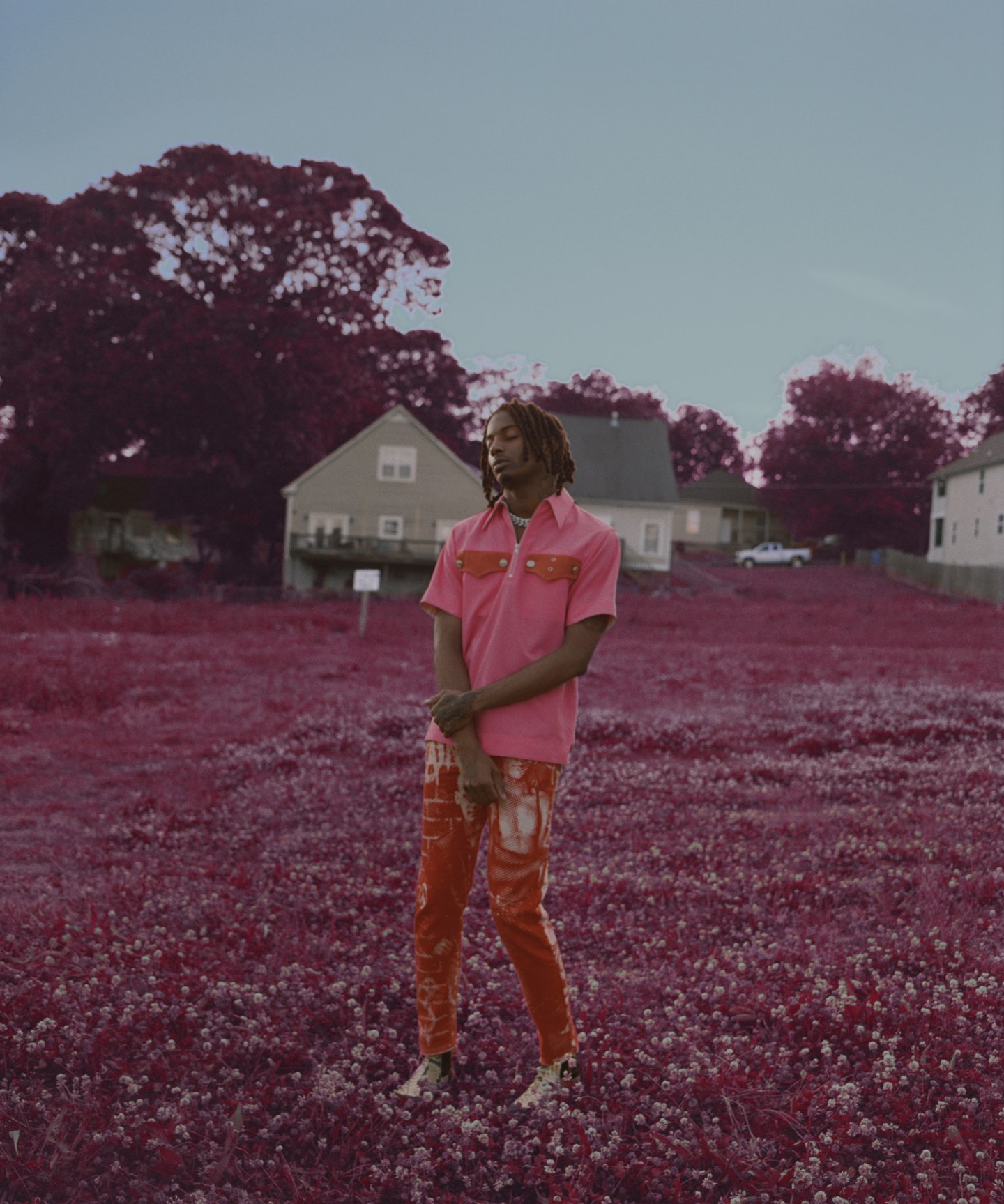 These days, Carti says, he talks to the same three or four people every day; other than that, he's fine spending time by himself. Part of that comes down to the way he seems to rub off on people. "I don't need no niggas around me," he says. "I be inspiring niggas too much and they be taking from me. It's only halfway. I don't win."
The sound that Carti developed and perfected has become widely imitated but, along the way, some former collaborators have also accused him of the same. "I think my fans think I'm such a fucknigga," he says, referencing past working relationships that turned sour or fizzled out over time. "It's not me. I'm not the fuckin' problem. As I grow up, friendships is gonna be over. Y'all was in elementary, cool with the whole school. Middle school, niggas start acting funny. In high school, you stop fucking with them niggas. You grow out of shit."
Carti's growth over the past five years, far beyond the Atlanta underground and SoundCloud rap scenes, has elevated him to a symbolic position. To the fans who've closely followed his rise, he represents the culmination of movements that were just recently at the fringes of mainstream rap and their unlimited potential to continue moving the dial. Looking back at his ascent, it's hard not to think of each step as a carefully planned chess move, each relationship and cosign pushing him toward a greater goal. But it's also easy to imagine a slightly younger Carti habitually filling in the role of the hyper-talented little brother, soaking up everything he could until he was standing alone, bigger than everybody else.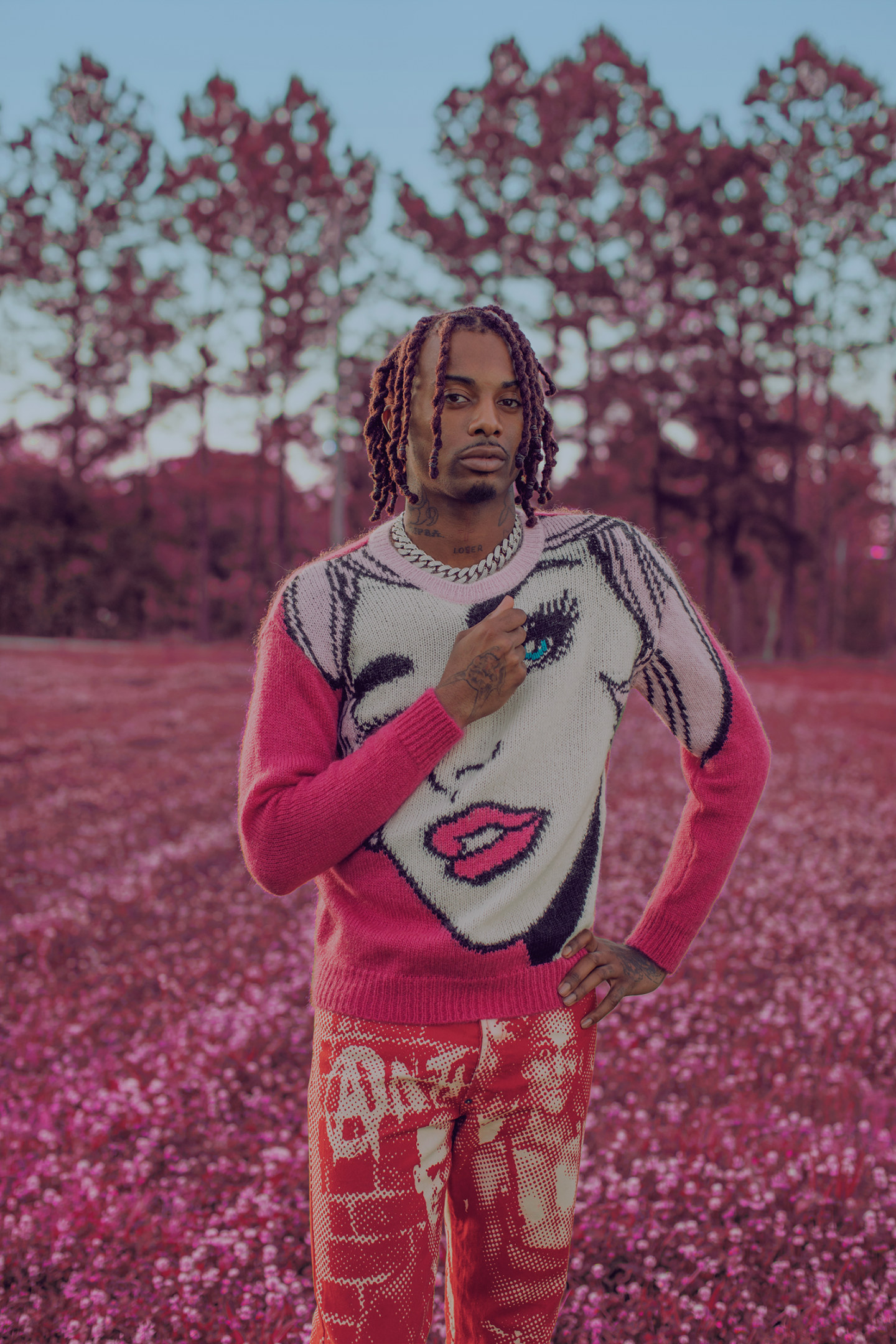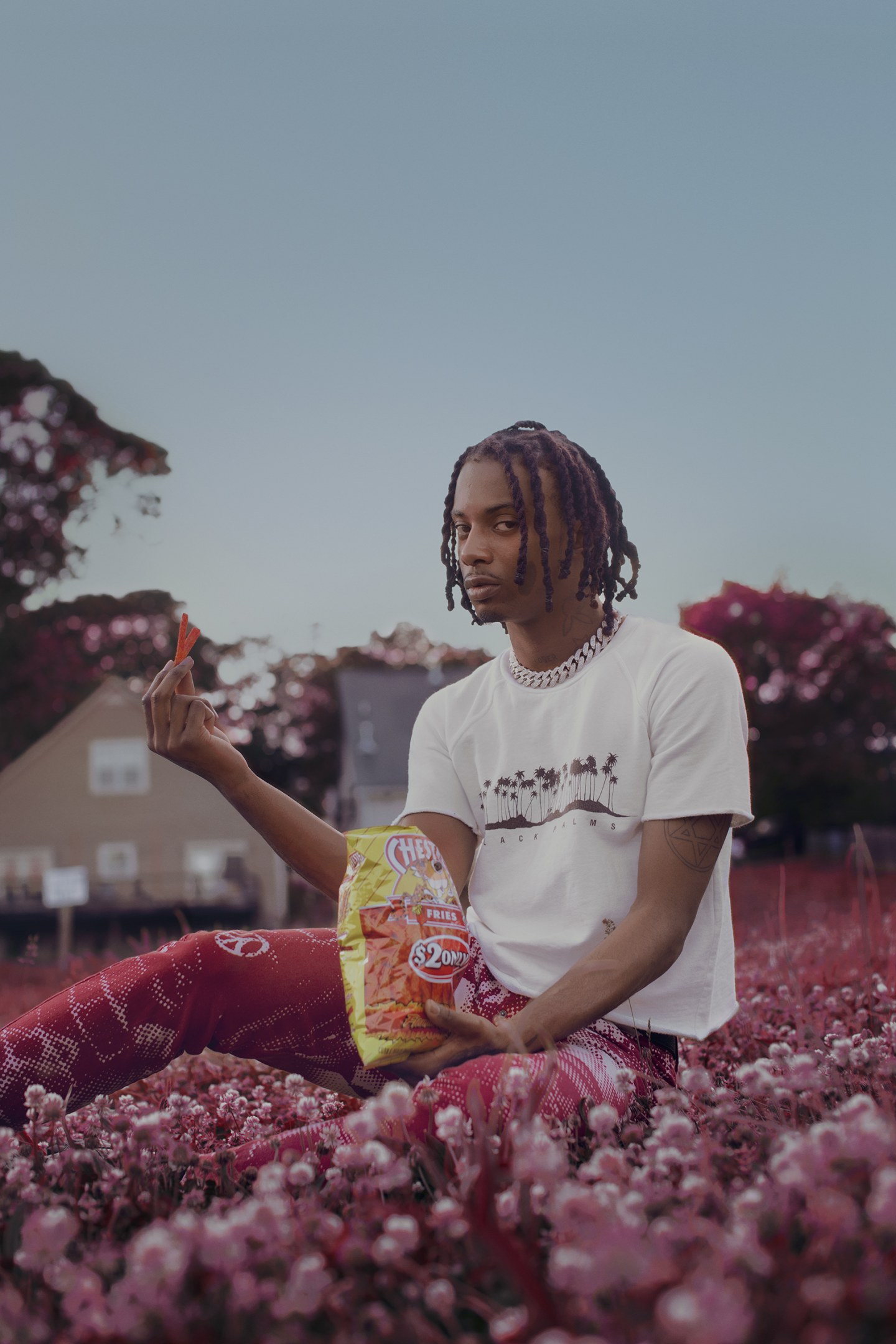 Carti is screaming at his iPhone. Pacing around the kitchen, he holds it a few inches away from his face, shouting angrily at the person on the other end of the call: "Do I look like someone to play with?"
He hangs up the phone. "I ain't got no fucking privacy," he says to no one in particular, raising his voice and filling up the room. "I ain't take pictures of y'all and post it. Stop fucking posting me."
Later, he tells me that he'd opened Instagram for a few seconds earlier that day before noticing something that pissed him off: one of the stylists he had requested for the photoshoot for this story had taken a behind-the-scenes photo of him and posted it without his permission. When he went to the Explore page, he says, he saw his own face staring back at him from multiple spots on the grid.
Although his rise has been so closely intertwined with the internet, Carti insists that he hardly goes online, except to watch videos on the WorldStar website. "I just look, then I get off, 'cause I get upset," he says. "I always let my phone die."
As of this writing, he hasn't tweeted in three weeks, and he posts on Instagram even less. But a look through his liked posts on Twitter suggests he does stay up to date with memes, at least the ones about him. One recently liked tweet, a post by comedian Jaboukie Young-White, reads: "When playboi carti said 'bring that money home, daddy waiting for it' he was queering late capitalistic heterosexual earning dynamics while empowering women in the workplace."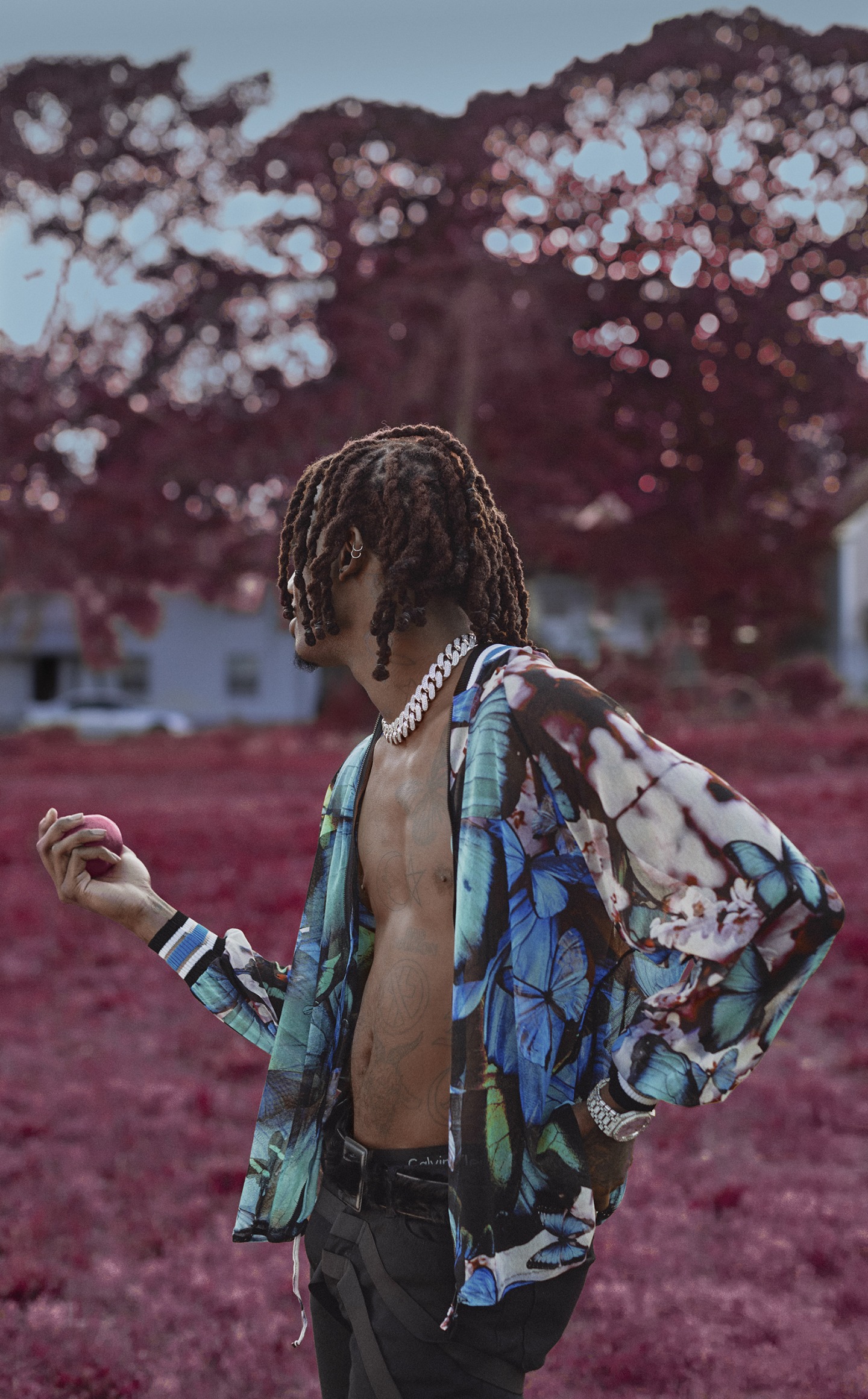 When it comes to his public image and his music, everything Carti shares is extremely deliberate. He's a master at creating a frenzied demand by carefully limiting his output, generating the same sort of hype that drives kids to line up outside the SoHo Supreme store week after week. For his fans, that often means long, mysterious droughts with no information. Then, all of a sudden, something new appears. "That's why I'm snapping on bro," he explains of the Instagram incident. "Let me give it out the way I wanna give it out. I don't say a lot, so when I do say something, I just want people to take me serious."
Die Lit, his debut studio album, was a surprise release, arriving 13 months after his self-titled mixtape. With two projects in just over a year, once an impossible idea to fans, Carti seemed to be entering a more prolific phase. If his self-titled mixtape added a graceful polish to the brooding textures of his SoundCloud releases, then Die Lit showed Carti at his most versatile. He developed his command of melody on "Long Time"; went deeper into the mosh pit-inducing trance of repetition on "Lean 4 Real"; and, on "FlatBed Freestyle" and several other songs, introduced a new baby-voiced vocal style that sounded like it was being rapped from an unusually evolved place in his larynx. He also thumbed his nose at his critics. On "R.I.P.," the album's second song, he raps: "Fuck that mumblin' shit, fuck that mumblin' shit / Bought a crib for my momma off that mumblin' shit."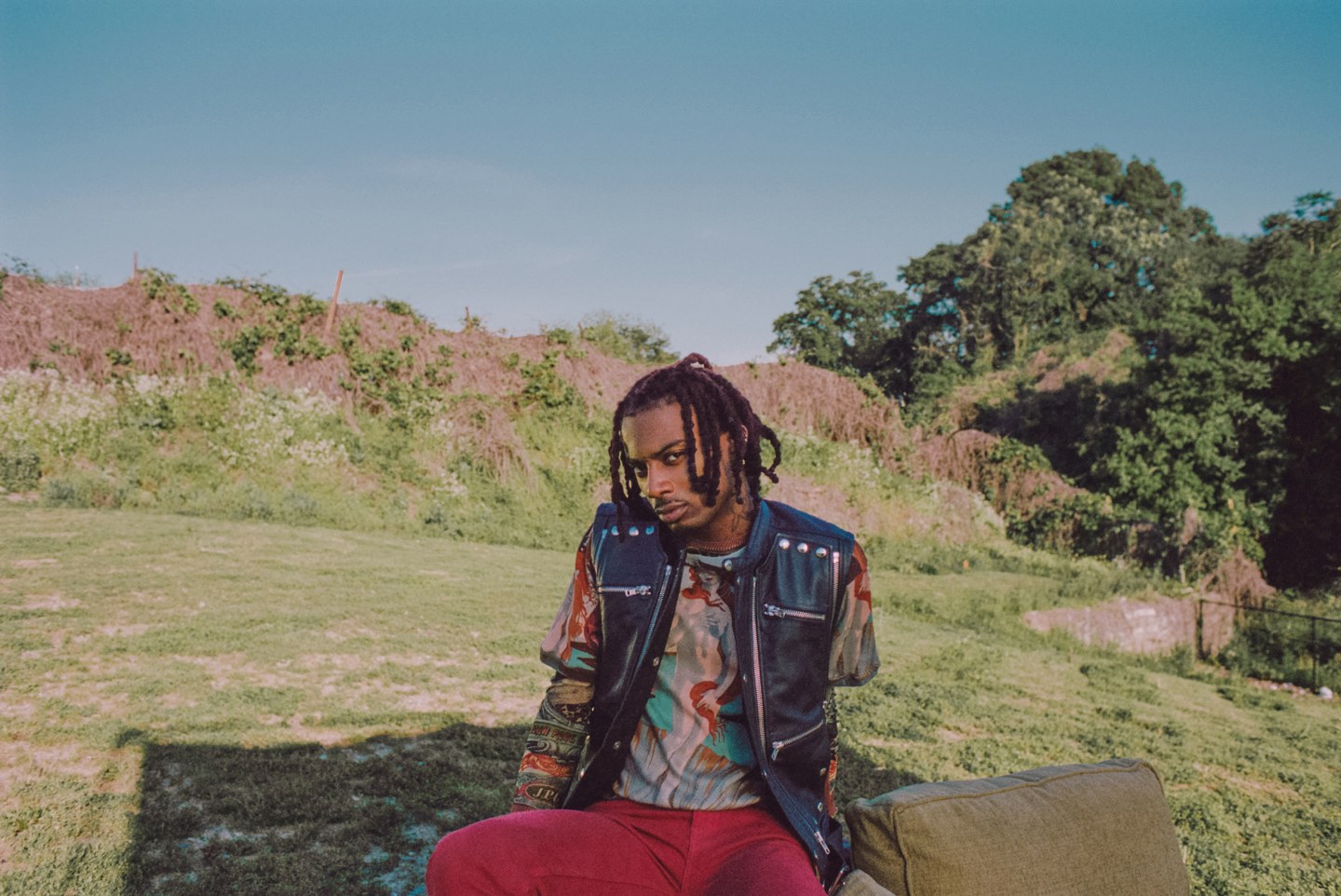 One of the key architects behind the development of Carti's sound is South Carolina producer Pi'erre Bourne. They first met in 2017, after Pi'erre gave a beat pack to Lil Yachty collaborator K$upreme, who gave one of the beats to Carti during a session. Two weeks later, Carti and Pi'erre were in the studio together. Their work since then — mostly characterized by bouncy 808 patterns and bright, video game-inspired melodies — has become definitive for this generation of rap music on the internet, spawning a high volume of "type beats" and SoundCloud rappers replicating their formula. Though he produced the large majority of Die Lit, Pi'erre — who, according to his posts on social media, has been busy traveling and finalizing his own long-awaited project, The Life of Pi'erre 4 — wasn't around as much for Whole Lotta Red. "Only reason is 'cause I ain't really see him like that," Carti says. "I love that nigga."
After several hours at the kitchen table, chain-smoking blunts and then meticulously cleaning up the ash ("I ain't no dirty nigga"), Carti needs some air. On the way outside, we walk past the dining room, which has clearly never been used for its intended purpose. Instead, a microphone with a pop filter is perched by the massive wooden table. "I made so much shit right here for the new album," Carti says. When I tell him it's funny to imagine him sitting down at a table in an almost empty room, recording songs that kids will definitely mosh to at his shows, he flashes a smile. "I be bouncing in the chair too, though."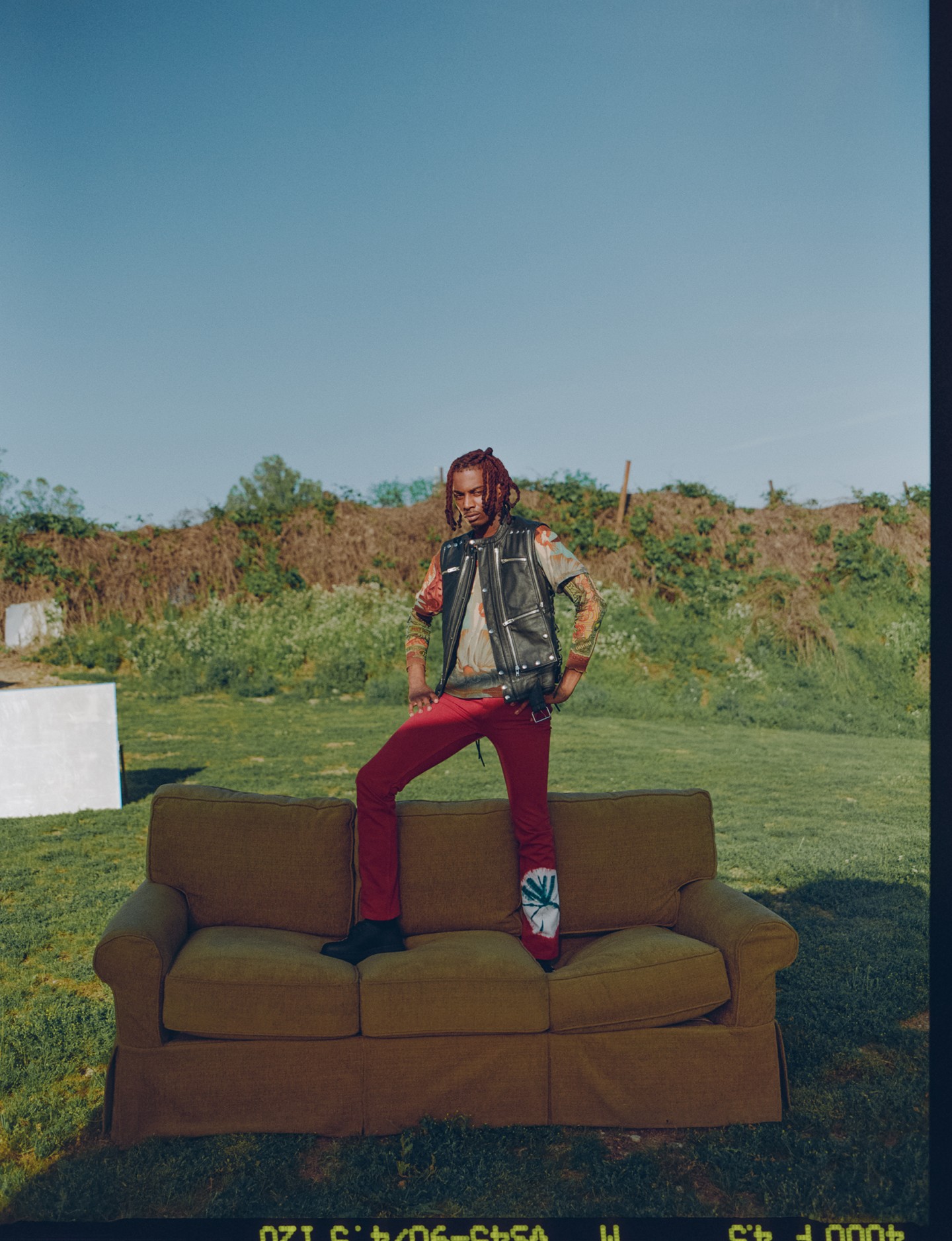 A few hours later, Carti is standing in front of the soundboard at DJ Drama's Means Street Studios, which is housed in a nondescript building in northwest Atlanta, near Georgia Tech. On the walls, I notice platinum plaques awarded to Cardi B and Lil Uzi Vert, as well as a gold one commemorating 500,000 units sold for Carti's self-titled mixtape.
He's here with his engineer, Roark Bailey, to work on a song he started with Metro Boomin in L.A., and has noticeably shifted into rockstar mode. The casual fit he had on at the house has been swapped out for a white button-down shirt with phrases like "Step into the 90s" written all over it in red and blue paint and a neon pink Gucci hat with a large New York Yankees logo on the front. The cuffs of his sleeves are unbuttoned, revealing a glittering bracelet on one wrist and a diamond-encrusted watch on the other. It's almost 2 a.m., but Carti seems animated; he'll be holed up in this room well into the morning.
Carti told me he began working on Whole Lotta Red at the end of 2018, splitting time between Means Street and the mic setup at his dining room table. Looking through a folder on the computer in the studio, he estimates that he's made around 50 songs for the album. I ask him what he looks for when he's picking a beat to rap over. "I like new sounds," he says, sitting in a leather rolling chair with his back to the soundboard. "It's gotta be something I never heard before." He pauses to think, then picks the thread back up. "I just be rapping. Every day I discover something new about myself, and I just do it."
When he starts to play me music, it quickly becomes clear that he's entered into new vocal territory. The baby voice is still present on multiple songs, but he's warped it into a higher pitch, stretching his voice into something much more unorthodox. On one track, an 8-bit beat where he says "RIP Yams" in the refrain, Carti sings a wordless melody in a falsetto behind his verses. On another, he raps over a driving, synthy beat that sounds like it could soundtrack a 2019 Miami Vice remake. Some of the songs — like "Cancun" and a song that fans have been calling "Molly" or "No Stylist" — I recognize from low-quality snippets online. Played through the floor-shaking monitors in the studio, they sound heavenly.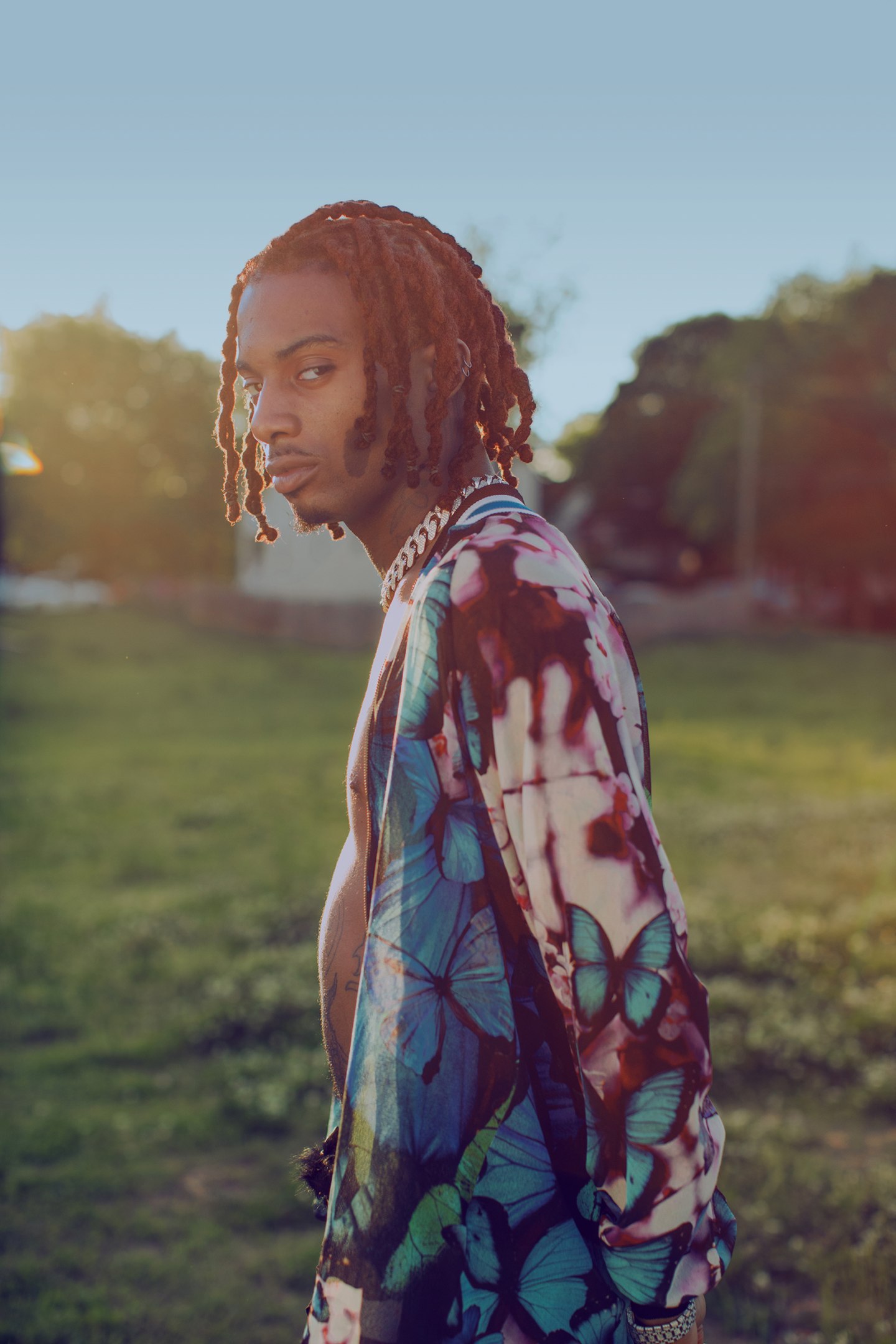 There are a few Pi'erre Bourne productions — one of them samples the sound of a styrofoam cup full of ice being shaken — but Carti lists off Maaly Raw, Richie Souf, his engineer Roark, and Don Cannon, who comes into the room at one point to hear the new music, as other contributors. In between Carti's vocal acrobatics, I also hear the occasional guest verse from Trippie Redd and Gunna.
While his self-titled mixtape arguably had greater peaks, earning him his highest-charting single to date with "Magnolia," Die Lit was a much more complete project, rewarding repeat listens. With Whole Lotta Red, Carti hopes to bridge the gap between both and become a household name. "It's like I'm some best kept secret — fuck that," he says.
A clear indication that he's already moving out of "best kept secret" territory is the way he's been accepted by some of popular music's most distinctive voices. When Solange released When I Get Home in March, fans were pleasantly surprised to hear Carti's baby voice on the Pharrell-produced "Almeda." They made the song last summer in L.A., and Carti says he recorded his verse on a stand-up mic immediately after Solange played him the rough draft.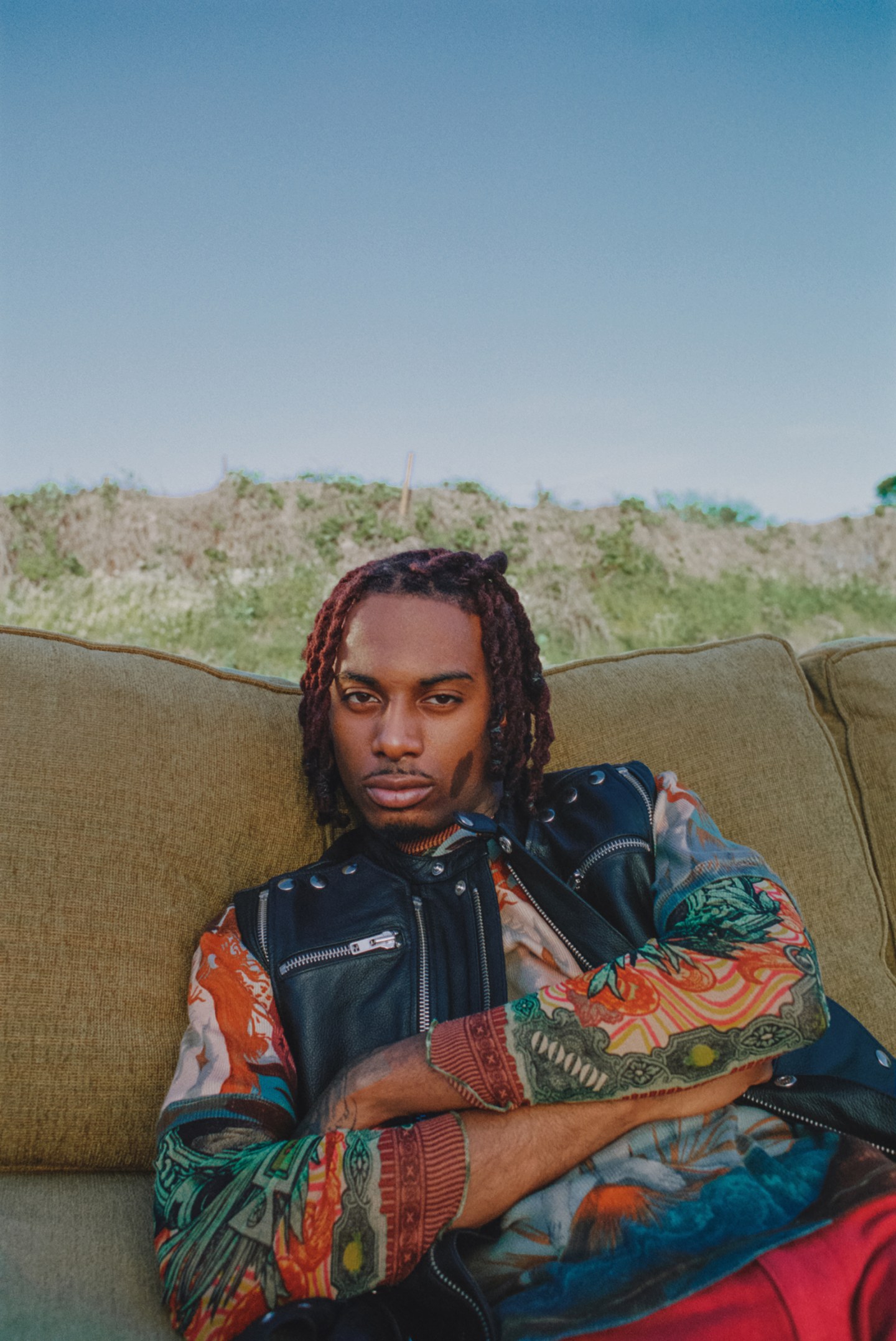 "Honestly, she fuck with me and I fuck with her, but I think it be her kids, bro," he says. "Solange asked me a question and her son knew the answer." Even if pop's biggest stars haven't openly embraced Carti yet, there's a good chance their children already have.
With his minimal discography, Carti has already built a cult fanbase, one that seems to become larger and more tangible with every release. After more than six months working in semi-isolation, he seems eager to show off what he's achieved and enter into yet another era of his career. "One thing I learned this year — it's time to go crazy," he says. "I'm just so fuckin'... Carti." He starts the sentence dead serious, but ends up laughing at himself — or, maybe, at the power of his own aura — like it means everything and nothing at all.
On one of the last tracks Carti plays me, at around 4 a.m., he repeats the phrases "I just got my kills up" and "hanging upside down" in the hook. I don't get the references at first, but then he says them again for emphasis after he turns the music off, christening this time of the night, when he's most productive, "Carti hours." I remember something Iggy told me earlier in the day: Carti loves vampire movies, especially cult classics like The Lost Boys and Interview with the Vampire. He watches both of them over and over — the characters are some of his biggest fashion inspirations. After I say goodbye and turn to walk out of the room, he calls out to me: "When you write that shit, tell 'em I'm a vampire."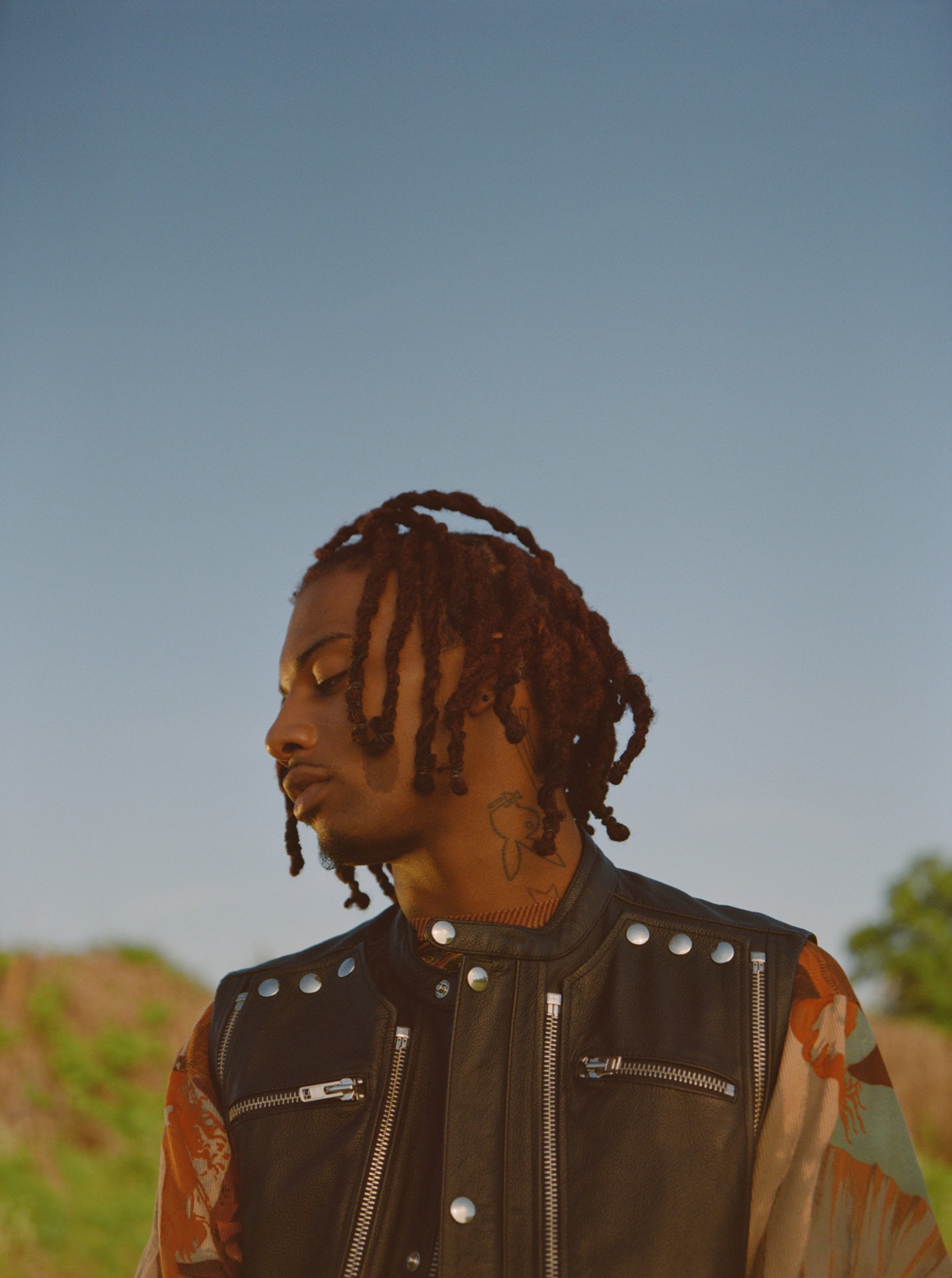 Sets and props by Paula Cuevas / The Spin Style Agency LLC. Production by Franny Legge / Seamless Productions. First Assistant, Donny Tu. Second Assistant, John Song. Digital Tech, Drew Leach. Agent, Dana Eudy / Giant Artists.