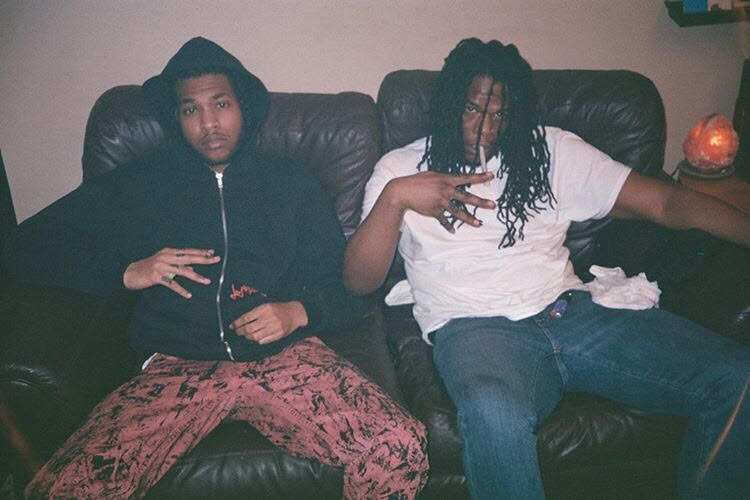 Cyrax, a 22-year old DMV-based artist has delivered a new video for his song "Tank" off of his most recent project, Stay Active. Despite his young age, Cyrax has already gone through multiple phases of a musical career. He was first recognized around 2015/2016 as both an individual artist and a part of the group, Divine Council. The sudden rise of the Council represented a certain period in rap that feels a bit removed. When there was only a handful of people on SoundCloud, regularly amassing 6 figure playcounts forcing the spotlight onto the platform as a blueprint for musical success. There was still a bubble with all of the artists percolating on the site and no one had really broken through to a national level yet. Although the group had received some impressive co-signs from the likes of Andre 3000, Tyler the Creator, and Erykah Badu, they would only go on to release one official project. However, the dissolution of the Council is what helped Cyrax find his actual voice.
Together with $ilkmoney, the Richmond native takes refuge inside a Tesla located in an overgrown lot of abandoned buildings, flowing over a Ginseng and WildCard-produced instrumental. There's something immediately grimy about the visual which features a mix of VHS footage, handheld shots, and psychedelic effects. The whole video operates like a bootleg tape that was passed around before ending up in the viewer's possession. "Tank is one of my favorites off the Stay Active project featuring my brother $ilkmoney. The inspiration behind this song really came from me playing Grand Theft Auto 5 going crazy with the tanks and just flexing up with it," Cyrax told The FADER over the phone.
As an individual artist Cyrax's music feels weightless. Most of the time he will grace an instrumental with a cadence that feels like a gust of wind, delivering bars that are uplifting and trance-like. His most recent project, Stay Active never feels forced. The flows remain at a consistent level over synthy, cloud-like production. In a lot of ways the tape can be viewed as a deep exhalation, a sigh of relief after an exhausting day. Cyrax made it in a period of uncertainty, after his release from Epic Records and was the first solo project as an independent artist following the split.
Watch the visual for "Tank", premiering below on The FADER, followed by an interview with Cyrax about his musical journey up until this point.
When it comes to your musical approach are you project driven? Or do you create as things come to you without much of a plan?
I'm never trying to make a project. I'm just trying to make good music and build off of that. The first song I made off Stay Active was "Play Your Role" and that song was about what I was going through at the time. It set the tone for the whole project. After that I kept making song after song.

Are you usually trying to express what you're going through in that moment?
I do that without trying. I won't even notice that I'm really talking about what's going on in my life until I go back and listen to a song after it drops.
Where does your creative process begin?
It starts with a good-ass beat and then I decide where I want to go. A melodic song or just a normal rap song. It's really like a puzzle.

Do you have any background in production?
I'm not a producer but I know music very well so my beat selection is always up to par. I'm just a fan of music in general, that shit is in my family. My father is a singer in a band, like old disco, old funk shit. That whole vibe just plays out in my music today. My producers are carefully selected, I fuck with BasedTJ and you can tell he's a real musician. I'm fucking with Cashcache, Kahlil Blu, and EarlOnTheBeat too.

One thing that drew me to your music is that you tend to fluctuate between making something melodic and getting bars off. How do you choose what style to go with?
Well first let me say this, I'm a gemini. I'm a lot of different personalities in one and you can hear that through my music. Really when I started off I had aspirations to be an artist. I didn't even want to be a rapper, I wanted to be a singer because that's what people in my family did. But then the rap shit started picking up and I was like fuck it, imma do both. I don't have to be limited to one thing.
It seems like there's a lot of fluidity for artists with regard to that right now.
I love that shit because everybody is just doing what they want. There's no pressure to be a certain type of artist.

Do you think that's because the barriers to entry for making music are lower than they used to be?
That's how I started. All you need is a computer, some ok equipment, and the passion to do this shit. That passion is going to carry you a lot further than the other two.

So when did you get your start?
I was like 14/15 years old. My very first stuff I was singing on YouTube. That shit was ugly as hell. You can't find that no more, it's all gone. I would take old songs and make my own version of them. When I first started rapping I sounded like an ex-member of Bone Thugs-N-Harmony.

Any musical influences outside of rap and hip-hop?
Because of my family, R&B and soul. Like Johnny Gill, New Edition, Jodeci, all that shit. That type of music is what I listen to on a daily basis.

What about influences outside of music?
I take influence from everything. I'm influenced by this tree I'm looking at right now. I'm influenced by the sky when I look up. Nature really influences me. I be in the house a lot but it gets to a point where I'm like man fuck this shit. There's a whole world out there.
When did your sound start coming into its own?
When I first started out I was trying a lot of different shit because I was just trying to find my sound. I would say I didn't really find it though until the end of 2017. Before then I was still having my sound but I didn't fully know it yet. I think I found it then because I had to. That's when shit started to get real for me.

In what ways?
A lot of wild shit started happening. I had to get back to the essence of who Cyrax was and how I got here in the first place.
As you were coming up you were recognized not only as an individual artist but also in relation to a group [Divine Council]. How did that impact your personal identity?
The group thing works only if everybody in the group has the same mindset. Of course that's how it started out but lots of people get involved. Messing with the formula of what makes a group click. As far as personal identity we were all different in our own ways and that helped with us getting some attention. It was like a megazord.

Getting recognition before you can legally drink must be weird.
That's the crazy thing about it. I got signed to Epic Records when I was 18, right after I graduated high school. In 2016. Not gonna lie André [3000] played a big part in us getting signed.
What was it like being part of a major label at 18?
I didn't like that shit. At first it was cool because you're travelling the world while the label pays for the expenses. But then you realize there's some other people trying to control what you built. That's where shit goes wrong. I was blessed to even get out of that situation. I got lucky. It wasn't even a certain thing that happened, over time I just realized damn this isn't what it used to be, this isn't fun no more.

Now as an independent artist what's your day-to-day like?
Every morning I'm rolling up some gas and going through some good ass beats I'm sitting on. I try not to force myself to do anything too hard. My music is all about being effortless and in the moment. I'll just come back to some shit if I don't feel like working on it. I worked on a song for 3-4 weeks just trying to perfect that shit. Coming back to something with a new mindset after stepping away helps. No pressure. It's no pressure at all.

You have DBSB tattooed on your knuckles, what does that acronym mean to you?
It's really a double meaning. It stands for "Dirt Bag Shawty Boys" and "Do Better Stop Bitchin". The first one is just being able and willing to do anything to make shit happen. Even if it's some grimy shit. There's a negative aspect to it but the positive side, "Do Better Stop Bitchin" is the approach to living.
What do you have planned in the future?
I'm working on Stay Active Pt 2 which is like Stay Active on another level. Stay Active is my everyday motto so I gotta keep going with it. I feel like if I stop, I'll lose the mindset that I got into when I started working on part one. When I made Stay Active I was going through the worst period of my life. I was broke as hell. Me and $ilk were in this room, had just parted ways with Epic. We had no options so the only option was to make good music. It was sort of like an experiment that helped me find myself so now I know what I'm doing.