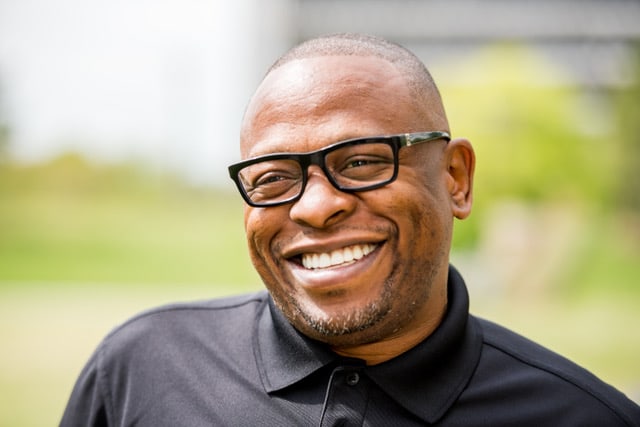 In 2017, Scarface was more ready than ever to shake off his crown as one of the greatest artists in hip-hop history. By then he was known as a rapper's rapper with massive hits, a lyrical artisan who changed the perception of Southern hip-hop as one-third of the Geto Boys. But in his interview with Fox 26 Houston, he was slouched over and anxious after watching an introduction that contained music videos for some of his classic songs. "I don't wanna be that guy anymore," said the renowned lyricist who created tales of phantasmagorical horror and street-centered realism such as "Mind Playing Tricks On Me," "Damn It Feels Good To Be A Gangsta," "I Seen A Man Die" and so much more. Then, he deflected a fan's adoring whoops, as if she'd mistaken him for someone else. "Scarface is dead," he proclaimed on air that evening, and save for some concert appearances since then — including an aborted Geto Boys reunion — it seems as though Scarface may have been well and truly retired.
Scarface the rapper may be out of the picture, but the man born Brad Jordan isn't. Last week, the 48-year-old Houston resident announced his intention to run for Houston City Council in District D, the seat vacated by Rep. Dwight Boykins, who is running for mayor. Jordan, who when we spoke on the phone had already spent the day fielding calls about his surprising candidacy, credits Boykins for inspiring him to run. "He's responsible for me feeling the way I'm feeling," Jordan tells me from Houston. "I wanna continue his work."
Over the course of our conversation, however, Jordan did not sound like a politician content to stay the course. Born and raised in District D, on Houston's South Side, Jordan spoke with passion about the "underserved" people in his community and the problems they face, notes he struck repeatedly in his lyrics over the course of his rap career. Like many of the unorthodox political figures sweeping to power around the world, Jordan proclaimed the death of politics as usual and made the case for why he's the only person who can fix what needs fixing: "Once they elect me in, it's over." We spoke about his platform, his lofty political ambitions beyond Houston City Council, and how he's coping with the loss of his former bandmate, Bushwick Bill, who passed away from pancreatic cancer on June 10.
A week before you formally announced your campaign, you asked your Twitter followers if you should run. Was this an impromptu decision, or have you been considering it for a while?
I've been thinking about it since [2017]. This is gonna be my start in politics. I wanted to get my legs up under before I run for governor, before I run for mayor.
Growing up, I got a chance to witness a lot of struggle in my neighborhood. A lot of people struggled, myself included. As I got older I noticed that there was still a lot of struggling going on. If it wasn't drugs, it was no jobs. If it wasn't no jobs, it was people out loitering, hanging out, getting into trouble. I'm 48 years old and that's been going on before me.
I wanna take it upon myself to fix the situation. I think I have some new, fresh ideas. I think that the traditional way of doing politics is over now. Let's come up with some real solutions. Let's serve the underserved. That's where I'm at right now.
Can you expand on some of your ideas for fixing District D?
Let's put a gangland initiative in place. Let's make the neighborhood safer for the elderly, and everybody. Let's advocate for harsher penalties for people who commit crimes against seniors. Let's get rid of the illegal dumping. Let's fix the drainage problem. Let's talk about the potholes. Why have we not fixed these potholes? What's the problem? Why is this not done? Why are these houses abandoned? Why are they still up? Why is there grass growing around it? So many questions. Do [they] not care about my community? I'm getting that done, and there's nothing they can do to stop me from getting that done.
I remember my uncle used to work pouring concrete and as a plumber. Now, I don't see uncles working as plumbers or pouring concrete no more. Let's open up some trades for these youngsters that are getting out of school that are not gonna go to college. In District D, in my neighborhood especially, if you don't get a scholarship, you probably not gonna get to college. So lets put these kids in a position where they can get a trade [so that] a livable wage is obtainable. Because right now they're out on the streets trying to figure it out. I wanna offer an alternative.
Who are some of your political heroes?
Political heroes… I'm gonna keep that to myself because I don't want to throw up any red flags.
You think it might be too controversial?
It might be. I have some very controversial figures that I admire.
Current politicians or in the past?
In the past. You diggin', ain't you? [laughs] I'll give you one name, and you'll Google it. This is a really good friend of mine. His name is Ron Wilson. He was a representative for my district and I appreciate him always being my friend. He got a lot of stuff done in Austin. Now, he's done with politics, but he's talking me through this [campaign].
What's some advice that he's given you?
Man, I can't tell you everything. I just told you to Google him. [laughs]
How would you describe District D for someone who's never been there?
If you listen to my music then you've been all through District D. That's the South Side of Houston, Texas. That's where I was born and raised. This is my life, my lifeline. I'm naming off streets and everything in District D in my music. My favorite spot to go in District D would probably be The Spot, or the Turkey Leg Hut, or the Reggae Hut. I can name a ton of spots in District D that I love to hang out at. It's a beautiful place.
Keep them coming! Give us a beginner's guide to the best spots in District D
Uh, nah that's cool. I'm good.

How have the people of District D responded to your campaign?
Everybody's excited. The outpouring of love from the community is unbelievable. I know that these people want to see something different in there.
Did you vote in 2016?
No, I didn't vote in that presidential race. I didn't have a candidate that I wanted to get behind. My candidate was out of the race. It didn't matter how I voted because the electoral college played the biggest part that you could imagine. The popular vote didn't matter. I think one man, one vote. One woman, one vote. But it doesn't work like that. It's not cool.
Do you have people whispering in your ear to reach out to wealthy donors or billionaires for your campaign?
I've got a lot of grassroots [donations]: $5, $10, $100. I know people ain't got a lot of money to give, but they're giving because they wanna see change. And no, I have not been on the phone with any billionaires. I don't know any, I don't think. Maybe one or two. But I haven't called them yet.
Do you intend to?
I'm not gonna need them on this one. I'll call them when I run for governor or president. I'm gonna run. Gimmie four to eight years.
I know that your relationship with Bushwick Bill was complicated. Has his passing led you to reevaluate your relationship with him?
We never had a bad relationship, we just bumped heads like rams. But all in all, we were alright. Him passing, as sad as it is, that's just something we have to look forward to in life. We're not gonna live forever. I was blessed enough to know that little dude. A brilliant little soul. He was smart, and he was very difficult to deal with. He was extremely set in his ways, and you had to respect Bill. We gon' miss him.
There was a brief announcement of a final Geto Boys tour, and then it was canceled. What was the backstory behind that?
That's something you'd probably have to ask Willie [D, of the Geto Boys]. But I'm almost certain that Bill was in no shape to tour, and I didn't want to force him.
In an interview you did in 2017, you proclaimed "Scarface is dead." Is rap music done for you, or are you never saying never?
I mean, for me it's done. I like the idea of politics.
This interview has been edited and condensed for clarity