Sitting across the table at a Fatburger in L.A.'s Koreatown, Hook looks like the most famous person in the room. With her glittery acrylic nails, the 20-year-old rapper pats down her platinum hair, her eyes poking out from underneath thin orange sunglasses." She's already achieved local success with songs like "Bad News," "Who's Hook?," and, currently her most popular single, "90," which is ripe with references to the surrounding L.A. area. Her sound is uniquely West Coast, her staccato flow unorthodox, and her lyrics unapologetic. On "GANG BABY," a track from her new album BULLY, she mockingly proclaims, "Your momma should have said fuck you, Plan B."
Originally born in San Diego, Hook spent most of her childhood in Riverside, an hour drive from where we're currently sitting. Her biological father was a rapper himself, and Hook recalls seeing numerous notebooks full of his lyrics strewn all over their apartment. "Rapping has always been there for me," she affirms. Her step-father managed the various R&B girl groups she and her step-sisters were in. As their manager, her stepdad would make Hook and the girls study the lyrics of some of his favorite rappers like Slick Rick, Nipsey Hussle, and Lil Wayne. It was in these various girl groups where she coined the name Hook. "I would always write the hooks to all our songs, and after a while, it got to the point where I was like 'just call me Hook.' I kind of gave myself that nickname."
Later in the day, Hook and I head over to Nedarb's in-house studio, where she's adding the finishing touches to their album BULLY. After Hook lays down the final ad-libs, producer Nedarb tells me what drew him to work with the young artist: "She's the most unique rapper I've heard in a long time. Her energy is unmatched on tracks, her flows are her own, her ad-libs especially are her own, and her live performances go crazy."
Premiering on The FADER today, BULLY features occasional co-production from Captain Crunch and guest verses from Big Baby Scumbag, Bootychaaain, Lil House Phone, and AzChike. The project's blindsiding bars are expertly paired with an uptempo beat selection, resulting in a SoundCloud-influenced take on classic West Coast hyphy and G-funk styles. Despite constructing her own distinctive sound, Hook modestly tells me, "I'm just having fun with it all."
How would you describe the Inland Empire (IE) to someone who's never been?
It's nothing, there's nothing there, you feel me? The people there make the IE what it is — it's a mix of people from everywhere. There's not much to do. Everybody leaves to go out and do shit. A lot of people don't like to claim the IE, but I love to. I'm from there and I'll never disrespect it.
What's the music scene like out there?
We listen to a lot of poppin' IE artists. There's a rap group, Golden Class — those are all my brothers. They play all of our shit at parties, a lot of fucking fast tempo songs. If you go to a party in the IE you're going to hear a lot of ratchet shit, a little bit a hyphy, a lot of L.A. shit. Basically a lot of shaking your ass music.
So there's more parties than concerts there?
Yeah, a lot of abandoned house parties. But if it doesn't get shot up, it's gonna get shut down by the police. Or it's gonna end in a fight. So you're lucky if you go to a party in the IE and it doesn't end in a couple hours [Laughs].
When did you start making music?
I've been making music my whole life. I've been in two girl groups with my step-sisters. I was in a girl group I'm not going to name because you can probably still find it on their internet [Laughs]. In one girl group, I was a singer / rapper, then one of my sisters dropped out of it so we turned the second one into a rap group. It was mostly slow, mid R&B.
Was it a successful group?
I was doing a lot of things, but I personally don't feel like it was successful because it wasn't something I creatively was invested in. But we did a whole L.A. school tour, like I played shows at high schools like Fairfax and Crenshaw and a bunch others. I actually got homeschooled so I could do that tour.
Did you go to college at all?
For a little bit. Then my mom noticed I was depressed, like she knew I rather do music and that it was a waste of my time, so she let me drop out. That's when I first started rapping solo, when I was 18. I was working, going to college, and trying to do music.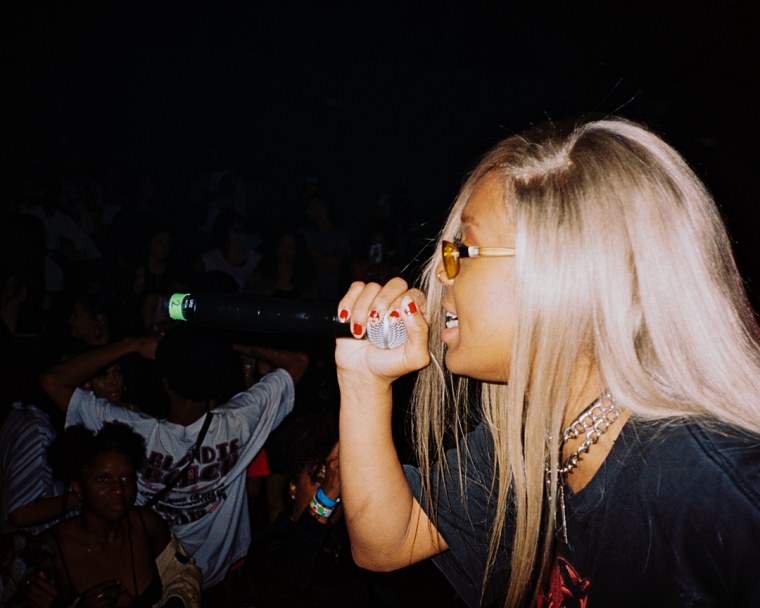 How did you meet Nedarb?
I dropped "90" in April and that's when everything sort of changed. Nedarb hit me up and I actually didn't even reply to him for a couple days. He was like, "I want to send you beats we got to work," and I kinda was just like, "Okay, sure," because I didn't really know who he was or his resume before then. But after I heard the beats he sent I was like this shit is solid. The first time I went to Ned's was with Lil House Phone and recorded our song called "Switch." After that, Ned and I recorded that whole month.
Working with Ned, he drives me to want to keep writing. He brought a whole bunch of new sounds to our music and I really got to experiment. He's lowkey a mentor for me. I honestly had writers block when I met Ned. I felt like I didn't really have any fun with what I was doing before. And that's what BULLY is, this is me having a lot of fun with it.
Why did you choose the name BULLY for your project?
BULLY was low-key perfect. As a kid, I used to watch my sister play the Bully video game on our Wii, she used to play it all the time. I would pay attention to the storyline more than the actual game. It's about a boy who got sent to a private school because his mom is dating a douchebag and they're going on vacation. He goes to the school and he's trying to actually help everybody but they call him a bully. But he really be helping people out and shit. And he's intimidating, and I feel like my music on BULLY is very intimidating — I talk a lot of shit. It's just mean. I'm really on my bully shit.Honestly in person I don't really like confrontation, so I feel like I get to let it out in my music.
Are there any comparisons made to your music that you dislike?
Honestly, I feel like no artist likes to be compared to others. I don't want to sound cocky, but I feel like I'm so unique that there's really no female or male artist that sounds like me. I feel like it's almost incomparable. I'm saying this in the most humble way possible, but I feel like people are going to start sounding like me after BULLY.
How would you describe your music in your own words?
I would describe it as versatile. I don't think you can really pinpoint it. Like I could drop a new project tomorrow and it might not sound anything like BULLY. Like, I don't think people can ask me for a feature and think, this is how Hook might sound on it, because you don't know what I could do on it, like even I don't know.
You have a few different vocal deliveries, how do you choose which one to use?
I usually start freestyling a melody, and if I like the melody we keep going from there. I can feel when a melody is so hard that I really like it, and I just keep going to the next one if I don't. But when I'm making a song from scratch, like if I did want to whisper on a track, I know how I want the beat to sound so I can jig on that beat.
You can really hear that whisper delivery on "How I Felt." How did that style develop?
I low-key call that mom rap. You know when your mom is in the store she would close her lips and yell-whisper at you, like "Put that shit back right fucking now!" That's really where I got it from [Laughs].
I know you've been bouncing around a lot since moving from Riverside to L.A. Are you homeless at the moment?
I can't say I'm homeless. I feel like I have a home everywhere. But when I originally moved out of my moms house I knew I could never go back, maybe because I'm a stubborn young adult and I want to be like I'm gonna prove you wrong and get a big ass house one day. But it's just something I feel like I needed to do in order to really invest in my music. Like sacrifice for it, basically. There's been times where I go to session and I don't know where I'm going to go after, but I'm like, Fuck it I got to go to the session and I got to do what the fuck I need to do. I know I would never need to sleep on the street, but if I had to I would — for my music I would.