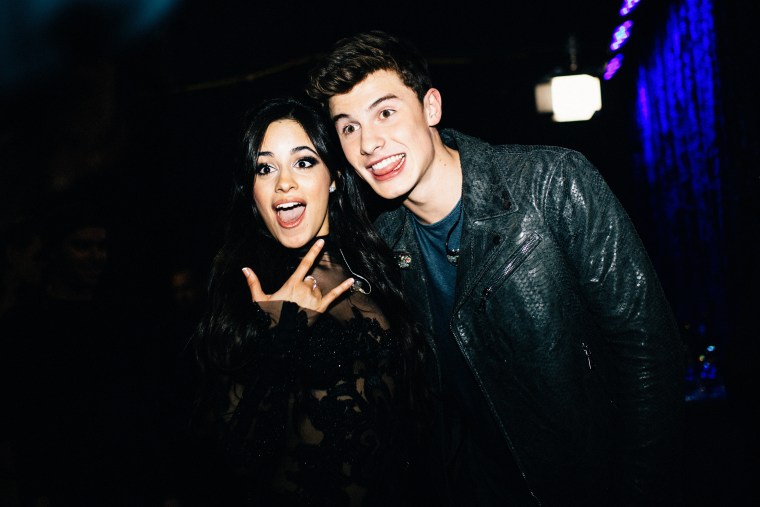 When it comes to the 2019 pop landscape, "identity crisis" seems to be the order of the day. Old heavyweights are floundering, and newer voices are largely struggling to cement themselves as versatile, bankable names. Katy Perry and Taylor Swift are waging a largely unsuccessful war of unrelenting positivity after crass flirtations with hip-hop, while Post Malone and Khalid keep threatening to drown in the ennui cascading from their angsty hits.
With the exception of Billie Eilish and current chart king Lil Nas X — the latter of whom seems to have sealed his fate as a one-hit-wonder with the release of his tedious 7 EP — pop music's sense of fun seems to have all but drained away. Pop producers have apparently confused Gen Z's love of hip-hop and harsh electronics with a love of stone-faced seriousness, resulting in a market filled with songs that are sad, anonymous, and, worst of all, boring.
Not all is lost, though: Last week, Camila Cabello and Shawn Mendes dropped the Charli XCX co-write "Señorita," a steamy duet that trades in the po-faced demeanor of 2019 pop for something sexier, smarter, and, thankfully, way more fun.
Cabello and Mendes have been slowly but surely carving solid identities and ravenous fanbases for themselves over the past few years. Cabello is a husky-voiced Cuban-American singer who defected from her position as the requisite belter of Fifth Harmony to go it solo, while Mendes is a Vine-star-turned-real-star who naturally stepped into the role of pained, horny, and aggressively chaste teen sex symbol that the Jonas Brothers vacated a decade ago. The pair have previously created hits together ("I Know What You Did Last Summer") and alone (Mendes' "If I Can't Have You" and "Stitches," Cabello's chart-topping "Havana"), and they've both cultivated intensely dedicated fanbases on the internet — Mendes' 'Mendheads' (yes, really) and Cabello's 'Camilizers.'
Up to this point, Mendes and Cabello's respective careers have felt like watching kids play dress-up in adult clothes. While Cabello has recorded some of the most interesting and purely enjoyable pop songs of the past few years — the incandescent "Never Be The Same" is a marvel, and her excellent Mark Ronson collaboration "Find U Again" displays a sneaky versatility — there's always been a theatre-kid dorkiness to her attempts at mystery and sex appeal; her biggest hits channel an eagerness to perform through songs that burst with emotion and personality. Mendes, on the other hand, can occasionally feel like a lost cause; while there's obvious commercial merit to a song as catchy as "Stitches," each successive attempt at looking bad-boy sexy comes across as increasingly chaste.
But "Señorita" is effortlessly steamy and wonderfully lightweight, one of the first times when both Cabello and Mendes sound grown-up without toning down their youthfulness or individuality. An airy, mid-tempo Latin pop track, "Señorita" charts the course of a brief, charged affair, the lyrics hitting a sweet spot of sounding sexy without being sexual, flirty without being crass, fun without being goofy. The song's hypnotic guitar loop continually ratchets up the tension, and hearing Mendes and Cabello spar over it feels almost too intimate, like reading the contents of a friend's DMs.
The song's main hook of "I love it when you call me señorita" — a double entendre that sits nicely within Charli XCX's canon of songs that fetishize phone communication — is laden with both tension and relief, telling multiple stories with an admirable economy. And while the song is vivid on its own, I'd be remiss to not recommend at least one viewing of the song's video, a piece of almost uncomfortably raunchy fan service that involves Mendes and Cabello sweatily grabbing at each other.
Lyrically, Cabello, Mendes, and their co-writers — Charli XCX, Clean Bandit member Jack Patterson, and "Havana" co-writer Ali Tamposi, as well as producers Cashmere Cat, Benny Blanco, and Andrew Watt — are in top form. there's a strain of the lighthearted flirtiness of 2000s hits like "Promiscuous" present in the way that Cabello and Mendes so easily trade come-ons; lines like "You say we're just friends / But friends don't know the way you taste" are gleefully brazen and delivered with a sly grin.
Cabello is charming as ever on "Señorita" and carries the bulk of the song on the back of her voice, which has the ability to slip from throaty to breathy in seconds. But Mendes sounds surprisingly great here too; in a seeming attempt to match the levity of Cabello's vocal, he spends much of the track in an upper register that's infinitely more appealing than the passable but otherwise unnoteworthy takes he's turned out on other songs. The song is credited equally to Cabello and Mendes and it feels like a duet in the truest sense. Although Cabello is clear MVP, the song would fizzle without Mendes as her foil.
It's a shame that the deep-rooted, unashamed frothiness of "Señorita" is such a rarity in top-tier pop, as Cabello and Mendes display a thrilling gameness that their forebears have rarely flaunted in dropping a bawdy romantic pantomime like this one. It's been a long while since anyone sounded like they were having this much fun on their own song.