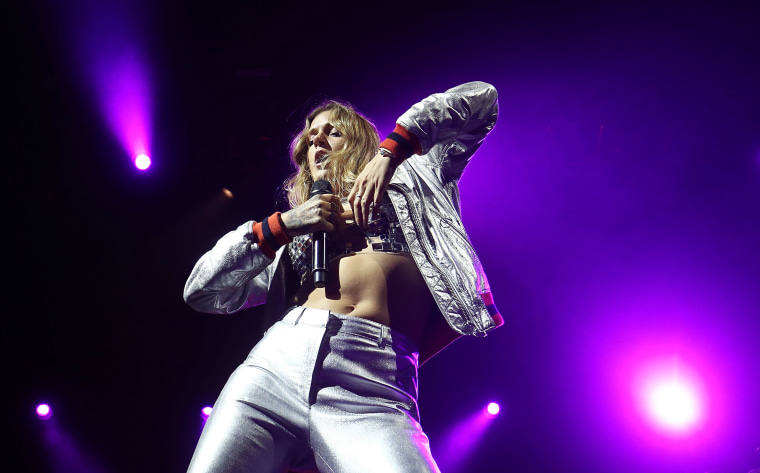 In the video for Swedish singer-songwriter Tove Lo's 2017 single "disco tits," the puppet host of the talk show she's being interviewed on tells Lo that she's being a little too NSFW for primetime TV. "Kids could be watching," he tells her. "This show's kinda vanilla." In response, she tells him: "I hate vanilla." Later, the puppet gives her head while they speed down a desert highway.
Amongst the video's six minutes of drug-taking and puppet sex, that brief exchange has turned out to be a guiding principle for Lo. Once regarded as a pop artist likely to churn out genuine, chart-ready hits, the musician has spent the past few years releasing a series of increasingly unmarketable singles, the latest being "Glad He's Gone." But in a landscape becoming more and more crowded with unpopular pop stars, Lo's dedication to writing R-rated bangers about weird sex and gross guys is what separates her from the pack.
When Lo's breakthrough single "Habits (Stay High)" reached a chart peak of #3 back in 2013, it felt like the arrival of a strange, idiosyncratic talent positioned in direct opposition to the sedate, expertly coiffed pop stars in her midst. Lo leered at people in sex clubs, tried to pick up DILFs, and was generally unashamed about being a mess. She was tapping into the same normal-pop-star current that made Lorde's "Royals" a hit — but with the exception of the followup single "Talking Body," Lo has largely failed to yield a single hit in the last six years.
Perhaps "failed" is the wrong word, though. I'm confident Lo could have a major hit if she really wanted to — it just feels like she doesn't. Since "Habits," she's spent her time building a catalogue of some of the filthiest, most mass-market averse pop songs released this decade. Her recent singles have been weird, bass-heavy, and gleefully slutty — in other words, hardly appropriate for pop music's common-area setting.
It's a strange trajectory for someone working in an area of music where cultural ubiquity and chart supremacy are the ultimate goals; but if you spent the first portion of your career writing by-committee for other artists, wouldn't you want to go a bit loose cannon when given the opportunity to? Lo began her career as a member of Max Martin's diamond-standard songwriting collective Wolf Cousins, writing hits like Ellie Goulding's gargantuan Fifty Shades theme "Love Me Like You Do" as well as tracks for artists like Zara Larsson, Icona Pop, and Cher Lloyd.
Lo is something of a pop genius; in addition to songwriting, she's proficient in production and engineering, a rarity for topliners. (She has credits for both on her Hunger Games soundtrack contribution.) Like all of Max Martin's protegés, she has a deep, innate understanding of what makes a good pop song successful — specifically, how to write vocal melodies so they lodge deep in your subconscious and stay there for months on end. The songs she co-writes for other stars are generally pleasant, agreeable, and forgettable, perhaps by design — tracks that will make money through ad placements, playlist adds, or syncs in peppy primetime TV sitcoms.
The songs Lo keeps for herself, on the other hand, are often impossible to forget. Since the release of her 2013 debut Queen of the Clouds, her releases have veered towards sonic and thematic abrasion. The title of her sophomore record Lady Wood is an attempt at coining a term for a female boner; the album's two singles, "Cool Girl" and "True Disaster" — the former of which relies on a pretty tenuous misreading of Gillian Flynn's "cool girl" thesis — aren't as transgressive as the album title would imply, but they still carry a refreshing bite.
And while the singles from Lady Wood at least felt like they were attempting to court some kind of attention from radio, the singles from blue lips, Lo's third record, did nothing of the sort. The chorus of "disco tits" literally includes the lines "I'm fully charged/Nipples are hard/Ready to go." Attempting to censor a song "disco tits" is like trying to make a radio-friendly version of a song called "bitches" — which was, in fact, the title of blue lips' second single, featuring guest spots from unpopular-pop compatriots Charli XCX, Alma, Icona Pop, and Elliphant.
"bitches" was Lo's attempt at a jock-pop anthem in the vein of "Blurred Lines," with lines like "Let me be your guide when you eat my pussy out" and "I don't fuck with no glove!"; the chorus goes "Bitches, I don't trust 'em/But they give me what I want for the night." It's a massive, fun, and unbelievably catchy ode to sexual pleasure; of course, it didn't chart anywhere. Based on her declining sales numbers, there's little indication that Lo is finding new fans in some other corner of the market either: around 15,000 copies of Lady Wood were sold in its first week, an astronomical figure compared to blue lips' 3,000 copies. The better and raunchier Lo's songs get, the less successful they seem to be.
"Glad He's Gone," the lead single from Lo's upcoming fourth record Sunshine Kitty, continues her streak of wonderfully bonkers singles. Framed as an empowerment anthem for a dumped friend, "Glad He's Gone" is like a pop anthem written by Kim Cattrall's character on Sex and the City: "Did you go down on his birthday? (Yep) / Did you let him leave a necklace? (Yep) / Did you show him all your crazy? (Nope)." Then, Lo launches into her version of a feel-good chorus: "Never no tears for that sucker/Only one dick, that's a bummer/Dancing all night, get guys' numbers," she sings, alternating the latter two lines with "Never go dry this whole summer/Wanna get over, get under."
"Glad He's Gone" scans as absolutely nuts on paper, but within Lo's oeuvre, it's the latest conscious correction of the turn-of-the-millennium pop star model that Lo grew up on. Before pop music intersected with 2010s girlboss feminism, major-label female pop stardom was contingent on a model of hypersexuality that was the assumed contrivance of a bunch of men in board rooms.
Images like Britney Spears' dancing with a huge snake while performing "I'm A Slave 4 U," Christina Aguilera's "Dirrty" video, and Katy Perry's "I Kissed A Girl" felt like near-exploitative bastardizations of third-wave feminism's focus on sex positivity. Lo's career worships hyper-sexual imagery in the way that these artists did, but with more agency and a focus on female pleasure. It's unsurprising that she hasn't connected with the masses in the same way her pop predecssors once did, as she sings about her sex life without sensationalism — without the presumption that she's simply to be ogled.
Music critic Brittany Spanos recently Tweeted, "i miss pop being very slutty […] we do not have to keep a newly conscious outlook on life and crop tops separate. we can combine them!!" Lo's music feels like a lesson in conscious sluttiness — pop music that's about sex without making it feel exploitative or cheesy. If her music continues to follow this same trajectory, it's unlikely she'll ever have another chart hit. But when the music is this good, does it even matter? There will always be enough chaste, marketable music for pop radio to play; there won't always be a star as inspiringly bawdy as Tove Lo.
Listen to The FADER's weekly playlist of songs you need in your life