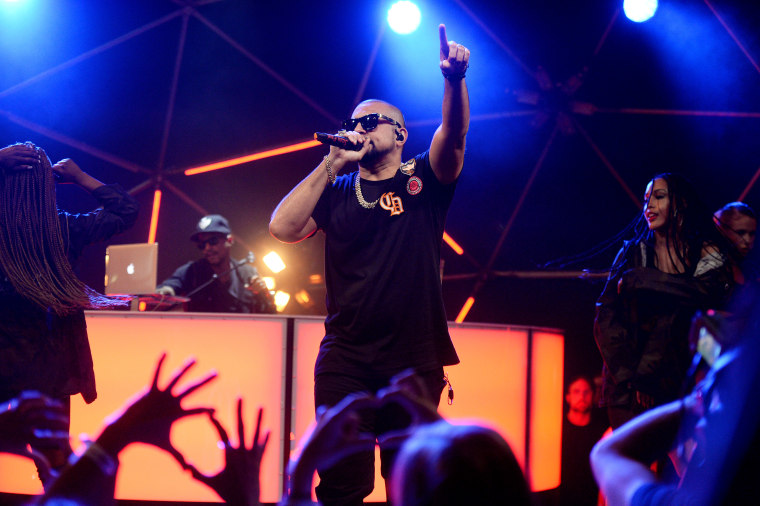 The universe is held together by gravity, electromagnetism, and a worldwide adoration for the music of Sean Paul. Tunes like "Temperature" and "Like Glue" have been prompting involuntary shoulder bounces and head nods across the globe since the early 2000s. Spanish friends tell me they could sing Sean Paul's lyrics before they could properly speak English. A soldier told me it was Sean Paul his camp played during the war in Iraq to boost morale. And last week, a video went viral of Jake Gylennhall earnestly professing his love for Sean Paul on BBC Radio 1. "He's a genius." Gylennhall gushed, "Sean Paul makes every song better."
The undeniable truth is that people across the world love Jamaican born singer Sean "Dutty Rock" Paul. But for the people of Jamaica, Sean Paul is a more complicated story of the relationship between international stardom and local markets — and the impossibility of appealing to both. His story gives insight into what exactly defines dancehall and shows the cracks in Jamaica's class divide and social inequality. Mostly, Sean Paul shows us that sometimes, marketing yourself to the world means losing your home.
It was impossible to be alive in the 2000s and not be shaped by his music. In my bedroom in Jamaica, I slept with a poster of him above my bed, until my mother took it down deeming it inappropriate for an 11 year old. His second album Dutty Rock had just blown up when I spent the summer with family in Ireland, and there he was willy bouncing on MTV all day long. As I followed around my cooler older cousins, there he was on car rides, the shopping mall, trips to the supermarket. He was just so cool. My cousin's foriegn friends bounced along too. "I have no idea what he is saying," they told us. "But I love it." We loved him because he represented Jamaica — he was a real dancehall artist that by his second album, had also figured out the tricky act of also appealing to a global market. It was genius.
To understand the story of Sean Paul, the first thing to grasp is just how difficult it is to please a Jamaican listener. Jamaicans are an actively hostile audience — if a song displeases us at a party we will stand immobile in protest, noses turned up, and death glares lasered at the selector. The ultimate sign of appreciation of a song is the gun finger salute — the equivalent of gold star from a teacher — and it is no easy feat to earn. Sean Paul's songs like "Infiltrate" and "Deport Them," from his first album Stage One, prompted many a Jamaican to lift their trigger fingers skyward as a sign of respect to the artistry. Young SP was likened to legendary toaster Super Cat, framing him within a lineage of dancehall which he clearly fit into as the next chapter. But as he evolved, he became more pop.
In his early days, Sean Paul played by the rules of dancehall. One of the genre's defining features is the riddim system, in which a producer releases a beat and then multiple singers DJ their own lyrics over it. This creates many different songs all united by being on the same riddim. Sean Paul's song "Infiltrate" is on the Playground riddim, along with over 18 other songs, including Beenie Man's "Who am I." The riddim system has its own set of problems from copyright issues to difficulties in collecting royalties but, what it does create is a community of dancehall where all songs and artists are in conversation with each other.
From the start, his ganja-puffing and cornrow-touting style fit the anti-authority attitude that is the foundation of the genre. He stuck to "gyalis" tunes about seducing women and generally stayed away from the other main category of dancehall: gunman tunes. It was a wise decision on his part. Even though his father was a drug dealer, he still had the upper class upbringing, private school education, and light skin to qualify him as "uptown": the small elite that run the island.
In his first album, Sean Paul perhaps unintentionally gets into the social dynamics of dancehall in Jamaica. The genre is both loved and scorned by the upper class elite. In the track "Uptowners Skit" from his Stage One album, a ritzy couple get into a car after dinner and the wife changes the radio station to Sean Paul. The husband protests, "This is rubbish, I don't listen to dancehall." They both speak in the notorious Upper Saint Andrew's accent, the infamous nasal housewife drawl in which wealthy Kingstonians mix local dialect patois with English. The wife defends Sean Paul: "But I like dancehall!" before shouting Sean Paul's signature phrase "Dutty Ye" in a ridiculously over the top impersonation of patois, as if she is speaking another language. The skit was perfectly indicative of how unusual his place within dancehall culture was, and still is.
By the time he launched his more pop third album Trinity, he shifted away from the riddim system and was starting to lose the delicate balance of being internationally relatable while also locally relevant. Although it still gave us "Temperature," "Gimme The Light" and "Get Busy," BBC reviewed the album calling him, "Sean Paul, the dancehall artist you can take home to your Mum." For the next decade, he stumbled through flop albums as he experimented with a more pop and EDM sound. Songs like "Got 2 Luv U," and "She Doesn't Mind" appeared on the Jamaican party circuit circa 2012 and were premonitions for his current day poppy music. The songs elicited head nods from white rum soaked party revelers at Dream Weekend — the way a popular pop song would — but they didn't get the gun finger salute his old content demanded. It wasn't bad. It just wasn't dancehall.
2016 was Sean Paul's come back year. The year before he had parted with Atlantic Records — his label of almost a decade. It all started with Sia's "Cheap Thrills," followed by Clean Bandit's "Rockabye." Suddenly Paul was everywhere again. He was on tracks with Migos, Dua Lipa, David Guetta & Becky G, Major Lazer, Tory Lanez, Stefflon Don, Jhené Aiko, Wiley & Idris Elba, and J Balvin. He reinvented himself as the King of Features.
A combination of factors in the music world came together to help Sean Paul achieve his comeback. In 2016, Drake's heavily dancehall-influenced album Views acclimatized international listeners to modern dancehall. Then Justin Beiber's remix of "Despacito" launched reggaeton into a wider market place, followed by a new openness to afrobeats. It was the perfect time for a reemergence from an international artist.
But with his new international success, Sean Paul has lost Jamaican listeners. His new music is made for the Miami club, not the street dances of downtown Kingston. The sad fact is, the richer and more international he's gotten, the less his content relates to the day-to-day life of the ghetto on which dancehall is founded. And it's not that he hasn't tried with the local market. He still collaborates with local artists such as Squash, Alkaline, and Chi Chi Ching, who signed to SP's Dutty Rock label in 2015.
Even if those on the island don't listen to Sean Paul's new work, there is an appreciation of his representation of our culture worldwide. "He's our senior statesman of international dancehall like Beenie, Yellowman, et al" said one Jamaican dancehall fan when I asked the Twitterverse if Jamaicans still rated him. "Sean Paul face fi de pon money," said another. "Sean Paul is one of the biggest cultural ambassadors Jamaica has ever had," said a third Twitter user. If there is one thing that Jamaicans respect about Sean Paul, it is his hustle. Even with his international cross over, Jamaicans won't tolerate anyone labeling him a sellout.
But as one Twitter user put it, "Respect for Sean Paul starts and ends at his success. Besides that he hasn't evolved with, been a creative force or produced any relevant dancehall in decades." Others agreed. One Twitter user called him "dancehall for dummies." Another said that Jamaicans "only care about him when he's prominently featured as a matter of national pride." Some people see the criticism of Paul as resentment for his uptowness. "No matter what work he put in to get there they look at his advantages and feel he doesn't represent them," said one observer.
Sean Paul proves the proverb that "no one is a prophet in their hometown," except perhaps for Rihanna. And to me, he will forever be the baby faced 27 year old that hung on a poster above my bed — the person who brought dancehall to the global market, and then was willing to break away from tradition to try new things. Maybe this is the natural order of things: aging stars falling out of their initial fanbase's favor. But even as his grip on his home country continues to fade and A-list actors like Jake Gylennhall find joy out of impersonating him, someone like Sean Paul who's proven to be a master at reinventing himself could very well surprise us in the near future.