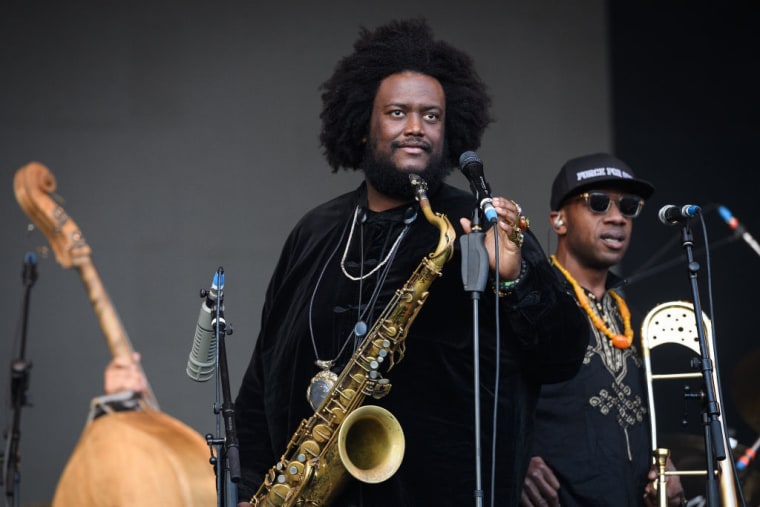 Kamasi Washington has claimed that a security guard assaulted his father before a show in Vienna, Austria on Monday night. Washington appeared on stage at Arena Wien on July 8 and told audience members that a security guard had assaulted Rickey Washington because, in the guard's words, "he was acting like an asshole." The jazz musician reduced the band's performance to just one song in protest, performing "Truth" from 2017 EP Harmony Of Difference.
Rickey Washington is a touring member of his son's live band and a storied musician in his own right. Speaking on stage in Vienna, Kamasi Washington said: "The reason why we're late tonight is because a security guard assaulted my father. I was left with a really difficult choice. I went and spoke to this man face to face and I said, 'Sir, why did you assault my father?' He looked at me, he laughed, and he said it was because he was acting like an asshole. I said, 'You don't get to do that to him. We're going to leave.'"
However, he felt he owed the fans a performance of some variety. "I love y'all [the audience] and even though we look different and speak different languages I feel like we are one. All of us."
Watch footage of the speech below.
In a lengthy statement published on Facebook, venue officials for Arena Wien claimed that Rickey Washington clashed with the security guard after attempting to enter the venue without a relevant pass or ID. The statement suggests Rickey called the man a "stupid punk ass bitch" in response to being barred from entry. The statement goes on to clarify that both sides agreed to put the incident behind them and the security guard left the premises after apologizing.
Arena Wien acknowledged that the incident could be construed as racist and said that made them "very sad." All ticket holders will be refunded and a donation will be made to charity.
A second statement from promoter The Nova Jazz & Blues Nights was posted on Facebook shortly after the gig ended. "We are totally sorry that the concert could not take place today as planned," it reads. "Whatever happened to the events mentioned, we stand for a peaceful and respectful one. 🖤."
The FADER has reached out to reps for the venue and Washington for comment.
Listen to The FADER's weekly playlist of songs you need in your life