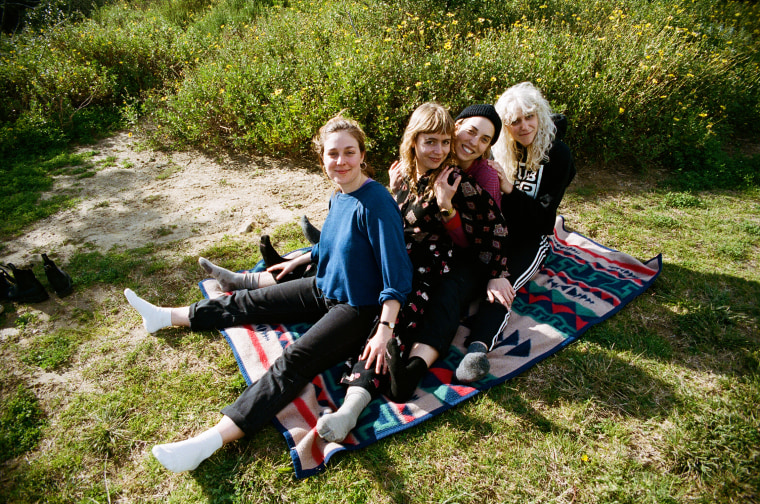 The second song on Chastity Belt's self-titled fourth album is a tribute to the pseudonymous Italian author Elena Ferrante, whose novels carefully detail postwar Naples, its crumbling facade of properness, and, above all, the female friendships that flourish within her city. "Nothing ever turns out like you think," Lydia Lund exhales on her half of "Elena." "You live within limits in life / Make meaning out of circumstance."
"We've all been friends for over ten years now, so we've seen each other through so many lows and triumphs," bassist Annie Truscott says over the phone of the band's shared connection to Ferrante's "Neapolitan Cycle." "We all connected with the characters and were able to see ourselves in some of the romantic situations. But it was also just a cool way to bond over all reading a book."
The gentle fatalism of "Elena" sweeps across Chastity Belt, which is due September 20 via Hardly Art. Lead singer Julia Shapiro describes the record as "nostalgic," "introspective," and "personal," and it's the indie four-piece's lushest and most mournful-sounding album yet, with three-part harmonies and lyrics gracefully swishing around major events without ever articulating them. "Driving in her Rav-4, going to the bar," Shapiro sings on "Rav-4," dangling a detail before drifting off completely. "Lost my mind and much more, but who's keeping score."
Co-produced by Melina Mae Duterte, better known as Jay Som, Chastity Belt came together on either side a six-month break for the band. As Shapiro told The FADER earlier this year around the release of her debut solo LP, Perfect Version, the "health issues" that led the band to cancel the remainder of their US tour after a show in Nashville were nebulous. Shapiro herself was in the midst of a crisis, both psychological and physical, and the rigors of life on the road had exacerbated things. "I had a lot of questions going through my mind: 'Should I be doing something else with my life? What else could I do?'" she said at the time. "I felt really confused about what I even liked about music to begin with."
But Shapiro, Truscott, and drummer Gretchen Grimm all laugh when I ask if they ever thought seriously about disbanding. "The break wasn't very dramatic," Truscott says. "We just wanted to take some time where each of us could do our own thing and be a person for a second before getting back together and record all of these new songs that we're really excited about." They'd already demoed about half of Chastity Belt before the break, and the rest came together quickly over a week at Lund's parents' home on the Key Peninsula in Puget Sound, Washington, finishing out with Duerte in Los Angeles at the top of the year.
"We've never had a planned producer, so we thought, 'Maybe we'll try it out this time to see how it feels to have someone help us make decisions," Truscott says of Duerte's involvement. Six years on from their debut LP No Regerts, Chastity Belt simply needed reassurance that their first idea is often their best one — that they don't need to overthink their sound. "We're just trusting ourselves a lot more — what we like and what we actually want to do — and trusting the sound that we create," Grimm says.
On Chastity Belt, that sound is more focused than ever. Shapiro and Lund's guitars are luxurious, Shapiro's melodies are beautifully spare, and the songs drifts serenely as Shapiro's lyrics touch on existential dread. "Now there's a thick fog around everything I learn / And I just kill time by dreading everything," she sings on the luxurious opener "Ann's Jam," later opining over the echoing guitars of "Half-Hearted," "Half-heartedly trying to get somewhere / But my feet are just catching dust."
"It's mostly just where we're at," Truscott says, side-stepping the idea that there's an existential weariness on the record. "We're getting better and growing up." It's a more cheerful way of saying something that the band drives at throughout Chastity Belt, leading to its closer, "Pissed Pants," and Shapiro's near-optimistic coda: "You said, so casually, 'Everything just works out' / In time we'll all be surrounded by what guides us." Chastity Belt, in the wake of a hiatus that eventually amounted to little more than a typical break between albums, are still guided by the band itself — following their first idea, developing their sound, and working through amorphous crises.
Chastity Belt is due out via Hardly Art on September 20. Pre-order the album here.