Joanna Sternberg's Then I Try Some More is a raw, open wound
Their second LP, premiering in full ahead of its release this Friday via Team Love, yearns for human connection.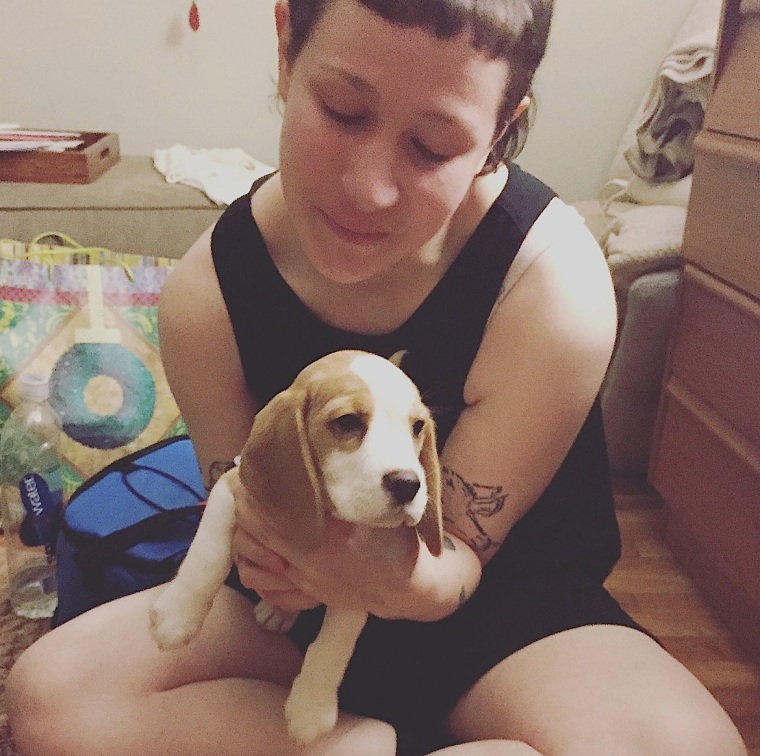 If I tell you that Joanna Sternberg sounds like Wallace Shawn, maybe you'll strain to hear them better. "Actually, there's this incredible puppeteer named Shari Lewis," they tell me, while still sounding like Shawn. "She'd do the voices of Lamb Chop, Charlie Horse, Hush Puppy — all these puppets. I blame that show for my strange way I speak. I talk like a cartoon."
Granddaughter to Fraydele Oysher — one of the first female singers in Yiddish theatre as well as inspiration for Barbra Streisand's 1983 film Yentl — our conversation is the Manhattan-based musician's "seventh, maybe tenth" interview, as well as the first to be conducted over Skype with cameras turned on. "Er, sorry dad — I'm Skyping a lady from the UK," I hear them call out from the bedroom that's depicted on the cover of their debut album, Then I Try Some More, premiering below ahead of its release on July 12th via Team Love. They're surrounded by the shrapnel of open notebooks, coloring pencils, records, and at the center of the colorful rubble lies Sternberg, half-hunched in bed beside an iced coffee and an iPhone opened to their voice memos. "It's hard for me to be looked at," they tell me. "I was even scared to do a Skype video call, 'cause I was like, 'Oh my god you're not gonna want to interview me when you see me.'"
It's one moment of several throughout our interview in which I have to stop myself from crying or showing any sign of empathy. Granted, Then I Try Some More prepared me for this experience; I knew that Sternberg hated the way they looked, feeling a near persistent sadness and wishing to be sublimated into a organless, genitalless second dimension. "I wish I were scared of poison, pills, and pain," they sing on "This Is Not Who I Want to Be," like the last words of a Furby before its battery drains. "I wish I was scared of damage to my brain."
It's apparent that these songs may have been inside of Sternberg their entire life, despite only recently coming to the surface. "At first, I was really scared to sing because my background is double bass — I was backing up singers at gigs, and just thinking I could never be in the spotlight. People I worked with told me I couldn't sing — they just weren't encouraging."
Sternberg began singing "five, maybe six years ago," and their voice didn't gnarl like it does today on early recordings, instead mincing and floating from their tongue in a lilting flute-tone. It's pretty, but it doesn't offer a true statement of Sternberg, who credits their vocal change to a singing teacher who encouraged them to find their true voice. "It was life-changing," they exclaim. "When I got good at music, that's when I started getting friends, and that was another incentive to play music. People would talk to me and think I was a human. I have a memory of wanting to be friends with everyone — but I'm not crying, 'Oh my God, my childhood was so hard.' Everyone's was hard. I was just annoying. I feel bad for all the teachers."
Sternberg tells me that they can't bear to look at childhood photos of themself — that they feel bad for the kids who went to school with them, the same ones who called Sternberg ugly when they were younger. I ask Sternberg if they've been harder on themself than the kids were to them, and they gasp in response. "I've never even talked about this in therapy. Maybe, maybe not. I do know that as I got older, the friendship thing got harder. I have lots of memories of chasing people around, trying to get them to be my friend."
Sternberg's music is upfront in its need for human connection. Then I Try Some More reveals the very maw of their sadness — their traumatic memories, what Sternberg's parents call their "open wound." Penning their first songs "about six years ago," Sternberg cites Elliott Smith and the comforting, kindred suffering he incited as chief inspiration. "The feeling that someone else was feeling that way made it okay. It was like, That's why I like to write those types of songs, and I know it might be too much for some people to handle. I get it."
Sternberg tells me that their next album will "be about addiction," which is fitting since we happen to be speaking on Sternberg's 250th day of sobriety. At this moment, they find themselves "trying to remember who I was before the ten years of all the stupid stuff I did... writing stuff more now about when I was on heroin and drinking and all the drugs I was doing." Having found their value and responsibility as a songwriter, Sternberg writes music to save lives, and because they have to — "like pooping," they offer.
Even so, Sternberg's music is beginning to find its way to some of the people who need it most. "Once a therapist came to one of my shows and said my songs had really helped one of her patients. I cried. There have been people who have told me my songs helped them not feel suicidal — people who have been in the psych ward or going through a breakup. That's the reason I write songs — for that chance of helping someone. If someone tells me that I've helped them, that's my validation to write another song."

Joanna Sternberg's Then I Try Some More is out via Team Love on July 12. Pre-order the album here.