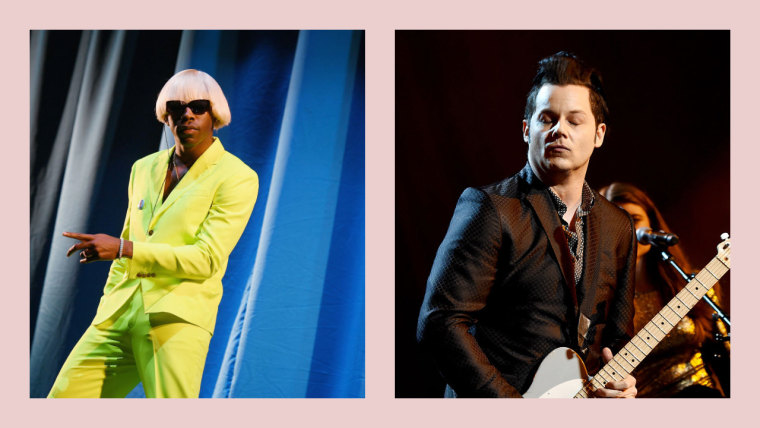 Tyler, The Creator has given a rare interview to Zane Lowe, broadcast on Beats 1 on Thursday, in which he discusses his new album IGOR.
During the interview Tyler confirmed that Jack White appears on the album, though he was not credited. 'Yeah. He played guitar," Tyler said of White. "He didn't want to get credit, though, because he couldn't hear himself."
Another collaborator Tyler discussed in the interview was La Roux, whose voice can be heard on "Thank You" from the record. "[La Roux's voice] is light but it has depth to it," he told Lowe. "I needed that for 'Thank You'." Tyler went on to add that he and La Roux are "definitely going to do something in the future."
Prior to the release of IGOR Tyler shared a picture shouting out the various "helping hands" who contributed to the album in some way. Both Jack White and La Roux featured on that list alongside Solange, Lil Uzi Vert, and more. It is believed that White plays guitar on "Are We Still Friends?," though that remains unconfirmed. The FADER has reached out for comment.
Later in the Beats 1 interview Tyler recalls spending time in Italy with Solange and Frank Ocean, where he worked on a number of IGOR songs. 'I went to Lake Como. It was awesome. Yeah. Solange and Frank came. Frank was like, "where are you at?" I was like, "yeah, I'm at the house." He was like, "Imma pull up." Pulled up on the boat. Solange, "where you at?" She pulled up on the boat, like it was a mood. It was sick though. There was ducks. Somebody just said, "Lake Como is nice", and I looked it up and the shit looked pretty, and I was like, "all right, we flying there." Rented a villa, worked music from there."
One person Tyler is yet to work with is Billie Eilish, though he revealed he's keen to get into the studio with her at some point. "I like her. I just want her to just keep doing her damn thing," he said. "I want to work with her. I don't know what the fuck we would make. Even if it don't come out, if it's trash, I still just want to see."
In addition to getting his own ice cream flavor, Tyler is about to head out on tour with guests Jaden Smith, Blood Orange, and GoldLink. Check out the IGOR tour dates here.
Listen to The FADER's weekly playlist of songs you need in your life