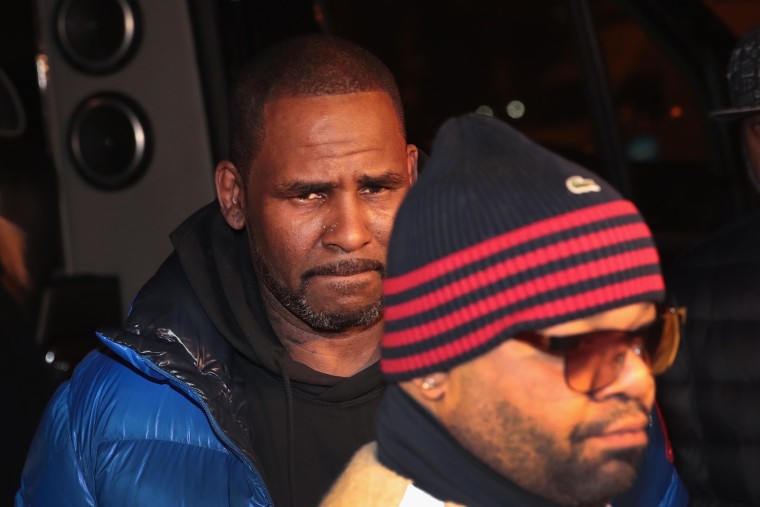 In addition to a 13-count child pornography indictment, R. Kelly has been ordered to be taken to New York to face racketeering charges which allege the singer recruited young girls at his concerts for the purpose of sexual abuse, according to the Chicago Tribune. Kelly will be brought to the federal courthouse in Brooklyn on August 2 before being returned to Chicago for a hearing on September 4 for a separate indictment at the Dirksen U.S. Courthouse.
So far, Kelly has pleaded not guilty to all charges and faces life in prison if convicted. He is currently being held in isolation at the Metropolitan Correctional Center in downtown Chicago. Prosecutors said he was an "extreme danger" to the community due to his past history of sexual abuse, manipulation, and obstruction of justice. "We're talking seventh and eighth-grade girls," said Assistant U.S. Attorney Angel Krull at Tuesday's hearing. "And it didn't happen once or twice. He sexually abused them hundreds of times before they turned 18."
The 18-page New York indictment alleges it was standard practice for members of Kelly's entourage to hand out wristbands to girls, including minors, to allow them backstage with the singer. They would then be instructed to obtain contact information for any girl he wished to see again, subsequently inviting them to future shows and putting some up in hotels.
The charges also indicate Kelly would later groom girls, ordering them to call him "Daddy" and restricting when they ate, went to the bathroom and left their rooms. Kelly also faces four additional indictments from earlier this year in Cook County alleging the singer sexually assaulted and abused four women, three being underage at the time of the assaults.
At press time, Kelly faces charges in three separate jurisdictions, so it's not clear which case will take center stage.
Listen to The FADER's weekly playlist of songs you need in your life