The warped wilderness of Velvet Negroni
NEON BROWN, Jeremy Nutzman's debut album as Velvet Negroni, is a crash course in the art of reinterpretation.
"Self promotion is the way of the world, but it kind of just makes me uncomfortable," Jeremy Nutzman confesses over breakfast in the East Village. "My promotion is the product." We're talking about NEON BROWN, his debut album as Velvet Negroni out August 30 via 4AD, which sounds like nothing else that's released this year — an endlessly surprising endeavor invoking elements of funk, pop and R&B that constantly veers from the trails of presumption and into a wilderness entirely of its own creation.
Just ahead of its release, Nutzman will open for Tame Impala at Madison Square Garden; he's also got a feature on Bon Iver's upcoming album i,i, and it was Justin Vernon who played his song "Waves" at Kanye West's pre-Ye writing camp in Wyoming. Nutzman's 2017 track wound up inspiring the hook for Kanye and Kid Cudi's Kids See Ghosts opener, "Feel The Love," which he's still surprised about. Though the stakes sound higher on NEON BROWN, Velvet Negroni is still entirely a homespun operation. The album was written and recorded with producers Psymun and Tickle Torture last March in a studio just outside of Minneapolis. When Nutzman wasn't recording, he was cutting down trees for his friend's lumber business.
Nutzman has spent nearly his entire life in Minnesota. Adopted into a white evangelical family, he was raised with the virtue of music as a discipline. Since the age of five, he was instructed to practice classical piano for at least an hour a day. "Kids would come up to the door asking to play kickball and I'd be in fucking tears over music theory," he remembers. "My mom would sit next to me on the bench everytime I practiced for the entire hour. There was no skipping out on shit."
Structural training aside, he was totally restricted from secular music, citing an impactful adolescent moment of finding a pile of scratched-up, abandoned CDs on a neighbor's lawn, from Soundgarden and Brandy to Blackstreet and Sugar Ray. "I'd try and sneak whatever I could, but there was literally no place in the house that I could like hide something," Nutzman recalls. "I'd unscrew my vents, put CDs in there, and they'd get found. The time when music is supposed to be the most impactful and exciting is when I was getting the least of it — which lends its way to how I write and interpret things."
It wasn't until after he was enrolled in college that Nutzman began to comprehend music as more than just readable — he could write it, too. Following his years at University of Northwestern (a Christian school in St. Paul), Nutzman found a collaborator in Hunter Morley. Their work together morphed into his first full-fledged band, Pony Bwoy, an outlet for sonic (and chemical) experimentation. "We started making shit, kind of more as an excuse to just like do drugs than anything." Pony Bwoy eventually fizzled out after the duo released their second album: "everybody was so strung out that we weren't even making music anymore. We were just too high and didn't care."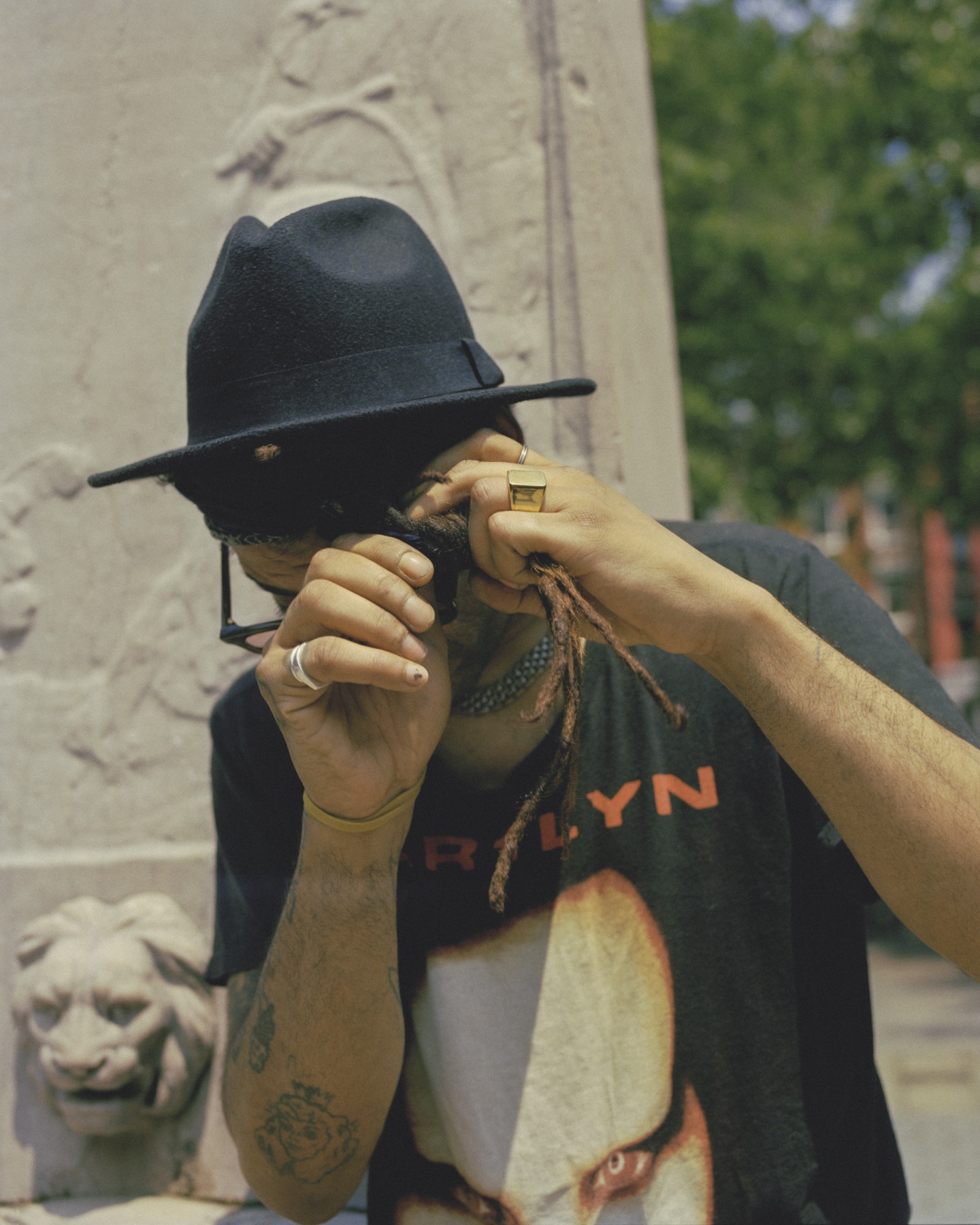 Nutzman took the fragments from Pony Bwoy and channeled them into his solo work, a project which fully metastasized shortly after a friend bought him a "ridiculous $30 cocktail" at a martini bar in Austin: a Velvet Negroni. The namesake Italian apéritif aims to strike a balance between oppositional sensations: the sharpness of the gin, the deep bitterness of Campari, the assuaging mellow of sweet vermouth and the light piquancy of an orange peel. It's a remarkably fitting name for the project, one that Nutzman insists was purely coincidental. "I'm teaching myself to enjoy them more than I would have," he says. "Just for the principle of the matter."
In 2017, Velvet Negroni quietly debuted with the murky and subaqueous T.C.O.D., an acronym for "the climb of decline," and a project that cast a wide narcotic shadow in Nutzman's life. Soon after its release, he knew he had to change his lifestyle. "I was getting too fucked up, and I made all my friends' lives fucking hell trying to deal with my ass. So I shut it down for a while. Obviously that's going to change the music a little bit."
Nutzman sobered up for NEON BROWN, and his new outlook courses throughout the record: on the jubilant single "Wine Green," he sings about "gunning for no life form" with a near-unsettling chipperness, a gleaming example of how the album reinterprets the notion of recovery from darkness. How do you assemble life's shrapnel into a cohesive body of work without dulling the edges? The answers lie in every crevice of NEON BROWN's warped anatomy, right down to the cover art — a sketch pulled from Nutzman's friend's waste bin.
Lyrically, Nutzman prioritizes the onomatopoeic, with loads of millennial absurdity to be read into between the lines. He keeps his iPhone dry throughout an identity crisis on "NESTER," and sneaks a "Damn, Daniel" into the album's frontier-facing emotional climax "SCRATCHERS." It's moments like these where something of a thesis feels tangible: maybe all this debris isn't just debris. Maybe we can roll with it. "At the end of the day we didn't ask to be born, but we're doing alright." he says. "T.C.O.D. felt like, Who fucking cares dude, it's over, we fucked it up. This one feels more like, The future was yesterday, but we're staying alive I guess."