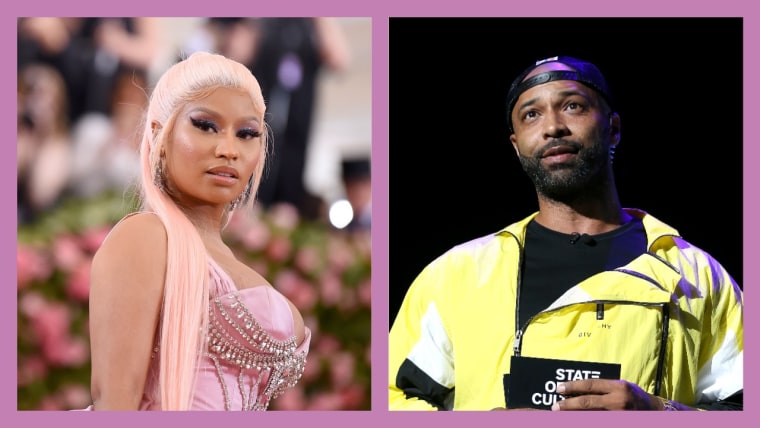 Last Friday, Megan Thee Stallion and Nicki Minaj's new single "Hot Girl Summer" finally landed. Then, over this past weekend, the two appeared to have shot a video for the mega collaboration. They clearly have a lot to discuss, so Nicki's bringing Meg for a new episode of Queen Radio — due to air this afternoon at 3p.m. EST.
Nicki teased this week's installment of the Beats 1 show in a fired-up Instagram post yesterday, in what seems to be a response to Azealia Banks calling her "wild coked...fake and evil." "Never forget there r 7 billion ppl in the world but u choose to interrupt ur important life to go on another black girl page to project ur own insecurities," Nicki wrote in the post. Stream the episode live here.
Update (3:45 p.m. EST): Megan is not going to appear on this week's episode. "And that's that on that," Nicki said, regarding the cancellation. Joe Budden appeared in her stead. The two argued as to whether the rollout of Megan and Nicki's new single, "Hot Girl Summer," was "calculated." "You like tearing down women when they can't defend themselves," Nicki told Budden.
Nicki has also confirmed that her forthcoming album is due out "soon," and that there's a "dope" executive producer attached to the project... although she won't confirm who they are, yet.
Update (4:40 p.m. EST): Nicki has told her producer to "cut [Budden]'s fucking mic," after drug allegations came up. "It's been malicious and specific to me because he and I were under the same people when we were coming up," she says. "I used to think to myself, this man is so bitter... I didn't think his ego was that out of control that he couldn't admit when he was wrong."
Update (4:50 p.m. EST): Nicki has addressed Trina and their recent collaboration. "Trina's camp is saying that I didn't do enough to promote her song 'BAPS.' What the fuck?" she says. "When people you have helped continue to speak bad about you.. the people I've helped are the ones who start the narrative, so that's the problem. I could say so much, but I don't. I'm not addressing men anymore, my husband will."
Update (5:10 p.m. EST): Nicki has addressed allegations of cocaine use, saying she has never tried it, "may God strike me down."
Update (5:31 p.m. EST): With Budden long gone and Ts Madison in his place, Nicki said that she'd be married in the next 90 days. She also offered an update on her forthcoming album: "I'll be married before my album comes out, but I'll probably have my wedding after the album comes out."
Additional thumbnails via Jamie McCarthy/Bennett Raglin/Getty Images, Brad Barket/Theo Wargo/Getty Images