Report: A$AP Rocky ghosted the White House after release from Swedish jail
A mysterious fixer, Jared Kushner, the President, Kim Kardashian, and a host of others worked on the Rocky case, which they saw as good PR for Trump. After his release, the rapper's team just sort of stopped responding to calls.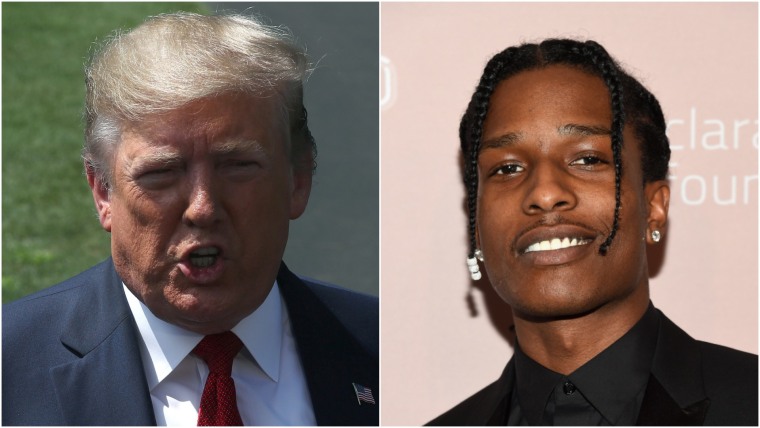 A$AP Rocky's release from a Swedish jail was seen by the White House as an opportunity for Donald Trump to garner support from Black Americans, according to a new report from Yahoo!. But despite the personal involvement of the State Department's top hostage negotiator, Trump's son-in-law Jared Kushner, the President himself, "a mysterious entertainment industry 'fixer,'" two eager Trump allies, and Kim Kardashian, Rocky still ghosted the White House upon his release, angering those who saw the saga as an opportunity for good PR.
The key players in the Rocky case, according to the report, were initially Darrell Scott and Kareem Lanier — the former one of Trump's most outspoken Black surrogates during the 2016 election, the latter a co-chair of "a nonprofit led by Scott dedicated to promoting elements of the Trump agenda to the black community." The two men got involved in the Rocky case on July 10, after Hassan Muhammad — a man summed up by saying he knows "how to handle or solve problems" — reached out. He tells Yahoo! that Rocky's team had personally sought his help in the matter, and he told them that he had contacts at the White House.
Muhammed reportedly put Lanier on the phone with Rocky's manager, John Ehmann, who was apparently intent on having the President intervene. Scott and Lanier say they only asked for Rocky to personally thank Trump and the White House upon his eventual release from prison. According to Scott, Ehmann responded, "If a serial killer gets Rocky out of jail, I would have no problem saying thank you to the serial killer." That didn't turn out to be the case, however. Kim Kardashian pushed Trump to get involved, after Kanye West suggested she reach out. Trump reportedly asked Secretary of State Mike Pompeo to run point on the Rocky case, though Trump and Kushner both remained active in the case. Trump kept tweeting as Rocky sat in jail for two more weeks.
When Rocky was released from jail on August 2, Scott and Lanier were reportedly trying to contact with Rocky's team "within hours," hoping for a direct statement of gratitude on Instagram, but Rocky instead thanked his fans and friends. Rocky's team became harder to contact, and when the rapper was found guilty of assault on August 14 but spared further jail time, he once again chose not to thank the President — whose impact on the case isn't really hinted at here or anywhere except on his own Twitter page — and that pissed Scott and Lanier off. "All he had to do was do a two-minute call to say thank you," Scott tells Yahoo! "Rocky hasn't even called us and said, 'Hey, man, thank you guys. I appreciate it,' in private. Just in private."
Read the report in full at Yahoo!.