Xanman is the DMV's most prolific teen rapper
The 19-year-old rapper is the D.C. area's most well-rounded newcomer, equally effective at delivering comedy, horror, and romance.
During July's closing weekend, over a thousand kids from within the D.C. Metropolitan Area descended upon Silver Spring, Maryland venue, The Fillmore, to get their first mainstage viewing of local teen rap sensations Xanman and YungManny. Footage posted to Instagram the day after the concert shows a sea of phone flashlights and yells from the crowd reciting lyrics from each of the rappers songs without either having to do any of the physical labor themselves. To the outside eye, that night may have appeared to be a run-of-the-mill occurence for popular rappers, but considering that the area has never faced the potential of being headed by a handful of artists under the legal drinking age, it felt like a legitimate shift. "Yeah, that's never really happened [here], it's usually older dudes, you feel me?" Xanman excitedly reflects on his generation's rise during a phone call two days after the show, before delivering a crushing blow. "Like, you know — people that are in their 20s."
Xan, a 19-year-old born Haile Salaam, is the most versatile and experienced of the current wave of DMV teen rappers. Thanks to an uncle who drummed for the likes of D.C. go-go deity Chuck Brown and Roberta Flack, Xan found himself around high-profile music personalities at a young age — a highlight he mentions is meeting Lil Wayne at 12. Those experiences influenced Xan to start trying his hand at producing and recording himself rap on his family's computer; by the end of elementary school, he was regularly using Pro Tools. "I went through a lot of changes with my voice," he says. "The only thing that I kept in mind is the punchline. As long as I've been recording, I've been using punchlines and similes and metaphors."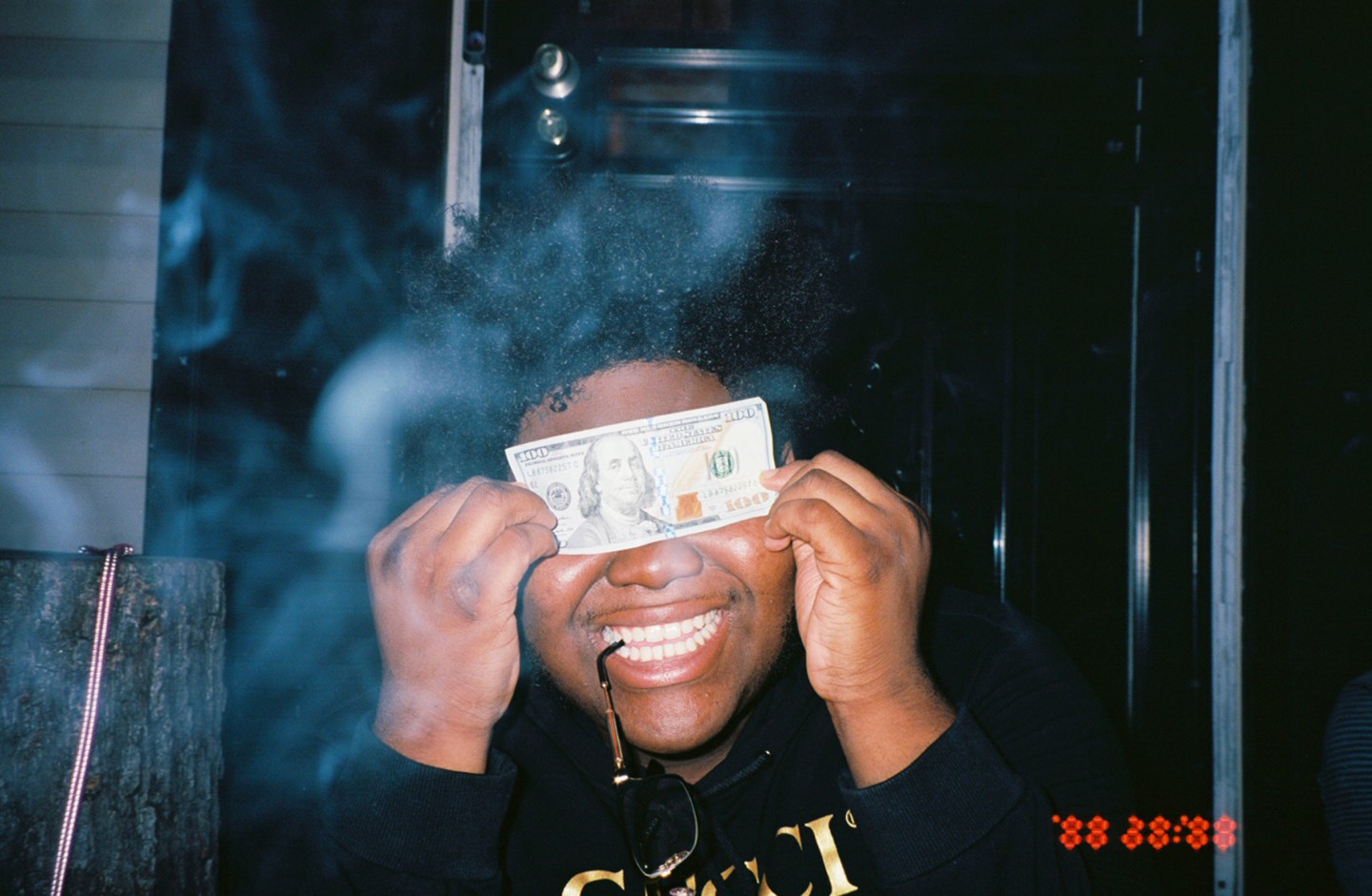 One-liners are the crown jewel of Xan's repertoire. Whether he's using his commanding, gruff-voiced flow, or serenading his listeners with melodic lines about teenage romance or his preferred weapons, there's a near-guarantee that you'll either be cracking a smile, or wincing your face at the brashness of his banter. On last year's standout track "Heard Cuz Was Hot," he roars, "Niggas squares, I'ma call 'em a grid / Might drag your grandmother by her wig / Got it out the mud, feel like a pig." On the third installment of his "Xanstyle" freestyle series, he quips, "Red tips in my gun, pepperoni / Say he gon' rob me? Laugh emoji." At just about every instant of Xanman's abbreviated offerings (not many of his songs exceed the two-minute mark), you're left hanging on, gleefully anticipating what wild shit he'll conjure up next.
This approach — part comedy, part heartbreak, part gore — is reflective of the rapper's teenage need for shock value. In videos, his hefty build, full cheeks, and almost complete absence of facial hair present an image of permanent adolescence, but his creative output and the topics covered in his music suggest that Xanman is operating at an advanced level for someone born in the year 2000. Just over the past three years, he's released somewhere around 30 projects (albeit EPs that hover around the 10-minute mark on average), all mainly on popular mixtape hosting site Spinrilla. And if you give the majority of them a run, you get to learn a lot about him from his musical selections.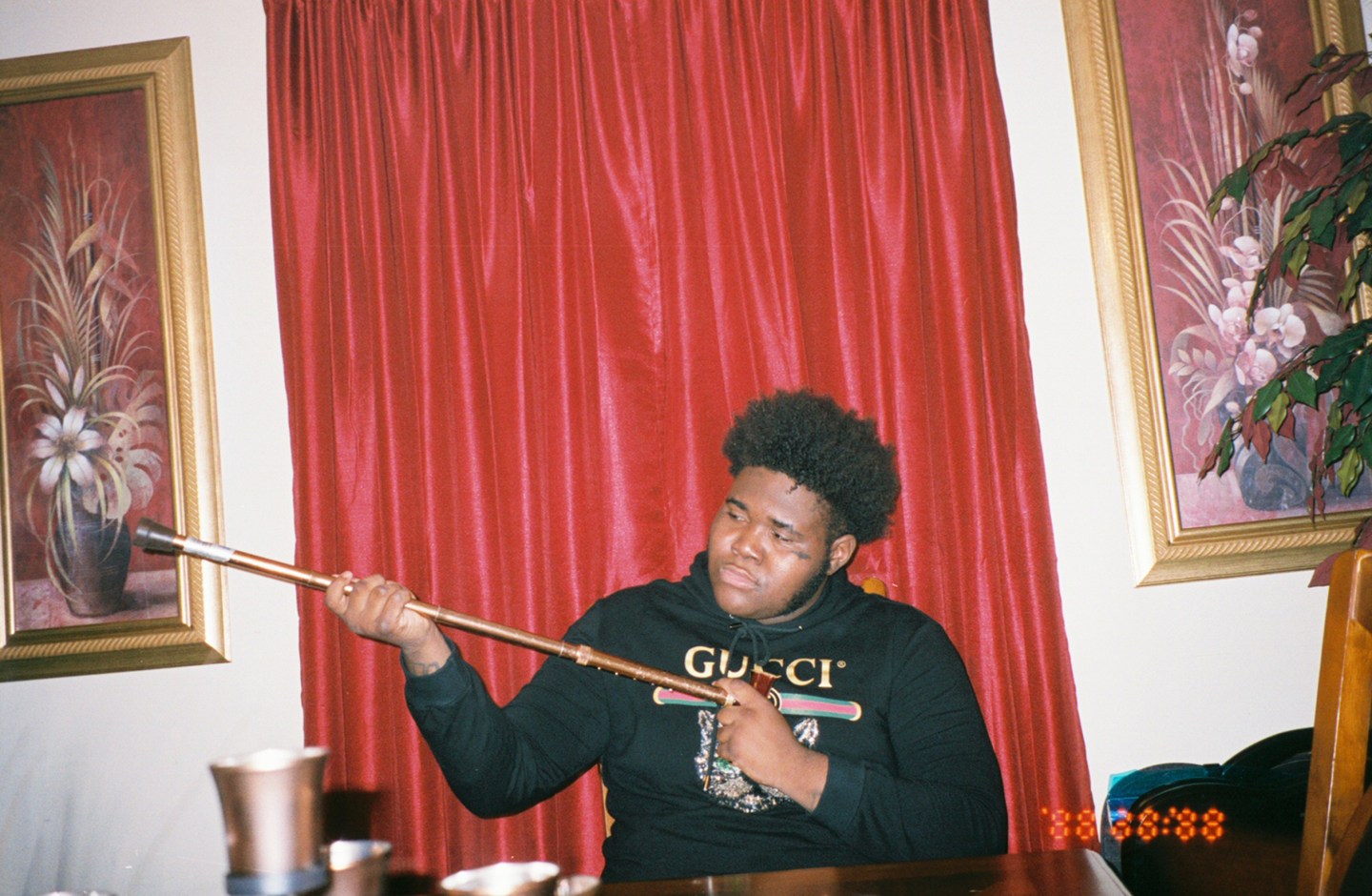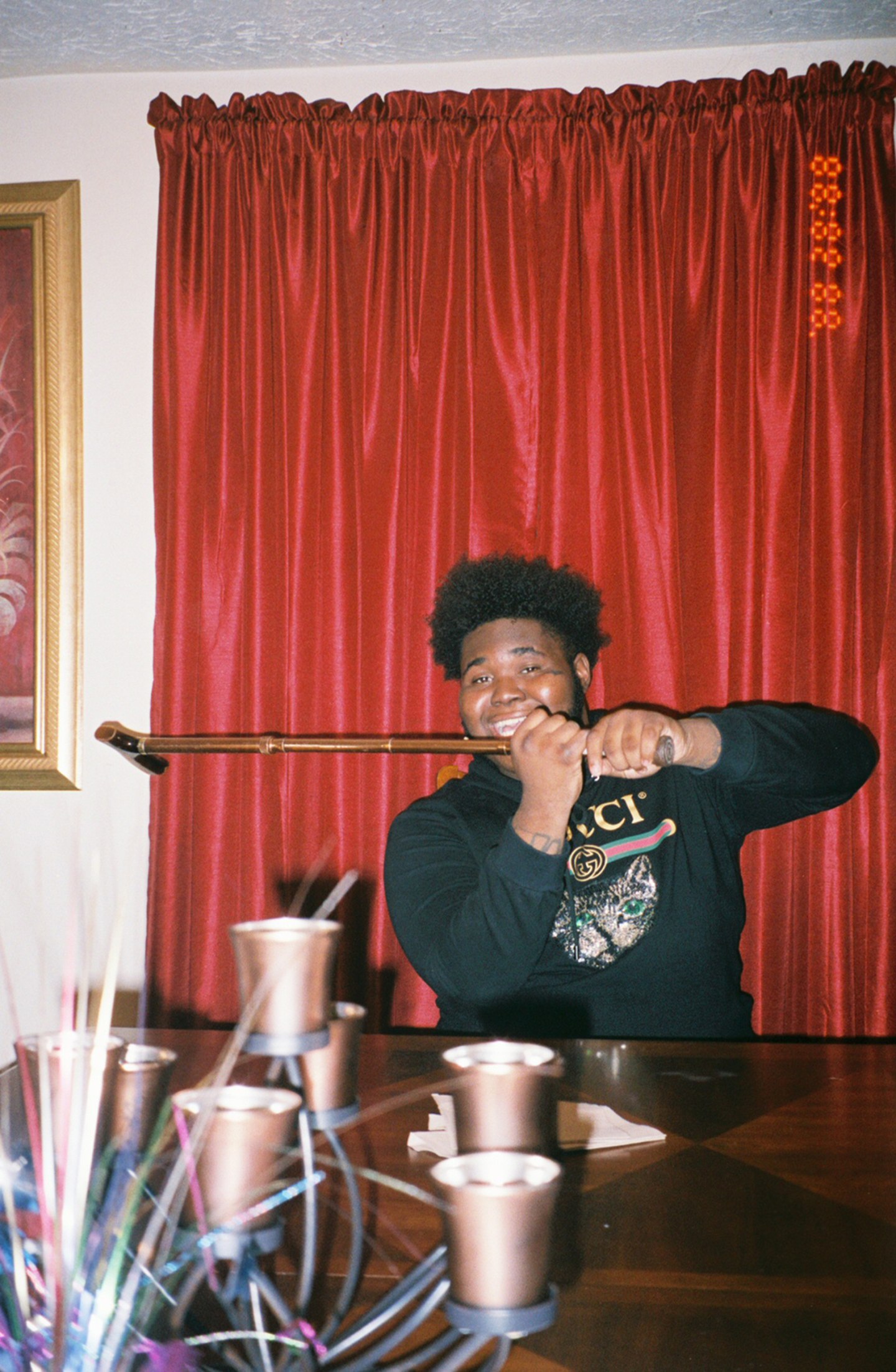 For someone so young, he shows a greater interest in connecting with the past than many of his peers. He's rapped ahead of the beat over Aaliyah's "Are You That Somebody?" hopped on a couple 50 Cent standouts ("Many Men" and "Get In My Car"), and injected his harmonizing DMV flow over Erykah Badu's "Didn't Cha Know?" — a song originally produced by J Dilla and released the year Xan was born. There are recurring characters in some of his songs that you end up looking forward to hearing more about, like the braid-wearing OG who lives on his block. When I ask if the guy is real, Xan jokingly confirms: "I'm not gonna speak on his name but he's really the OG that lives down the street from me, and he's always trying to give me advice. I'm like, Nigga, you not the person to give me no advice. Like, you look like Ludacris."
There's also a dead-seriousness to the often stomach-turning goriness in some of his lyrics, like dragging people's grandmas and threatening to throw someone's infant child into a ceiling fan. "A lot of people be like, This man crazy, but a lot of that stuff I've seen happen in front of my face," Xan reasons. "It's kind of like a Kevin Hart Laugh at My Pain type thing but, my right hand to God, that's stuff that I've really seen. Like, not a newborn in a ceiling fan but a baby dying right in front of my face."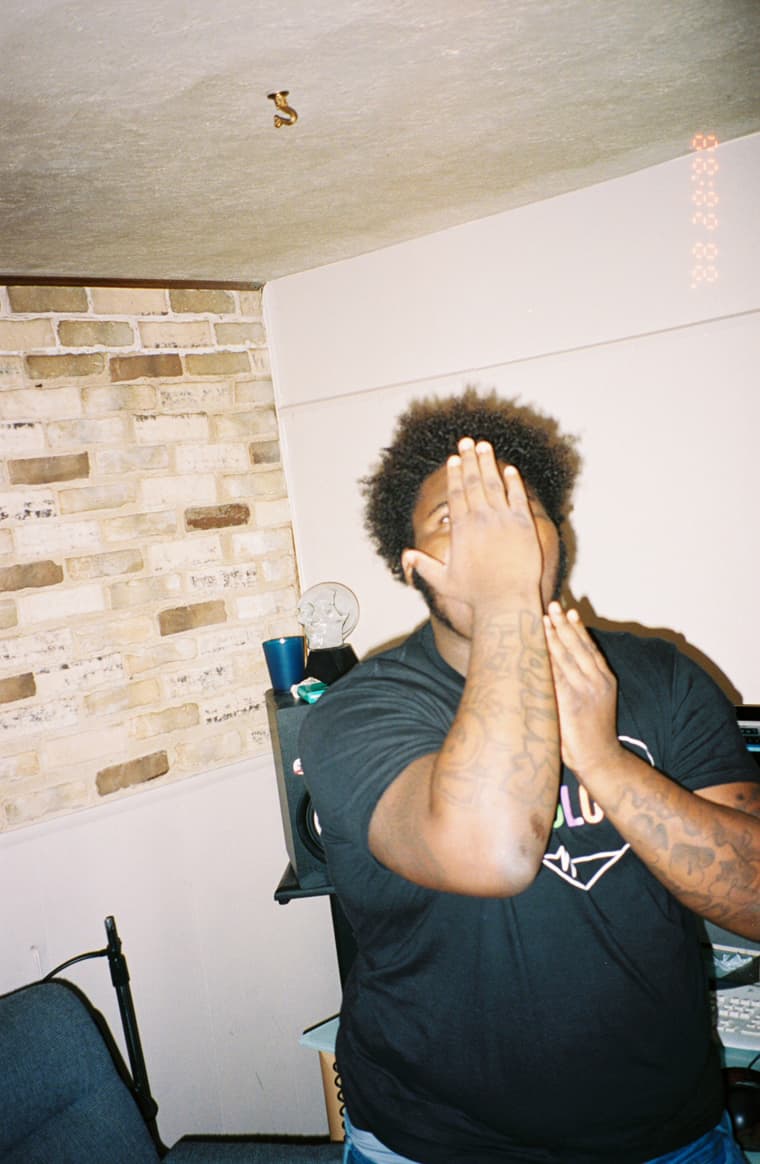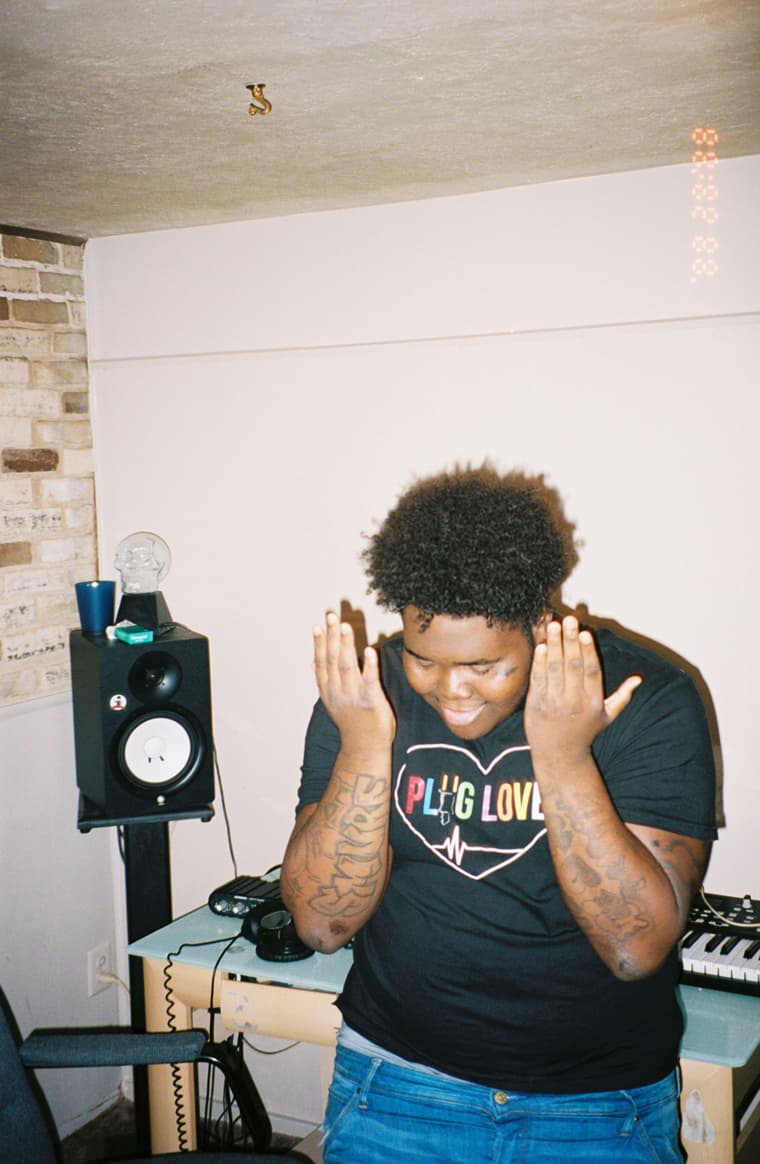 As DMV rap became more visible last year, Xanman's music started to spread nationally, appearing in a number of publications and on rap-focused YouTube channels. When he was arrested on assault charges in November, the threat of him losing steam was looming, but up to his release in May, he continued to feed fans new music. Fresh out, he scored his first semblance of a hit song with "Gucci Down." In 2019, it's becoming increasingly difficult to properly forecast just how much a new rap act will take off in the long run, but right now, Xanman is already making local history for someone his age. For him, fame and success are both uncomfortable territories, but he's ready to embrace them. "Sometimes a thing comes so quick that you don't even want it," he says in earnest. "But you gotta live in a better situation for your family and everybody else."