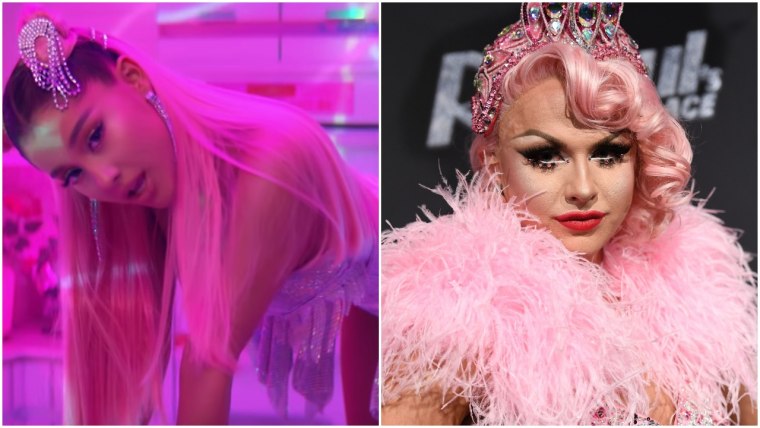 On Tuesday, reports emerged of a lawsuit filed by Ariana Grande against the soon-to-be-defunct clothing chain Forever 21 and makeup company Riley Rose. Grande's $10 million suit alleges that the companies approached her for an endorsement deal. Grande claims that, when she turned it down, the companies created a campaign using her likeness, clothes very similar to the ones worn by Grande in the "7 rings" video, and lyrics and images from the videos for "thank u, next" and "7 rings."
Soon after the lawsuit emerged, Farrah Moan of RuPaul's Drag Race All-Stars claimed Grande's team had actually copied her style for the "7 rings" video. "Ariana should give me a cut of that 10M," Moan wrote on Twitter, "since her team literally sent a pic of me to the designer and paid them to copy my look from [Drag Race All-Stars 4]... I guess stealing from queer artists for profit is fine tho 🤷🏼‍♀️."
Moan added that "the main ppl at fault here are her team," but "When ur team makes a mistake, it falls on you." The Twitter thread concluded with Moan rejecting the idea of taking legal action. "Idc about suing anyone, just needed to put that out there."
Soon after the song "7 rings" premiered in January, Grande was accused of plagiarism by both Princess Nokia and Soulja Boy.