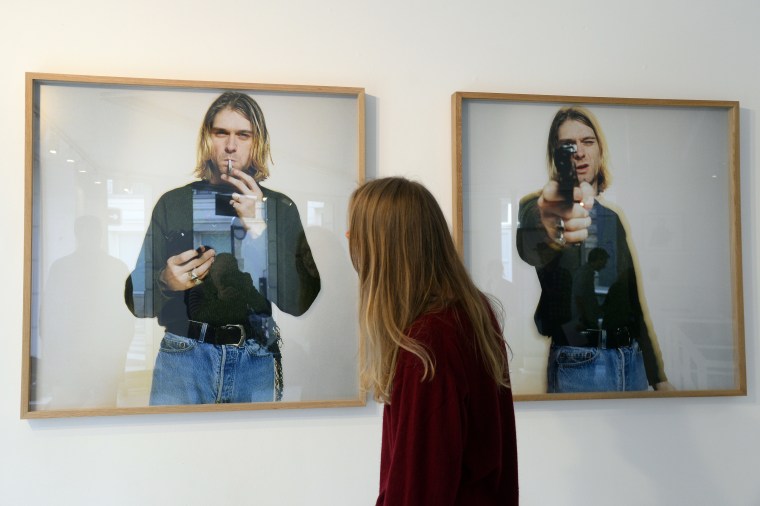 The estate of Nirvana frontman Kurt Cobain has collaborated with Live Nation to produce a 50-piece fashion collection called "Kurt Was Here," Rolling Stone reports.
Cobain's drawings, paintings, and notes are featured as designs in the new line, which will include T-shirts, hoodies, and sweatshirts. His daughter Frances Bean is listed as a "curator" on the project, though she did not respond to Rolling Stone's request for comment.
The line is available for USA shoppers at Barneys, where shirts are selling for $113. The official Cobain webstore KurtCobainShop.com offers different designs for cheaper prices: $39 for a shirt and $60 for a sweatshirt. U.K. fans can find them at Selfridges. A portion of the proceeds will be donated to the Jed Foundation, a young adult suicide prevention group.
Appropriating the creations of a beloved and fervently anti-establishment figure such as Kurt Cobain is bound to be controversial. Anticipating this, a representative issued the following statement to Rolling Stone:
"We believe that the importance of art is exceedingly potent in today's social and political climate... and that it is the right time to share this collection of Kurt's work with artists, collectors and fans, allowing them to experience Kurt's legacy in a new way, and collectively celebrate his lasting impact on the world."
Cobain's estate was not involved in similar merch featuring the frontman's image from brands like Forever 21 and American Eagle. Courtney Love, Cobain's wife, called out Vetements for its use of "Corporate magazines still suck," a phrase Cobain wrote on a t-shirt for Nirvana's 1992 Rolling Stone cover story.