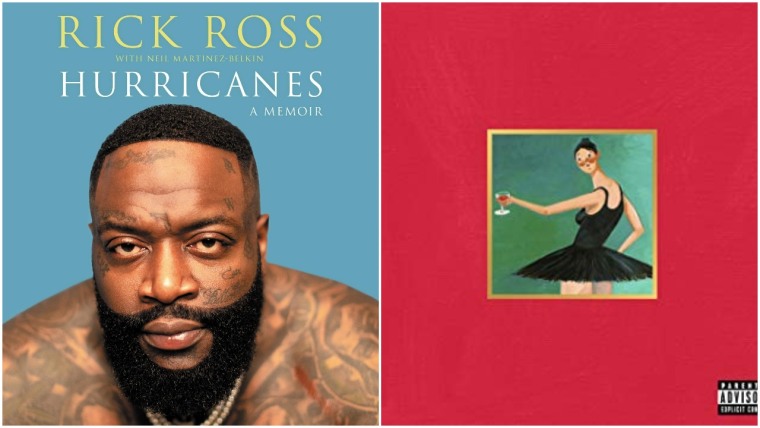 I still had one more old friend I needed to help out before I could get started on Teflon Don. At the top of 2010 I received a call from Kanye West's management asking me to come to Hawaii. Kanye was holed up at Avex Honolulu Studios working on something. He'd booked all three of the studio's recording rooms for 24 hours a day until further notice.
Kanye had come to Hawaii to get away. It was his escape from his problems at home. A year and a half earlier he'd found refuge there following the loss of his mother. That retreat inspired his fourth album, 808s and Heartbreak. This time around Kanye had come to Hawaii after a situation at the 2009 MTV Video Music Awards. He'd interrupted Taylor Swift's acceptance speech to say the award should have gone to Beyoncé. He got a lot of backlash for that. Even President Obama called him a jackass.
It had been eight years since I last saw Kanye. I'd gotten him on "Maybach Music 2" but that was done remotely. We hadn't actually been in a studio together since our cyphers at Studio Center back in 2002. A lot had changed since then. For both of us.
I wasn't sure what to expect of our reunion when me, Pucci and Spiff checked into our Hilton hotel on Waikiki Beach. But once we got to the studio I started to gather that this wasn't going to be my typical guest verse. The first thing I noticed were all these signs Kanye had put up on the walls.
NO TWEETING
NO HIPSTER HATS
ALL LAPTOPS ON MUTE
JUST SHUT THE FUCK UP SOMETIMES
NO TWEETING PLEASE THANK YOU
NO BLOGGING
NO NEGATIVE BLOG VIEWING
DON'T TELL ANYONE ANYTHING ABOUT ANYTHING WE'RE DOING!
NO RACKING FOCUS WHILE MUSIC IS BEING PLAYED OR MUSIC IS BEING MADE
TOTAL FOCUS ON THIS PROJECT IN ALL STUDIOS
NO ACOUSTIC GUITAR IN THE STUDIO
NO PICTURES
I wasn't sure what tweeting was but I did know that something different was taking place here. Kanye had flown in a murderer's row of emcees, producers and songwriters to work on this project. Legendary beatmakers like No I.D., Pete Rock and DJ Toomp. Young superstars in the making like Nicki Minaj, Kid Cudi and Big Sean.
This was the routine. Every day would start at 10:00 a.m. with breakfast at Kanye's crib in Diamond Head. Sometimes we'd get there before he did. Kanye would still be at the studio from the night before. He had two full-time chefs there who were cooking up French toast with flambéed banana while everybody got to talking about what we'd worked on the night before and what we were fitting to do at the studio today. These were Knights of the Round Table discussions.
It was during one of those breakfasts that Kanye and I got to talking about Pusha T. Pusha was one half of the Virginia rap duo Clipse, who had just dropped their third album Till the Casket Drops. Kanye had been featured on the album on a song called "Kinda Like a Big Deal" but he never actually worked on the record. He'd recorded his verse on there for a T.I. song called "On Top of the World," but somehow it had ended up getting placed on the Clipse song instead.
So Kanye didn't know Pusha T. But I did and I gave Ye my opinion on him. Somebody like Pusha T could be a big asset in this environment and I recommended Kanye see what his label situation was too. I got them on the phone and the rest is history. I had already left Hawaii by the time Pusha got there but he got a few placements on the album and Kanye ended up signing him to G.O.O.D. Music.
After breakfast Kanye would go play a few games of pickup basketball at the YMCA. Spiff and I usually skipped out on the gym. We'd hop in our little Kia rental car and explore the island. We'd go to lunch at Benihana, and do some shopping. Spiff and I are toy collectors and we found a dope-ass toy store one day and bought mad shit.
Playtime was over at 3:00 p.m. That's when everyone would reconvene at the studio. For the next 12 hours it was all business.
Kanye's creative process was a little chaotic. He's a real theory. One minute Kanye would be with me working on "Live Fast, Die Young" and then suddenly he'd leave to see how Nicki's verse was coming along on "Monster" in the other room.
Nicki Minaj earned my respect as a lyricist that day. I knew she was Lil Wayne's protégé and had a big personality, but when I saw her sit down and write her verse on "Monster" from scratch, I was blown away. The girl was a superstar and she was setting it off on this record. I convinced Kanye to let me whip up a little four-bar bridge that we could squeeze between the song's intro and Kanye's hook.
Bitch, I'm a monster, no good blood sucker
Fat motherfucker, now look who's in trouble
As you run through my jungles all you hear is rumbles
Kanye West samples, here's one for example
—"Monster," My Beautiful Dark Twisted Fantasy (2010)
The next thing I knew I was in a closet with this cool bearded white brother getting ready to record. I'd seen this guy working out of this tiny room in the back. He'd been there since I got there. I figured he must be a stand-in for Mike Dean—Kanye's main engineer who hadn't gotten to Hawaii yet—but it turned out he was the voice behind the distorted vocals on the song's intro. We ended up smoking a whole bunch of joints and kicking the shit while I laid down my little verse.
This hippy motherfucker ended up being Justin Vernon of the band Bon Iver. But I didn't find that out until later. During the time we spent working together I had no clue who he was and I didn't think to ask. I had no doubt that anybody Kanye had flown down here was here for a good reason.
My biggest contribution to My Beautiful Dark Twisted Fantasy came several months after my trip to Hawaii. Kanye had to turn in his album the next day. But he wanted to get me on "Devil in a New Dress."
I'd already recorded a verse to "Devil in a New Dress" in Hawaii. It was a real soulful joint built around an old Smokey Robinson. Kanye had already released the song as part of his weekly G.O.O.D. Fridays series. Except he hadn't kept my verse on there. But when I met up with Kanye in New York at the final hour of his album he had a new version of the song. His engineer Mike Dean had added this mean guitar solo breakdown at the end of it that Kanye wanted me to come in after. But he wanted me to write a new verse. He didn't like the one I'd done in Hawaii.
"I know that you can do something better than that," he told me.
That's what he said. Then he stood up, turned around and walked out the studio.
It was good that he left. I needed a minute to process what had just happened. In all my years no one had ever asked me to rewrite a verse before. Even when I was a nobody ghostwriting for artists way bigger than me no one had ever said something like that.
I was shocked but I wasn't offended. I wasn't pissed. That surprised me too. I knew Kanye hadn't said that to upset me. He was pushing me the same way he had been pushing everybody in Hawaii. The same way he was pushing himself to do something even greater. So the ball was in my court. I could either take his request as disrespect or I could take him up on his challenge. I decided on the latter and two hours later I had another verse. It's one that many of my fans consider to be the best of my career.
Lookin' at my bitch, I bet she give your ass a bone
Lookin' at my wrist, it'll turn your ass to stone
Stretch limousine, sippin' rosé all alone
Double-headed monster with a mind of his own
Cherry red chariot, excess is just my character
All black tux, nigga shoes lavender
I never needed acceptance from all you outsiders
Had cyphers with Yeezy before his mouth wired
Before his jaw shattered, climbing up the Lord's ladder
We still speeding, running signs like they don't matter
Hater talking never made me mad
Never that when I'm in my favorite papertag
Therefore G4's at the Clearport
When it come to tools fool I'm a Pep Boy
When it came to dope I was quick to export
Never tired of ballin' so it's on to the next sport
New Mercedes sedan, the Lex Sport
So many cars DMV thought it was mail fraud
Different traps I was getting mail from
Polk County, Jacksonville rep Melbourne
Whole clique's appetite had tapeworms
Spinning Teddy Pendergrass vinyl as my J burns
I shed a tear before the night's over
God bless the man I put this ice over
Getting 2Pac money twice over
Still a real nigga, red Coogi sweater, dice roller
I'm making love to the angel of death
Catching feelings, never stumble, retracing my steps
—"Devil in a New Dress," My Beautiful Dark Twisted Fantasy (2010)