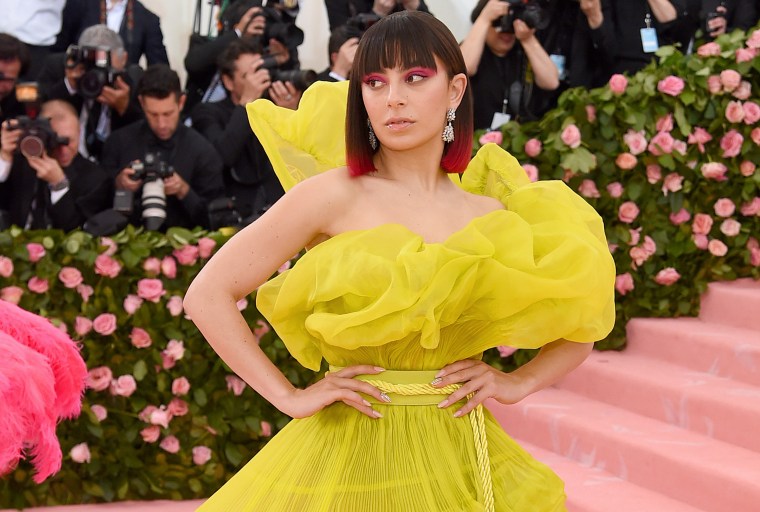 A discussion of contemporary pop music without Charli XCX is laughably incomplete. She's a harbinger of innovation for the genre, and her body of work feels teleported from the future. Pop stars are unique figures in that their persona is worshipped just as vigorously as their music, and Charli has that I'm-all-in, life-of-the-party, see-you-when-the-sun-rises vivacity on lock. Part of her success is due to her daring sense of style, as Charli's looks have evolved tremendously throughout her career — each era leveling up her innate XCX power. In honor of her new album Charli, we're here to chronicle her sartorial journey, from spunky club kid to high fashion apotheosis.

True Romance

 : The Infancy
For better or for worse, one's early twenties is marked with fashion adventurism. We play around with our hairstyles, wonder if we can pull off chunky accessories, and develop a uniform that will leave us baffled in approximately three to five years. Charli traveled this road with us, demonstrating a fearlessness that would become the common thread in her style evolution, and her earliest looks are best encapsulated in the wild, crimped locks and clubwear on the True Romance cover.
Sucker-era Charli was seminal in her style evolution, bridging the gap from grungy club kid to today's futuristic glamour looks. Charli began playing with feminine silhouettes and a signature red lip on her own terms, at one point wearing a shimmering, puff-sleeve dress with a thick, metal choker that spells out S-E-X. Seeing Charli live makes it's clear she was born to be on stage, and this era found her developing an exciting tour wardrobe — like a full-body zebra print catsuit — and laying the groundwork for iconic tour fits in the future.
Vroom Vroom : Party Girl Rising
"Vroom Vroom" is the type of song that sends parties into a beautiful state of frenzied recklessness, and we're better for it. The EP that shares its name marked a shift in Charli's sound, as she began working with Scottish PC Music producer and soon-to-be frequent collaborator SOPHIE, the pair setting out to create pop music that sounded like it was on steroids. Her style also followed a similar trajectory, cementing her spot in the party girl hall-of-fame; Charli championed her "Lavender Lamborghini, roll up in a blue bikini" lyrics by making swimwear an outfit staple, while also dipping her toes into a more fashion-forward mentality with maximalist prints and funky footwear.
Number 1 Angel

 and Pop 2 : When Classical Glam goes Intergalactic
The era following the Number 1 Angel

 and Pop 2 mixtapes showed Charli harnessing the full potential of XCX sensibilities. She's at her most versatile, graduating to a sleek bob with hot pink ends to keep things interesting and rocking a cyber fit and a sweeping, tulle gown with the same energy. Charli began working with stylist Rebecca Grice in late 2017, and it was a perfect match. Grice understood Charli's over-the-top aesthetics and elevated her looks into an I-Don't-Give-A-Fuck type of glam. The two have a prolific relationship and worked together over several career milestones — Grice styled the Pop 2 tour wardrobe, single covers, and Charli's first Met Ball appearance earlier this year. Ultimately, there's a confidence that shines through in Charli's style choices in this era. Charli knows now what her fans have understood for years — that she's potent with star power.
Charli : Full Speed Pop Icon
Leading up to the release of hew new album, Charli was going through it. "Sometimes I just want to quit everything," she vented on an Instagram post. "Sometimes I wish I was only a songwriter, not an artist — so I could give my songs to other artists to sing. And then maybe more people would hear them and connect with them. I don't really understand how music works, nor do I really care to but sometimes I think I was born in the wrong era." Although it was a departure from the Charli-core brags of being "fucking iconic," it was the type of vulnerability behind why she has droves of devoted fans, or "angels."
Charli is a new type of pop star — one that's real and truly herself, even on her low days — and the Charli era is already shaping up to be her brightest — Charli feels like she can be accepted at her most authentic self, and it shows through her style. With the help of Grice, she's established herself as a popstar with an expansive sartorial wheelhouse. A polished gown with alluring slicked back hair hits just as hard as chartreuse alien femme-dom get-up. Charli even does early-aughts nostalgia her own way, pairing a Paris Hilton-approved rhinestone choker with a commanding Cuban Link chain and bold, packed on blue eyeshadow. She can oscillate from look to look with ease and we love it, because the thing about being authentic is that everything looks good.