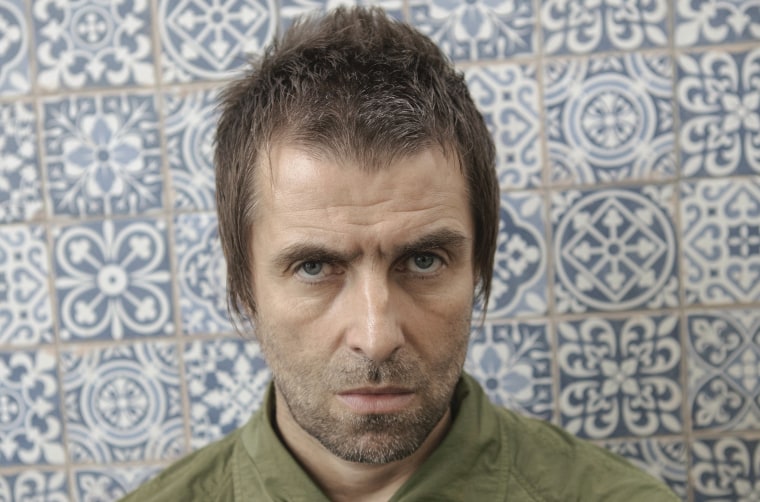 "The day I lose my confidence, I might as well stick needles in my eyes and die," Liam Gallagher says while sitting in a dressing room of a north London photography studio. For the past 25 years, the younger of the two Gallagher brothers has existed as a beacon of self-assurance, spitting the lyrics to Oasis songs from beneath the furry lining of his parka jacket. Those songs — written by Noel but shocked into life by Liam — defined the Britpop era and sent the band hurtling towards a global fame that was always destined for a spectacular end, which became reality when a 2009 row before a gig in Paris culminated with a smashed guitar and Noel quitting the band.
Liam's spent the subsequent decade simultaneously plugging away on his own projects — his now-defunct band Beady Eye as well as a successful solo career — whilst also making it clear to anyone and everyone that he'd love Oasis to reform. Noel, who's gone on to a pseudo-solo career fronting Noel Gallagher's High Flying Birds, has staunchly refused to even entertain the idea, but one viral tweet at a time, Liam has held firm and remained sure his day will come.

To seasoned Oasis-watchers, the possibility of a reunion has changed with the wind. Right now, it seems less likely than ever, partly due to the success of Liam's solo career. His 2017 debut As You Were went platinum in the U.K. and put him back into arenas and on festival main stages — a natural spotlight for a man ill-suited to the dingy clubs Beady Eye were performing in when they split in 2014.
Speaking ahead of the release of new album Why Me? Why Not, Liam admits this is partly down to branding. "The name Beady Eye just wasn't connecting, and I think people may have needed a breather," he says, arguing perhaps fairly that his own name brings a sense of clarity. "I kind of knew it would work with my name. I fucking knew it. But you can't do that when you're in a band with your mates."
More truthfully, however, a reunion currently seems impossible due to Liam and Noel's relationship, which has rarely been worse. In July, Noel accused Liam of "intimidating women" after sharing screenshots allegedly showing aggressive texts sent by his brother to his teenage daughter Anaïs about his wife Sara MacDonald. He also attacked Liam's music, telling The Guardian in August: "I don't think I've ever been so embarrassed for a man in my entire life. It's unsophisticated music. For unsophisticated people. Made by an unsophisticated man."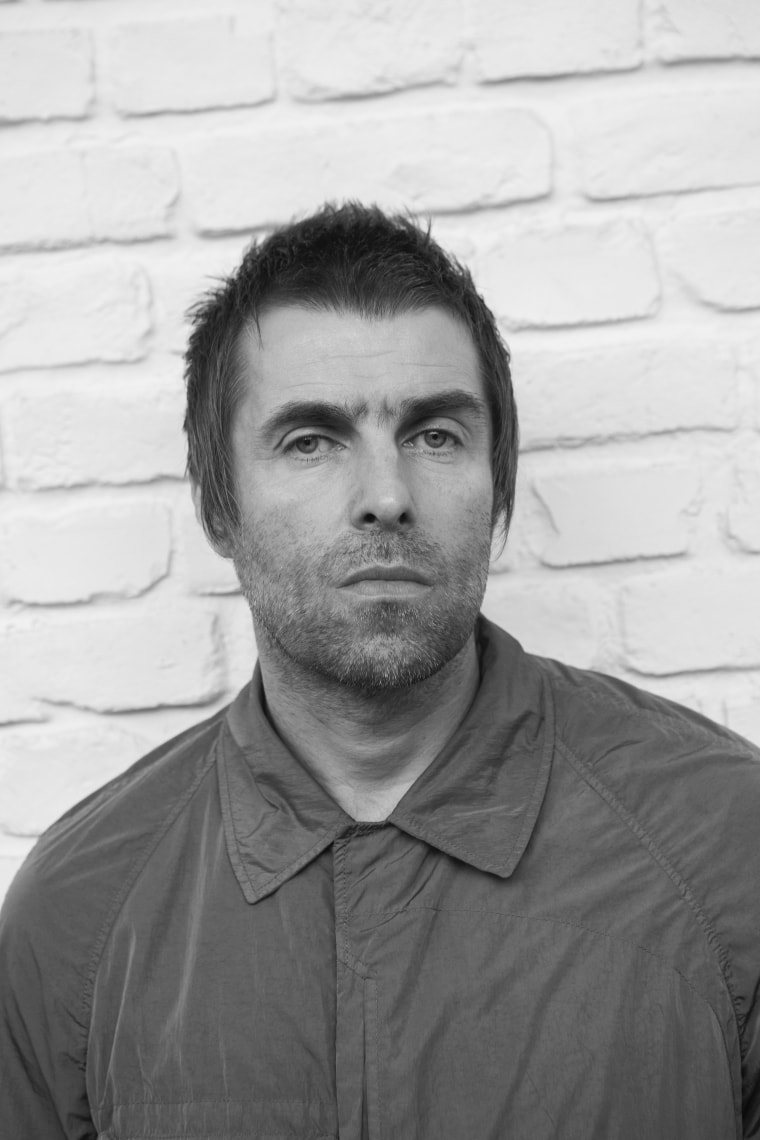 Today, Liam says his brother is "obsessed" with him and concedes that the feeling is mutual. The tone of the conversation shifts when the accusation of him intimidating women is brought up, a claim he strenuously denies even if he is typically brash in his own defence. "I've never threatened anyone," he says, the air seemingly vanishing from the room. "When you threaten someone you put something on the end of it." Talking about MacDonald, he adds: "To think that just because your husband wrote some songs for me in the '90s you're free from stick? You're tripping. She said shit about me. I said shit about her. It's all very childish. I sent that text to Anaïs but it wasn't threatening. A threat is when you turn round and say, 'Or else.'"
Liam admits he was wrong to bring the children into his brotherly dispute and says he wants to apologize. He also says he knows his fans use social media to target MacDonald in a way they wouldn't come at Noel. He stops short, however, of urging those supporters to stop. "I don't tell anyone to do anything. I don't rule people's opinions."
But opinions have been the Gallagher's stock-in-trade for 20 years, with a running joke being that they should charge for interviews and give their music away for free. Why Me? Why Not track "One Of Us" is a bittersweet singalong that includes the pointed lyrics: "You were always one of us/ Act like you don't remember/ You said we'd live forever/ Who do you think you're kiddin'?" It doesn't take much of a leap to deduce this is about Noel, right? "That one is a bit of any angry tune, and I like that," Liam admits. "I guess people will think it's about Noel — but there's a lot of cunts out there. It could be about any of them."

His brother might find his music "unsophisticated," but Liam is undoubtedly thriving, thanks in no small part to a team of songwriters (including Greg Kurstin and Andrew Wyatt) whose dedication to the Oasis blueprint is unwavering. Why Me? Why Not improves on 2017 debut As You Were, offering a fearless collection of arena-ready anthems designed for fans to wave flares to and sing along with. "Shockwave" is a grizzled, country-tinged take on The Beatles' poppy side, while "Once" is Liam looking back at a time before fame and success when things were, if not easier, then at least more straightforward. "Sometimes the freedom we wanted feels so uncool," he laments over a delicately strummed acoustic guitar.
A highlight of the record is "Now That I've Found You," which addresses Liam's relationship with daughter Molly Moorish, who's now part of his life for the first time since she was born 21 years ago. Liam is a poster boy for British lad culture and has surrounded himself with men, from his bandmates to sons Lennon and Gene — so welcoming a daughter into the fold has changed his perspective. "I haven't had a relationship with her since she was born, for crazy reasons, so I wanted to get those feelings out," he explains. "It's a love song letting it all out." Liam claims he can't pinpoint what he's learned from having a daughter in his life, opting to say that it's simply "lovely to have her around" and rather mystically opining that he'll be there for her until "the day we all go to the next level."

The kids keep Liam up to date with new music and recently turned him on to Slowthai and rising British band Black Midi. (The former was due to open for Liam on his upcoming U.K. tour, but instead dropped out to take up the same spot on Brockhampton's upcoming North American tour.) Having young children in London also means that he's worried about violent crime in the city, especially after the Met Police confirmed earlier this month that there have been 99 murders since the beginning of 2019.
"It's becoming the norm, which is fucking scary," he says. Many of the victims are teenagers from impoverished backgrounds not dissimilar from his own background in 1970s Manchester, but the measure of sympathy that Liam has for them is questionable at best. "There wasn't much going on when we were growing up but we weren't going around with machetes and throwing acid in people's faces," he claims. "We had fuck all, and I think this generation's got a lot more than we had. So I'm not buying that there's nothing to do. There's a field out there — go play football and take some magic mushrooms."
On the subject of young people, Liam is happy to have attracted a new wave of fans brought up on his music — a generation of bucket-hatted teens singing along to Oasis classics at his gigs that were put on to Definitely Maybe from the back seat of their parents cars. He identifies closely with a youth obsessing over a previous age much like he did with the 1960s and, in particular, The Beatles: "We looked at it through rose-tinted glasses, and that's what they're doing, romanticising things." That's not to say the kids have quite nailed their 90s trends, though. "You see some if it and you think, 'You're getting it wrong there,' he laughs. "It's all good though. When you look at the state of the world and you see walls being built in America you can't be getting upset about someone wearing the wrong trainers with their Sergio Tacchini tracksuit."
After 25 years in the spotlight, Liam Gallagher remains hilarious company. He says that he enjoys running but could never compete in a marathon with "people dressed as the Eiffel Tower, or fucking big Ben." He's a poetic swearer and a man of his convictions, even if they often contradict one another. Bar his older brother contacting him with that magical phone call, it's hard to see how life could get much better for him right now. The music is flying, his immediate family is full of love, and the future looks exciting. There in the middle of the noise is Liam, standing tall and confident as ever.