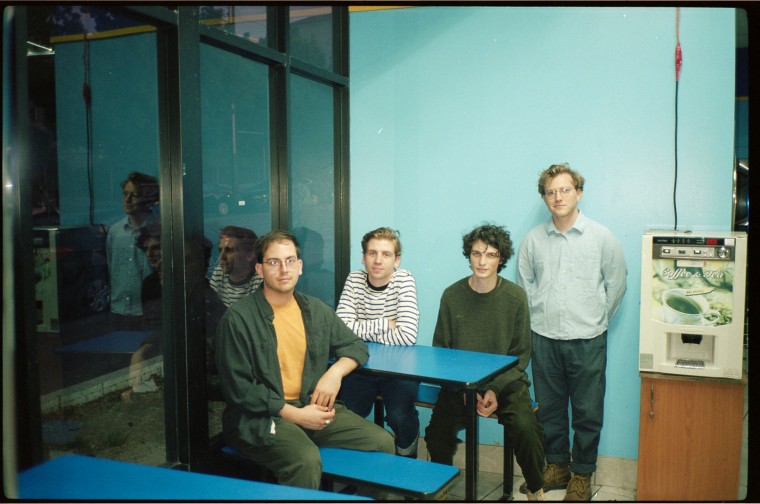 Even if you've never listened to his band Slow Hollows, chances are you've heard from frontman Austin Anderson over the past few years. He sang on Frank Ocean's "Self Control." He worked on Tyler, the Creator's Flower Boy. And finally, later this month, he'll return with Slow Hollows' third studio album, Actors. Today, they're releasing one new cut ahead of the full release, a smoldering track called "Heart" that treads in the waters of a love gone by.
The core of the song has existed in Slow Hollows' catalog for a few years now, but it's one Anderson felt he needed to revisit for Actors. "I'd been living with that version for a while and knew it belonged on the album, but needed something more to justify it being there," he told The FADER. "I didn't want to just put the same version on an album that had already been released."
Enter Tyler, the Creator, who ended up lending the track its dusky groove. "When I played him 'Heart,' he told me the song was good but the production was seriously lacking," Anderson recalls. "[Tyler] is so good with making music that moves and feels massive, yet really precise and delicate at the same time. He really made the song into something the band couldn't have done alone."
Hear "Heart" below, and then catch Slow Hollows on their forthcoming tour (the dates of which can be found at the foot of the page). Actors is out October 23 via Not Another Word.
Upcoming Tour Dates:
10/24 - Los Angeles, CA @ Moroccan Lounge
10/27 - El Paso, TX @ The Lowbrow Palace
10/28 - San Antonio, TX @ Paper Tiger
10/31 - Orlando, FL @ House of Blues*
11/1 - Fort Lauderdale, FL @ Revolution Live*
11/2 - Tampa, FL @ The Ritz Ybor*
11/4 - Athens, GA @ Georgia Theatre*
11/5 - Charlotte, NC @ The Fillmore*
11/6 - Raleigh, NC @ The Ritz*
11/7 - Brooklyn, NY @ Rough Trade^
11/8 - Pittsburgh, PA @ Stage AE*
11/9 - Detroit, MI @ Fillmore*
11/11 - Columbus, OH @ Express Live*
11/12 - Cincinnati, OH @ Bogarts*
11/14 - Indianapolis, IN @ Old National Centre*
11/15 - St. Louis, MO @ The Pageant*
11/16 - Kansas City, MO @ Midland Theatre*
11/20 - Las Vegas, NV @ Bunkhouse Saloon
*= w/ The Neighbourhood & Claud
^= w/ ARTHUR