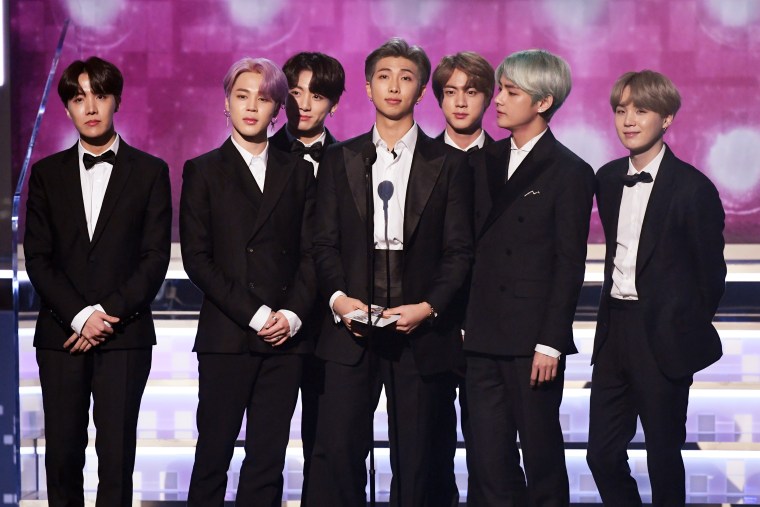 BTS have spoken with the Hollywood Reporter about their upcoming tour date in Saudi Arabia. The K-pop band were invited to perform in Riyadh by Crown Prince Mohammad bin Salman, who has been implicated in ordering the murder of Washington Post journalist Jamal Khashoggi, and has overseen the imprisonment and execution of women's rights activists and other political dissidents.
Members of BTS told the Reporter that the decision to play the King Fahd International Stadium in Riyadh on October 10 wasn't a simple one. "I wouldn't say it was easy," said bandleader RM, "but we were officially invited. It's been a while since we've performed in the Middle East — I guess the last time was 2015 in Dubai."
BTS's Jimin said the group will play wherever they're wanted. "To put it simply, if there's a place where people want to see us, we'll go there. That's really how we feel."
The apolitical stance tracks with BTS's stated decision to stay far away from issues of importance. When asked about their thoughts on playing in America during the Trump era, RM refused to engage. "BTS doesn't talk about big issues like war or peace, or global poverty or starvation, or things like that... There are a lot of issues, both in the United States and in Korea. I think the message [is] loving yourself, as well as to look at the small things."
In July, Nicki Minaj dropped out of a headlining slot at the Jeddah World Fest in Saudi Arabia. "I believe it is important for me to make clear my support for the rights of women, the LGBTQ community, and freedom of expression," she said in a statement. She was replaced on the lineup by Future, Chris Brown, and Janet Jackson.