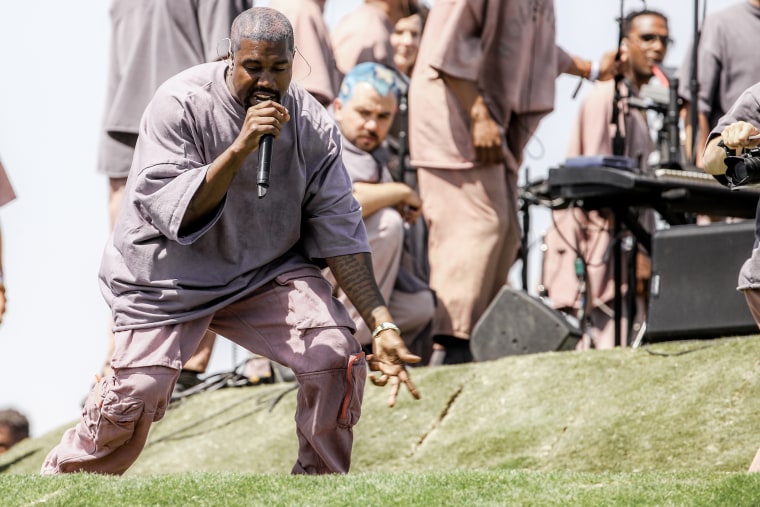 While we continue to wait for Jesus Is King, Kanye West was busy bringing a Saturday edition of Sunday Service to Salt Lake City, UT, according to TMZ.
Anywhere between 7000 to 10,000 people packed into the Gateway Center, likely much to the chagrin of the Mormon conference taking place right across the street. Based on the flow of attendees, it's possible people who may have otherwise attended the 189th Semiannual General Conference of The Church of Jesus Christ of Latter-day Saints also stopped to watch Kanye preach.
According to Deseret, fans started lining up at 4 a.m., with more fans arriving closer to the service's 10 AM start, effectively rushing the stage in the process.
Reporter Hunter Schwarz shared footage of the service on Twitter, including a clip of Kanye doubling down on his support of President Donald Trump and again, comparing things that are very much not slavery to slavery. "That's the Republican Party that freed the slaves," he told a raucous crowd as musicians played "Jesus Walks" in the background and his choir bounced in unison. "But for a year people want to call me a coon...I ain't never made a decision only based on my color. That's a form of slavery, mental slavery!"
He later went on to discuss the ills of social media and touch on criminal justice reform.
There's no word just yet on where Sunday Service may end up for the rest of the weekend, but considering Jesus Is King now has no official release date, we know Kanye is a fan of precarious plans.