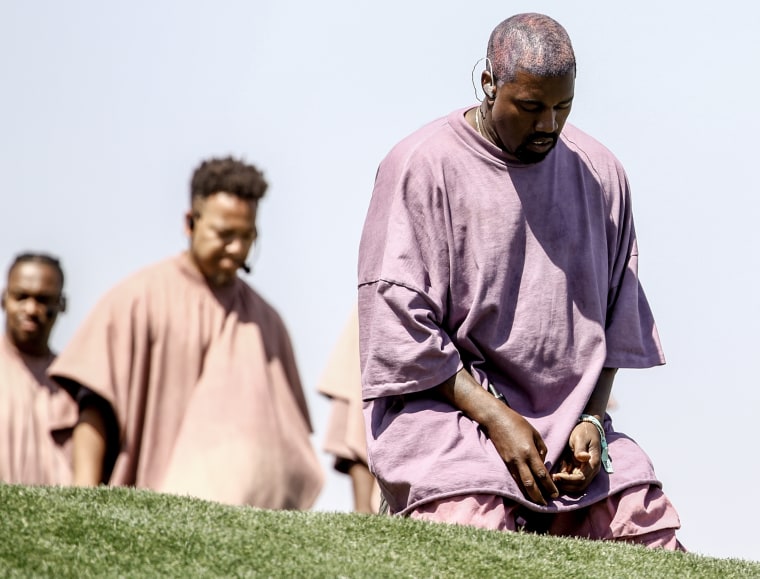 The past few weeks has seen a typically chaotic and confusing for Kanye West's ye follow-up Jesus Is King, the non-secular record that West has been teasing for months. Over the past few weeks, West has been playing the record for fans and congregation at his Sunday Service shows across the country, and bringing along with him Adam Tyson, a Californian preacher who's been teaching West bible study over the past few months. Now, Tyson has appeared on the Pure Flix podcast, a podcast run by faith-based streaming service and content website Pure Flix, to discuss how he met West, how Sunday Service works, and Jesus Is King.
There are some interesting tidbits throughout the interview, including the fact that West first connected with Tyson over the fact that he believed he had been "radically saved" this past April. "He started meeting with me in my office [after service]," Tyson explains. "And I spent about three hours just going through the gospel, make sure he understood clearly about the atonement of Jesus Christ … and he's like, 'Hey, man, I told you I've been radically saved. I believe that message, and I want to get that message out to the world.'" This interaction led to Tyson visiting West's house every Tuesday night, doing a short bible study, followed by a Q&A. Eventually, when West went to Cody, Wyoming to work on Jesus Is King, he flew Tyson out to continue the Tuesday night sessions.
When Tyson pressed West as to what led him to being "radically saved," West told supposedly told Tyson: "I was just under the weight of my sin. And I was being convicted that I was running from God. And I knew I needed to make things right. So, I came to Christ. I came out of darkness into the light."
Moreover, West supposedly doesn't swear anymore, in line with his new faith. "If somebody cusses in his presence, I've heard him say a couple of times, 'Hey, man, you can't cuss when you're with me. I'm a born-again Christian,'" Tyson explains. "Who's gonna say that if they're not meaning that they want Christ to be exalted in all that they do?"
Elsewhere in the discussion, Tyson alludes to the fact that he's been working on Jesus Is King alongside West, mentioning that he's been "hanging out in the studio, working on the Jesus Is King album."
"He wants me to listen to different lyrics, different songs and help tweak parts of it," Tyson says of he and West's creative process. "It's not like I'm writing the song. It's all of his work. He's the complete creator, creative kind of guy. He's the musician. I'm just making comments the way I see it [on] how to articulate the gospel more clearly, and how to include the component of worship, which that was his idea.
Throughout the podcast, Tyson seems particularly elated that West selected him to guide his spiritual awakening. "If my unbelieving next-door neighbor said, 'Would you like to teach a Bible study on Tuesday nights for me and a bunch of my friends,' I would be elated. But my next-door neighbor isn't necessarily asking that," Tyson explains. "But Kanye is. The guy's asking, 'Can you come teach the Bible?' I'm a pastor. That's like saying 'sic 'em' to a dog. What am I supposed to do?" Listen to the full Pure Flix podcast below.