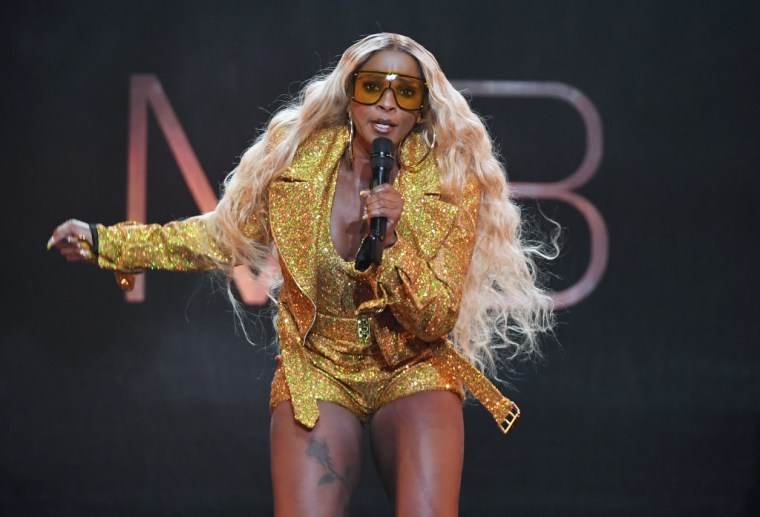 Mary J. Blige will release a bos set of her '90s material in time for Christmas. HERstory Vol. 1 is out on December 6 via UMe and features both hits and rarities across a 2xLP set, eight standard-weight 7" vinyl records, one CD, and digitally. A tracklist for the box set can be seen below.
The album includes a number of remixes, including Puff Daddy's mix of "Love No Limit" and "Can't Knock the Hustle" featuring Jay-Z.
Mary J. Blige released her most recent album, Strength of a Woman, in 2017. She was Oscar-nominated for her role in Netflix's 2018 movie Mudbound and also starred in Umbrella Academy, a comic book TV show from My Chemical Romance's Gerard Way.
HERstory Vol. 1:
"You Remind Me"
"Real Love" (Hip-Hop Remix)
"Reminisce" (Bad Boy Remix)
"Love No Limit" (Puff Daddy Mix)
"You Don't Have to Worry" (Remix Main With Rap)
"What's the 411" (Puba Mix)
"What's the 411" f. The Notorious B.I.G. and K-Ci
"Be Happy"
"Mary Jane (All Night Long)" (Remix) f. LL Cool J
"I Love You (Remix)" f. Smif n Wesson
"I'm Goin' Down"
"You Bring Me Joy" (LP Version)
"I'll Be There for You/You're All I Need to Get By" (Puff Daddy Mix) f. Method Man)
"Everyday It Rains"
"Love Is All We Need"
"Can't Knock the Hustle" f. JAY-Z