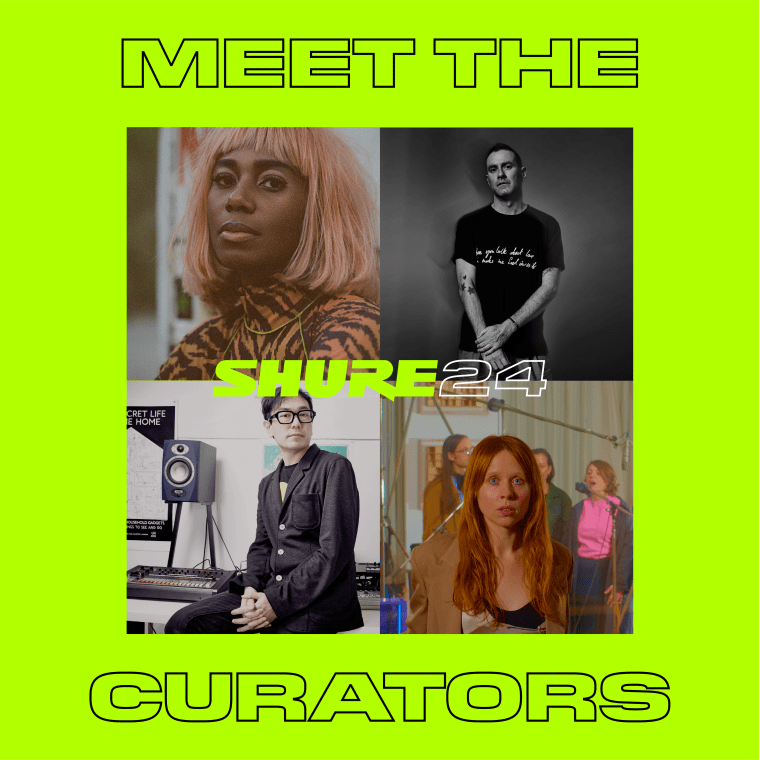 In a rapidly expanding digital music landscape, who are the true innovators working to shift culture at the ground level? It's a question that Shure24 seeks to answer, a brand new platform that promises to elevate 24 of the people pushing the limits of audio culture to new heights and new audiences. Fueled by Shure and Mixcloud, the initiative puts the curation in the hands of four industry-leading artists in their own right. Holly Herndon, Santigold, James Lavelle, and Yuri Suzuki have each selected six of their favorite burgeoning creators from across the music industry and around the globe.
The Shure24 are each profiled on 24.Shure.com and in series of podcasts hosted by Kieran Yates, the four curators will unpack the sounds and stories that led them to their chosen artists. Each of the 24 will also receive a package of Shure audio equipment custom fit to their creative discipline to allow them to continue to push their craft'. The public will then have their opportunity to vote for their favorite, which includes:
Debit: The project of NAAFI label co-founder and New York-based producer Delia Beatriz.
Hibotep: Kampala-based DJ Hibo Elmi who fuses the local and the global.
New Models Podcast: Journalist Caroline Busta's provoking, home-built online platform.
Jules Gimbrone: New York-based artist tackling gender and power dynamics through sound installations.
Chal Ravens: Journalist seeking to connect sound and community through her written and radio work.
Bergsonist: The project of producer Selwa Abd, whose work exists where the sonic and social overlap.
Choker: Los Angeles-via-Detroit artist Chris Lloyd, who crafts abstract and expansive R&B.
Velvet Negroni: Warped pop-funk from the mind of Minnesota artist Jeremy Nutzman.
Channel Tres: Compton producer with undeniable swagger and some heavyweight collaborators.
Two Fresh Beats: Sherwyn and Kendrick are twin producers from Nashville with a knack for booming Southern sounds.
Maggie Andrew: Icy chamber pop artist out of Nova Scotia.
Freshie: Cleveland-born rapper with big goals and a "dirty!" sound.
Hannah Brodrick: Live sound engineer and co-founder of industry-wide Women In Live Music organization.
Shy One: The moniker of DJ, producer, and Balamii Radio host Mali Larrington-Nelson.
Miink: London singer-songwriter crafting uneasy and enigmatic R&B.
Fran Lobo: A soaring voice and sound artist working out of North East London.
Skinny Pelembe: Doncaster-via-Johannesburg artist crafting dreamy, genre-bending alternative.
Ailbhe Mairead: Reprezent Radio host broadcasting the freshest voices from Brixton to the world.
Miyu Hosoi: Japanese artist weaving rich and textured "vocal tapestries" through her voice and technology.
C'est Qui: The collaborative project (and monthly party) of Seoul producers Closet Yi and Naone.
Counterpoint: Samuel Diggins and Tero Parviainen's creative studio honing in on the space where audio and artificial intelligence overlap.
Lullatone: Soft enchanting sounds from home musicians Shawn James Seymour and Yoshimi Seymour.
Kyoka: A Japanese house producer incorporating the sounds of the everyday.
Otoboke Beaver: Kyoto-based four-piece with an ease for relentless punk exhilaration.
Starting today, October 22, the public will be able to vote for the most innovative Shure24 creators. In November, the four artists with the most votes will receive exclusive mentoring from the curator that selected them and will be the subject of a podcast that takes a deeper dive into their audio journey to date. Be sure to head 24.Shure.com to hear the conversations with Herndon, Lavelle, Suzuki, and Santigold. Read about each of the 24 creators and vote for who you believe is pushing culture the furthest.