Shure24 celebrates Audience Choice winners Hannah Brodrick, Choker, Kyoka and Debit
Industry-leading artists put the spotlight on the Shure24, a list of people pushing the boundaries of audio culture into 2020, powered by Mixcloud and Shure. Here are the stories of the top talent who won the Audience Choice vote.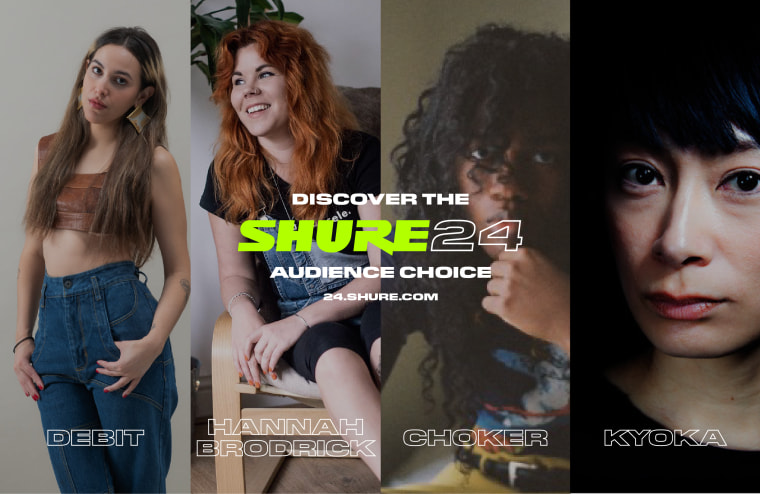 In a rapidly expanding digital music landscape, there's a lot to be learned from those who are developing creative careers at the forefront of contemporary audio culture. In October, Mixcloud and Shure partnered up to create a new platform that celebrates and elevates the next generation of artists making waves across the industry, inviting composer Holly Herndon, Mo'Wax icon James Lavelle, pop polymath Santigold, and Japanese sound artist Yuri Suzuki to curate a list of top talent for the Shure24.

Each curator selected six individuals who are carving out careers across the digital music landscape — from digital radio and club DJs and sound engineers to field recorders and podcasters. The Shure24 was then put to public vote to find the top four individuals that the public wanted to hear more from.
The four Audience Choice winners span avant-garde club music from Mexican collective N.A.A.F.I., critically acclaimed future RnB, the UK's best new sound engineer, and a Japanese artist inspired by field recordings. Each have recorded an in-depth podcast conversation with journalist and broadcaster Kieran Yates, and they'll also receive a one-on-one mentoring session from their respective curator and a tailored package of cutting-edge Shure gear.
Read on about the four Audience Choice winners below, and give the podcasts a listen at 24.shure.com.