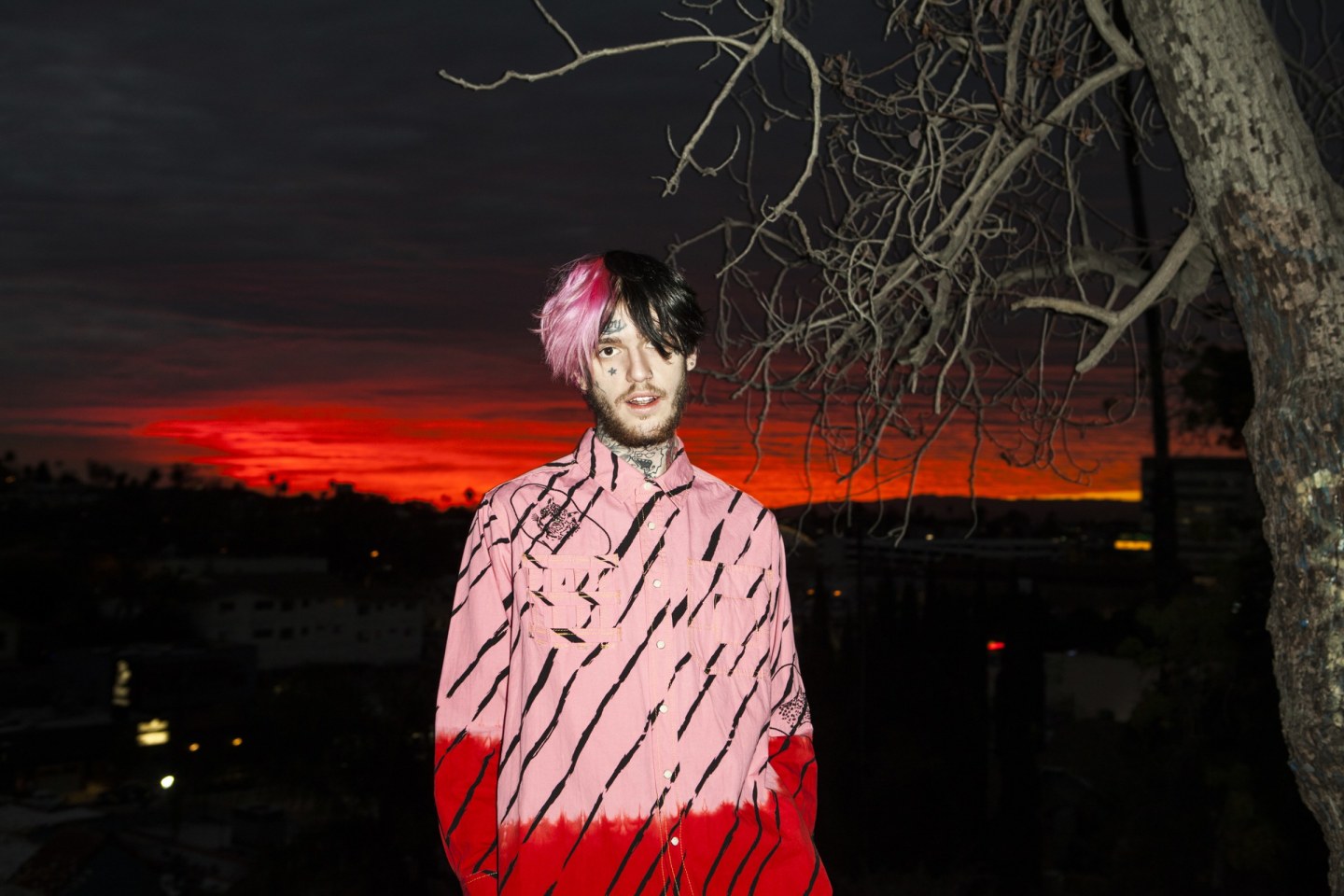 The Lil Peep documentary Everybody's Everything, directed by Sebastian Jones and Ramez Silyan and executive produced by Terrence Malick, is a film about change — how it destroys and enlivens us, and how difficult it is to deal with both its burdens and blossoming opportunities. Before his death at 21 from an overdose of fentanyl and Xanax, the rapper born Gustav Åhr changed hip-hop, but his goals were broader. In one scene, Peep's mother Liza Womack talks about her son's aim to challenge capitalism's hold on the music industry; for the first time, the power would lie in the tattooed hands of the artists who were pioneering the quick and dirty energy of SoundCloud rap.
Everybody's Everything shows why this was plausible. Peep's early career is speckled with songs that remain classics of late '00s hip-hop, introducing an artist who could make rap sound like a sibling to emo ("Star Shopping"), doomgaze ("White Wine"), or punk ("Witchblades"). Peep may have abandoned transformational politics as soon as he got a taste of the Post Malone-level success that he was destined for, but amidst the unfinished work that hangs over Everyone's Everything, his unfulfilled ambition to make the music industry a fairer place bites the hardest.
Peep took the drug-fueled trap tropes that white suburban rap fans are so devoted to and combined it with personal, deep trauma. The result was a tender-yet-beastly persona so holistically brilliant that his tragic death only secured the commitment of his fans. Everybody's Everything is mostly content to cater to those who felt like Peep was speaking directly to them, packed with home video footage of Peep as a child and discussion from friends and family of his life in Long Island before stardom took hold. Liza Womack describes a sensitive boy deeply hurt by his parents' divorce — an outcast in social circles where fixed academic trajectories were the norm. We see Peep wrestle with these wounds through homelessness and Skid Row, the demands of different rap collectives like GothBoiClique, and the eventual pressure of burgeoning stardom — all captured in a rich vein of behind-the-scenes footage.
The limits of a film dedicated to fan service are present throughout Everybody's Everything. The problem with myth-making is that it's two-dimensional and comes at the expense of a typically more thorny reality. For one, the film doesn't address one of Peep's biggest assets: specifically, his race, and how it contributed to his rise. Occasionally, Everybody's Everything heads into tone-deaf territory: Masked Gorilla's Roger Gengo says that, before Peep, "no other young rappers like this had face tattoos." The words "like this" are key, since the face tat aesthetic had long been transmitted to the suburbs by scores of black rappers like Lil Wayne, Gucci Mane, Wiz Khalifa, and many others.
Another controversy left unaddressed is Peep's posthumous career. XXXTentacion, the deceased rapper who admitted on tape to attacking his pregnant girlfriend, appeared after both his and Peep's deaths on "Falling Down," a collaboration stitched together by Peep's label. The song, which many Peep fans believe he wouldn't have agreed to, goes unmentioned — perhaps because it contradicts the explanation Peep himself gives for his "Crybaby" face tattoo: "There's people fighting to survive, so live on for them."
Everybody's Everything shines when it uses the biography format to become a guidebook for misfits who saw themselves in Peep. Central to this are the letters written to Peep throughout his life by his grandfather, the leftist academic and Rhodes scholar John Womack; these messages are narrated by Womack himself, whose steadfast and smokey voice crackles with love and acceptance — words ostensibly addressed to his grandson, but advice that nonetheless holds true for any young person trying to be themselves in a hostile world and, perhaps, seeking refuge from it in dangerous places.
Peep's drug use is unflinchingly depicted to a point where it even subtly implicates those pulling the strings. The film excerpts his May 2017 performance at Los Angeles venue the Echo in all its disturbing and infuriating power, as Peep stumbles on stage while being too intoxicated to remember the lyrics to "Hellboy." He eventually finds his center and finishes the show, and no one on his team has lost any money on a gig that should have been cancelled for his own safety. "You have to be aware of your surroundings," SchemaPosse founder Jay Grxxn says at one point, "because not everybody's your friend." It's one of several pieces of wisdom scattered through Everybody's Everything in a natural, un-didactic fashion.

Peep's death led to anger and conspiracy theories, and there will be some fans who watch Everybody's Everything expecting a cracked case. While the film does dissect Peep's catastrophic final tour, the "why" is unanswerable. But the "how" is more relevant: Mackned, a rapper who was with Peep just before he died, angrily denounces fans who accuse him of murdering his friend. However, Everybody's Everything doesn't entirely disown the concept of nefarious intentions or criminal negligence, with Jay Grxxn casting doubt on the timeline. "Half the people that are gonna be in this documentary are bullshitting, are clout-chasing," he notes.
It is a fool's errand to look at a music documentary for absolute truth, especially when a key subject cannot speak for themself. The 1970s Rolling Stones documentary Gimme Shelter is said to capture the collapse of the hippie movement with the tragedy of the riot at Altamont. The film places part of the blame on 18-year-old Meredith Hunter, a black man who was slaughtered by the Hell's Angels; Gimme Shelter shows him brandishing a gun, but subsequent reporting alleged he pulled it in self-defense. A comprehensive Altamont documentary in 2019 would include this perspective, and could lead to very different conversations than what Gimme Shelter fostered — similarly, it's no slight against Everybody's Everything to wonder what it would look like if production had wrapped today.
In October, Liza Womack launched a wrongful death lawsuit against her son's manager Chase Ortega (who appears in the film) and his label First Access Entertainment, which also produced Everybody's Everything. FAE's Sarah Stennett, who's also interviewed and is credited along with Womack as an executive producer, is alleged in the suit to have provided Peep with Xanax. (Stennet has denied ever giving Peep drugs, and a statement issued by FAE called the lawsuit "groundless and offensive.") Womack's suit alleges that the defendants forced Peep "onto stage after stage in city after city, plying and propping [Peep] up" with different drugs, ignoring his deteriorating physical and mental state.
If successful, the lawsuit could signal a huge shift in the music industry's responsibility to their young and at-risk performers. But perhaps the trial and its aftermath are for another film — in which Peep is not the subject but the ghost in the machine, powering the urgent changes in the industry he could never see through in his life.
Everybody's Everything is out November 15