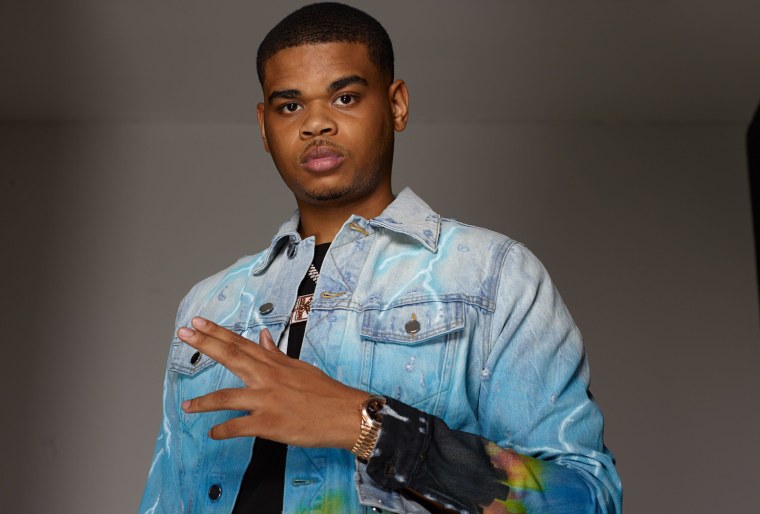 Sitting in London's Shoreditch House on a summer afternoon, K-Trap scours the menu for something that grabs his eye. He keeps his head low, exuding a tempered and tranquil energy and cutting a sizable frame that mirrors the presence he carries through his music. Today, I can see the oft-masked rapper's face; imagination runs wild when an artist wears a mask, but for K-Trap, it's brought him the exact thing it was supposed to protect him against — attention. "I got the homage and respect for wearing the mask," he tells me. "It wasn't friendly at all. People wouldn't want to approach me. I've achieved a lot with it on, but it feels different when people don't know who you are."
On record, his breezy flow is calming and subdued, each bar sounding as though it's just rolled off the tip of his tongue in conversation. He spits at his own pace, gliding along the tracks with a smooth nonchalance as though he's speaking directly to each listener. Like his peers, K-Trap was deeply invested in the Chicago drill scene as it grew to prominence at the beginning of the decade. "It was too real, and a lot of the guys I listened to are either dead or in prison, so that gave me some perspective," he explains. "I had to start reflecting the life I live now — not that I judge people for doing what they do."
Since K-Trap removed his mask following the release of his recent mixtape Mask Off, his perception of what his music is has changed. "I catered to more people on this one. I tried new beats and switched up my flow. I felt like I could show more of who I am and my character. There's no point taking the mask off if I'm still going to do one style of rap. I needed to open up a bit more." Back when he released his first mixtape The Last Whip in 2017, there was a sense that the mask wasn't going to be around forever — because deep down, K-Trap wanted us to know him. "Feel to just take this mask off, everyone confused there / Talking wass and hiding face, and I step and stone to music," he rapped on No Magic's closing track, "Mask Off."
Earlier this year, Skengdo x AM were handed suspended sentences for performing "Attempted 1.0" at Camden's Koko, with police claiming that they "incited and encouraged violence against rival gang members." "I get asked about that a lot, but to be honest, all that government chat went through one ear and out the other," K-Trap muses. "There were situations where shows were getting locked off, but I ignored it because we've kicked the door off the hinges when it comes to drill. No matter how it looks, we're through the door."
Form 696, a risk-assessment form that police recommended music venues fill out and submit, was controversial for its discrimination towards "bass-heavy, MC-led" styles of music. Although the form was scrapped in 2017, K-Trap's issues with performances being cancelled suggests that police are using more covert approaches to censor drill. "I used to get a bit of harassment from the police, but it's a lot quieter now, so I try not to get myself hung up about it — especially as they've been doing it for years."
There's something to be said about police antagonizing and disrupting drill artists just as they're on the cusp of stardom. It's not the first time that this pattern has occurred; MCs like Giggs regularly experienced cancelled shows, particularly following the release of his breakout hit "Talkin Da Hardest." More recently, Hackney's rising drill act Unknown T was charged on suspicion of murder — a reminder of how the state's irrational fears of young black men inciting violence is manifested within the creative arts and music.
In the few years he's been on the scene, K-Trap has constantly evolved and developed his tastes, making one wonder about the scope and breadth of his potential and what is yet to come. While some artists have one career-defining, coming of age story, K-Trap has gradually come of age over a series of projects. "I've felt it building over the past few years, and guys were doing it before we even started calling UK drill," he says. In the 12 years since "Talkin Da Hardest," the Peckham rapper's DNA — as well as Krept & Konan's — can be found in many of the south London MCs that have emerged since. K-Trap himself is from Gypsy Hill, but the influence couldn't be more apparent.
"They're close to home, so I know what they were saying was always real," he adds. Although most drill beats are typically faster than what Giggs would normally ride, the "road rap" foundations he came from and helped build and encompass what we hear today. Other drill MCs have begun to distance themselves from the term, not due to its perceived criminality but because of the way it inhibits them.
K-Trap joins an illustrious group of young U.K. artists currently signed to Black Butter Records, which includes Octavian, J Hus, his longtime producer JAE5, and Young T & Bugsey. Each of them represents both the present and a future where they've chartered new horizons and represent the fluidity between Black-led sounds in the U.K. scene. Neither one of them sits in an isolated pocket, which is one of the reasons K-Trap and his peers are considered leading MCs. "When I started, I was just pouring out what was going on around me — but things have changed so I'm always about leveling up," he explains. "It was never going to be just drill for me, and I can't keep talking about the same stuff — otherwise I'm not leveling up."
"Change" couldn't be further from your staple drill sound and is one of the more contemplative cuts from his mixtape No Magic. The composition of the song itself feels very reminiscent of the type of road rap/R&B crossover cuts you'd hear from the likes of Choong Family and Giggs in his early days; on the track, K-Trap speaks about police raiding his home and arresting his brother and wishing for better for those he doesn't speak to anymore.
K-Trap's close friends from Brixton, 67, were counted as one of UK drill's early innovators, and their presence in his life has been empowering as he's navigated the new frontier of drill as a lone maverick. He tells me they have a bunch of songs recorded together, too. "When they were blowing up, I was at a point in my life where music was something that was drawing me in," he reminisces while taking a bite of pizza. "They showed man that I didn't have to live that way anymore."
Although he's naturally reserved, the shift in K-Trap's sonic direction has allowed him to be more expressive in his writing. "I'm unravelling slowly but surely," he says, "I'm growing into myself a lot more. If I'm going to put my face out there, I might as well put my story out there with it. And so he begins to unravel throughout our conversation, peeling back the layers to the enigmatic character he's presented to the world so far in his career.
The canvas from which K-Trap creates his soundscape is a rich one filled with stories that resonate among young Black people in Britain today. He also wants more for himself through learning and understanding who he is. He tells me he now has a greater sense of wellbeing following his time in prison, which has given him confidence to chase a life he didn't think was an option before. "Now I feel like an artist and I'm more appreciative of the position I'm in now. Being able to talk about what I do with you is a part of that — because if I weren't doing music, who would care about my story?"
"I go back and forth between the street ting and how it was to where I am now, where my lifestyle is lit," he continues. "I'm coming up out of the mud still, so for me, finding that balance is key." K-Trap also says he's working on his debut album which will contain elements of the hard drill he came up on, but he regards it as the most eclectic project he's put out to date. "I'm just going to be reflecting on how far I've come and what's coming to me."