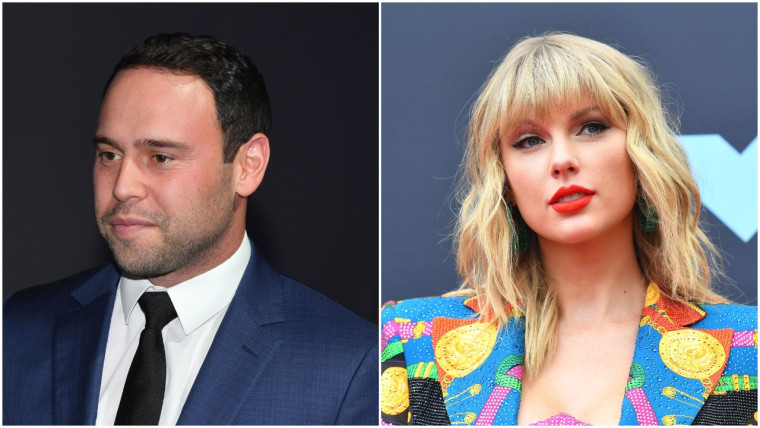 Scooter Braun has responded directly to Taylor Swift for the first time in the ongoing feud between the pop star and the entertainment magnate.
Earlier this November, Swift accused Braun, who purchased the master rights to her first six albums in June, of preventing her from performing her own songs at the American Music Awards or using the songs in an upcoming Netflix documentary. In a statement posted in November, Swift asked her fans to contact Braun and Scott Borchetta, the owner of her former label Big Machine Records, and "let [them] know how you feel about this."
Today, Braun wrote that Swift's statement has led to "numerous death threats directed at my family." Braun claims that his wife received a phone call targeting her and her children. "I assume this was not your intention," Braun says, "but it is important that you understand that your words carry a tremendous amount of weight and that your message can be interpreted by some in different ways."
Braun's letter goes on to deny Swift's claim that she was ever prevented from performing her own songs at the AMAs. "Moving forward I would like to find a resolution," Braun writes. "Many have told me that a meeting will never happen as this is not about truth or resolution but instead a narrative for you. I am hopeful that is not the case. I'm right here, ready to speak directly and respectfully." Read the letter in full below:
Big Machine Records have previously denied Swift's claims in a statement. Swift's publicist responded by sharing an alleged email from Big Machine denying Swift's request to perform her Braun-held music or the Netflix documentary. Both Swift's camp and Big Machine Records claim each party owes the other millions of dollars.
Artists like Kesha and politicians such as Rep. Alexandria Ocasio-Cortez and Senator Elizabeth Warren have backed Swift publicly. Braun spoke out on the issue for the first time yesterday at the 2019 Entertainment Industry Conference: "I'll be the bad buy longer, but I'm not going to participate."