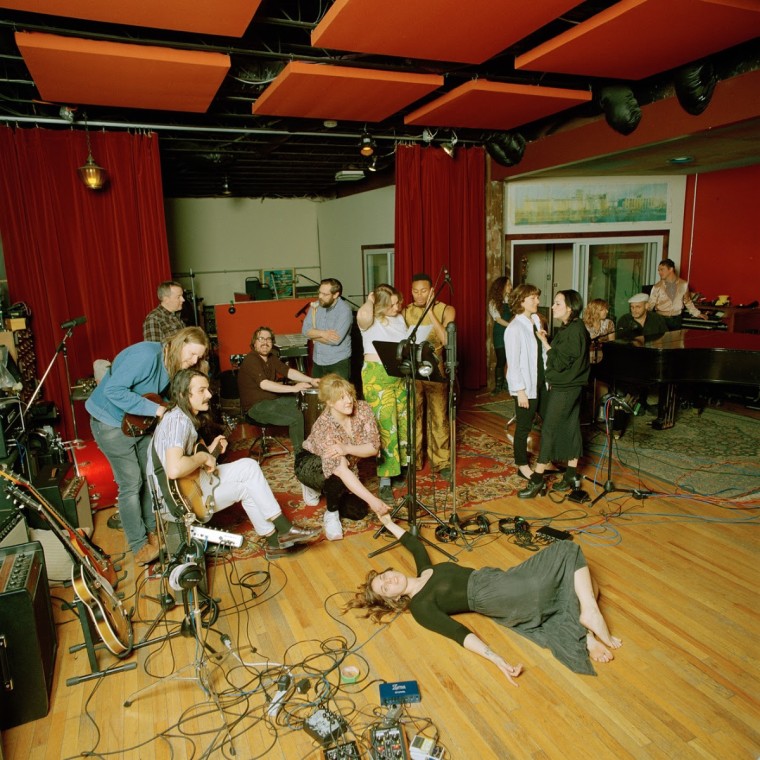 U.S. Girls will release new album Heavy Light on March 6 via 4AD, it has been confirmed. The album is preceded by new song "Overtime," a video for which can be seen below, and details of a lengthy North American tour.
Heavy Light will be U.S. Girls' seventh studio album and the first since In A Poem Unlimited, released in 2018. The album includes new versions of songs previously released by Meg Ramy ("Statehouse (It's A Man's World)", "Red Ford Radio", and "Overtime").
A press release confirms the album was recorded live with 20 session musicians - including E Street Band saxophonist Jake Clemons - in Montreal's acclaimed Hotel 2 Tango studio. It is described as "a balance between orchestral percussion and the human voice," taking in choral elements alongside spoken word interludes.
Heavy Light tracklist:
"4 American Dollars"
"Overtime"
"IOU"
"Advice To Teenage Self"
"State House (It's A Man's World)"
2Born To Lose"
2And Yet It Moves / Y Se Mueve"
"The Most Hurtful Thing"
"Denise, Don't Wait"
"Woodstock '99"
"The Color Of Your Childhood Bedroom"
"Quiver To The Bomb"
"Red Ford Radio"
U.S. Girls will embark on a 27-date North American tour in support of the album. The run of dates begins in Detroit in April. Intimate shows in Toronto, Montreal, and New York are scheduled for February. See all dates below.
15 February – TORONTO, ON, Paradise Theatre
16 February – MONTREAL, QC, Le Ministère
18 February – NEW YORK, NY, The Dance
4 April – DETROIT, MI, MOCAD
5 April – CHICAGO, IL, Lincoln Hall
6 April – MADISON, WI, Majestic Theatre
7 April – MINNEAPOLIS, MN, Cedar Cultural Center
9 April – OMAHA, NE, Slowdown front room
10 April – KANSAS CITY, MO, Record Bar
12 April – DENVER, CO, Bluebird Theatre
13 April – SALT LAKE CITY, UT, Metro Music Hall
14 April – BOISE, ID, The Olympic
16 April – VANCOUVER, BC, Imperial
17 April – SEATTLE, WA, Crocodile
18 April – PORTLAND, OR, Mississippi Studios
20 April – SAN FRANCISCO, CA, The Independent
21 April – SAN JOSE, CA, The Ritz
22 April – LOS ANGELES, CA, Masonic Lodge at Hollywood Forever
24 April – PHOENIX, AZ, Valley Bar
25 April – TUCSON, AZ, 191 Toole
27 April – AUSTIN, TX, Antone's
28 April – DALLAS, TX, Club Dada
29 April – HOUSTON, TX, Continental Club
1 May – MEMPHIS, TX, The Greenroom at Crosstown Arts
2 May – NASHVILLE, TN, Exit/In
3 May – ASHEVILLE, NC, Grey Eagle
5 May – WASHINGTON, DC, U Street
6 May – BROOKLYN, NY, Music Hall of Williamsburg
7 May – BOSTON, MA, Sinclair
8 May – PHILADELPHIA, PA, World Café Live