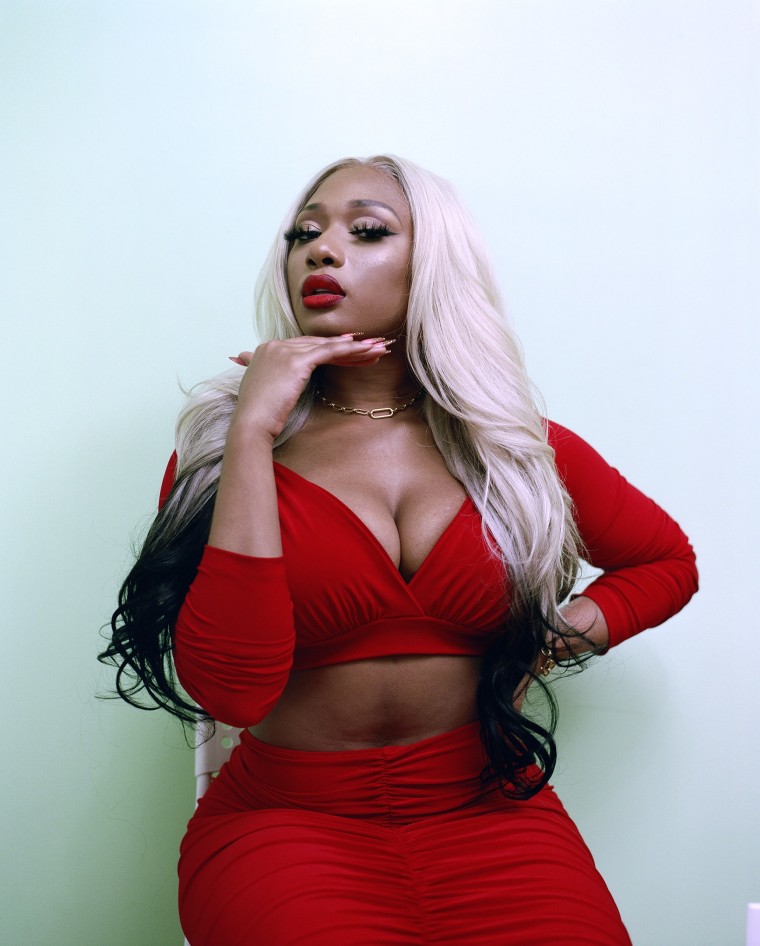 A week prior to Suga's release, Megan Thee Stallion took to Instagram to reveal why she hasn't been able to release new music. After getting new management with Roc Nation, she became privy to the details of her contract with her record label, 1501 Certified Entertainment, and she wanted to renegotiate. "I was young, I think I was 20. And I didn't know everything that was in that contract," she said on Instagram Live this past weekend. The Houston Rapper alleged that her record label didn't want to renegotiate the terms of her contract. Then, according to Billboard, on Monday, Megan Thee Stallion filed a restraining order against her label and on Tuesday, Carl Crawford, the head of 1501 filed an emergency motion to dissolve the order that allowed Megan to release her upcoming project. The motion was denied. With bated breath, we waited, and Suga arrived at midnight as promised.
"My next project, I will be introducing a new lady. Her name is Suga. She's besties with Tina Snow." Megan told NPR back in October. The video for her lead single, "B.I.T.C.H" opens with Tina Snow giving Suga a pep talk. Suga is Megan's sensitive alter ego, an avenue to express the vulnerable side of her that we have yet to see in her music. During their prep talk, Tina Snow tells Suga, "You don't need to be playing too nice with everybody." Suga responds ardently, "But what if I'm not strong enough?" Suga is the first project Megan released without the counsel of her late mother Holly-Wood. The highly-anticipated and undoubtedly the mixtape of last summer, Fever, arrived at the heels of the passing of Megan's mother and grandmother. The sudden loss of two important people in her life colored Megan's rapid ascendance into the mainstream, but the show went on. Yielding neither to the agony of her grief or the critics, Megan Thee Stallion gifted Hotties everywhere with a cognac-heavy, whimsical, Hot Girl Summer. Touring city to city, she put in face-to-face time with fans, quite literally cupping their faces and having them drive the boat. But this release is bigger than her artistic agency and capability, it's also her therapy, and her way honoring the women that made her who she is.
Predictably, this EP will be evaluated by fans through the lens of her past projects. Tina Snow is a crowd favorite and the follow up, Fever, was an unabashed display of an artist perfecting and honing their craft. Megan loves rapping but this is also her full-time job. For fans, their nostalgia becomes a rubric and a standard that an artist needs to adhere to and surpass. In an interview with Hot 97, Megan says that she "didn't want to leave her fans with nothing" and she speaks to the uncertainty of her situation by saying, "I didn't know what was going to happen." This uncertainty rings true to the precarious reality of creating music in a time when artists have to be consistent with their releases in order to stay relevant. Fans are impatient and their loyalty is shaky. The release of this EP feels like a feat, but it solely exists to satisfy the appetite of her fans in the event that this legal battle halts future releases, specifically her debut album. As she anticipates a long and ruthless legal battle to ensure that she gets her share, Megan has to reluctantly accept the business side of making music. The future of her career is up in the air and as much as Suga feels rushed because of its experimental nature and because it's 24 minutes long — and because vulnerability can't be rushed or forced — the conditions for how this EP came to be can't be dismissed.
The opening track "Ain't Equal", sets the tone for the EP, which is equal parts triumphant and vulnerable but punchy: "I lost my my mommy and my granny in the same month/ A bunch of bitches talking shit cause I'm coming up/ I know some people in my own city hating on me / And if you hoping I fall off, you gon' be waiting on it/ I'm the only child, I never wanted to be in no clique." Megan can claim that she's not part of a clique because she stands out as an artist, but she's clearly cultivated a loyal fanbase that will ride for her. The Hotties made #FREETHESTALLION the number one trending topic on Twitter, and also naively tried to share their landing-page Wikipedia knowledge about contract law. Megan's revelation materialized a task force of pseudo-lawyers that wanted to take down her label Olivia Pope style. She wants to win as much as we want her to win. The news of this release was monumental as the reality of women being exploited in the music industry by predatory and greedy gatekeepers becomes glaring. Megan has defied all efforts to extinguish her power. She has persisted despite all the impediments, but it'd be short-sighted to think of her strength without recognizing that she had little choice in this; power politics doesn't care for self-confidence and self-love.
"Savage" is a standout track, with memorable, recitable lyrics that will double as Instagram captions for months to come. It's a gesture towards herself, a self-inscription, a declarative track — "Bitch, I'm a savage, yeah/ Classy, bougie, ratchet, yeah/ Sassy, moody, nasty, huh/ Acting stupid, what's happening?" In "Captain Hook," Megan doesn't depart from what we know her to excel at: talk shit, talk sex and talk money. She does this effortlessly. Her style and approach from Fever still lingers here but it's also a harbinger for what her sound is becoming. Another stand out, "Hit My Phone" featuring Kehlani, is a fun, mid-tempo groovy track. Together, they sonically capture shooting your shot, flirting and yearning for company but still wanting to be subtle about it. For a moment, Megan's signature romantic flippancy is put on hold: "Now tell them hoes back-back, give you fifty feet/ Before you look at him, you know I'm the one you see." On "B.I.T.C.H," she's singing, which isn't new — on "Cognac Queen" from her mixtape Tina Snow, she sings in a similar tone.
Megan's singing tone is smooth, making the closing tracks on the EP more melodic and melancholic, a complete departure from her signature braggadocious brashness. Megan uses singing as a substitute for expressing vulnerability. She's interested in the implicit, the feeling of vulnerability through tone and sound more than she is with going in depth about her feelings in a public manner. Suga, like her other alter egos exist to evoke something in us but from a distance. With the introduction of Suga, what is evident is that Megan Thee Stallion wants to evolve and be more honest and sensitive and that in itself is a disorienting task to perfect very publicly. It's exciting that she wants to experiment. She has all the ingredients for what will be an earth-shattering debut album. Even with the hand she's been dealt she found a way to prevail. We love her for the confidence she instills in us and for claiming her power and she didn't fail us when it comes to that and to me, that is all that matters.