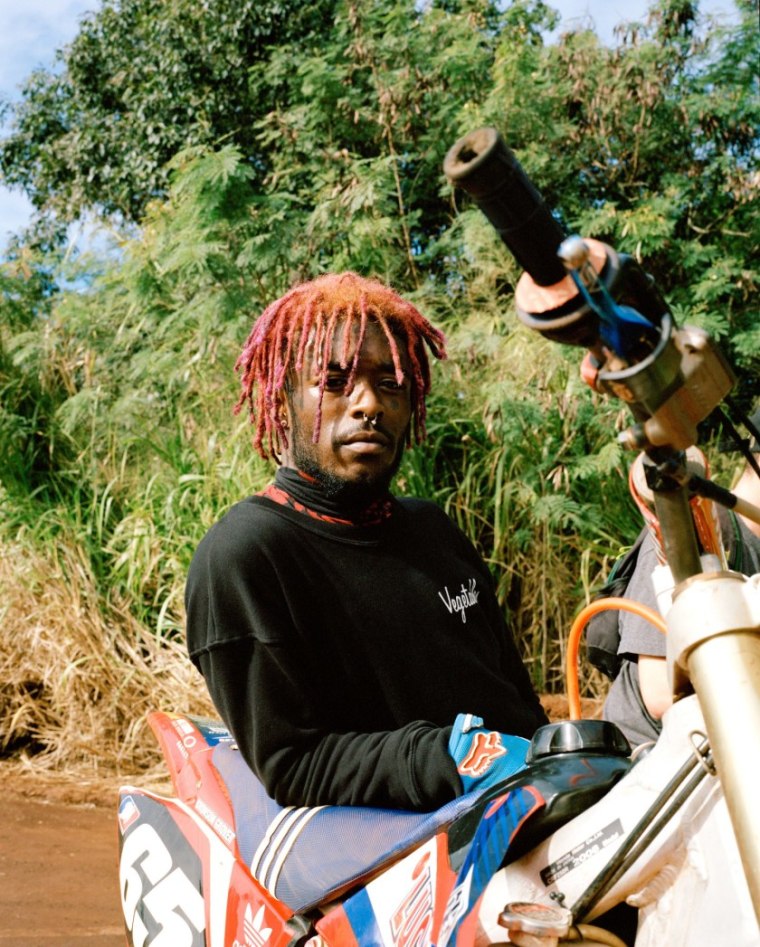 "Imagine, bro," Lil Uzi Vert said in his 2017 FADER cover story. "I could have been an astronaut." Three-odd years later, and it's safe to say rap's prime 25-year-old subversive has found himself floating in space. Since the 2016 release of his debut single "Money Longer," Uzi has been racing towards a rarefied level of play that few artists ever get to, one in which everything they touch turns to gold and any idiosyncratic style — in this case, Uzi's weirdo fusion of rap, pop, and emo — captures the zeitgeist. With this year's rapid-fire release of the Luv Is Rage 2 follow-ups Eternal Atake and LUV Vs. The World 2, Uzi finally reached that level, unleashing a 32-track double album that delivers on all the promise of his early work. If you're new to Uzi and intimidated by his dense, self-referential catalog, don't worry: we've put together a list of the most essential Uzi tracks, from his earliest releases to LUV Vs. The World 2. There's no list that could properly capture the scope of Uzi's oeuvre, but these songs are a good start.
"Uzi Manson"

Over the past few years, slightly eccentric rap kids have always developed an affinity for rockstars of the past. Of those still living, Marilyn Manson has engaged with hip-hop more than any other. He's done music with DMX in the '90s and Gucci Mane in the '10s. In 2017, Manson cosigned another rap star when, during an interview with Zane Lowe, he said that Lil Uzi Vert "had this attitude that reminded me of me when I was his age." I'm not sure if Manson was aware at that time that just a couple years before that moment, Uzi dropped a loosie titled "Uzi Manson" on Soundcloud that is one of his most pleasantly weird tracks. In the Maaly Raw-produced song, Uzi opts for pitched up, alien-like voice modulation that sounds like something 100 Gecs might want a piece of in 2020. Lyrically, the song falls in line with most of Uzi's music in 2015 and beyond: him finding charming ways to talk about having shit that most of us never will. But, before anyone thinks about scoffing at him for his braggadocio, he offers a key detail on the hook's first line: "I work hard for every little thing that I got." — Lawrence Burney
"Buy It"
As Uzi's career began to take off in 2016, his enthusiasm for the spoils of fame was apparent in his music. "Buy It" is Uzi at his cartoony peak, starry-eyed as he looks to his future as a style icon. It's not all popping tags: Uzi keeps returning to a deep heartache that colors every purchase, rebound fling, and assertion of dominance. Today, Lil Uzi Vert's music eschews this balance of joy and yearning for something more brutal. The colors are still there, but "Buy It" shines with the vibrance of possibility. — Jordan Darville
"Myron"
When Eternal Atake finally arrived, the reception was glowing from fans and critics alike. So it would make sense that the record's sequel should act as a kind of victory lap; "Myron," the opening track from LUV vs. the World 2, delivers on all fronts, acting as a stunning, tone-setting introduction to the next chapter in Uzi's career. From its opening moments, "Myron" is glossy and palatial; a synth ripples like silk, producer tags echoing as if ricocheting off marble. Uzi tears through his verses with even more cheek and verve than usual: "I could fuck your bitch and fuck your mom and auntie," he gloats, "Your girl's a five, but your mom is a dime piece." It's ridiculous and wonderful, and even though "Myron" was first teased on Instagram nearly two years ago, it feels like the kind of song written by someone coming off a huge week. Pay attention to the bells chiming throughout the track: they signal the anointment of a king. — Shaad D'Souza
"That Way"
The interpolation at the centre of "That Way" — Uzi singing the iconic refrain from the Backstreet Boys' "I Want It That Way" — is not a gimmick or cheap trick. It's a flex. Uzi has always walked the razor-thin line between rap and pop more effectively than nearly anyone else in either sphere, and "That Way" feels like a sly, quietly delivered statement of proof, turning one of the most iconic pop hooks of all time into something quintessentially Uzi. I have no doubt in my mind that there will be a generation of teens who think "That Way" is 100% Uzi, and so they should — there are few others who could take something so distinctive and make it sound as fresh as "That Way." — SD

"Sauce It Up"
Proclaiming yourself the greatest to ever do takes guts, but Uzi makes a good case for it on "Sauce It Up". Packed with the kind of flexing that's somehow self-aware, the track's energy ramps up pretty quickly on the Maaly Raw- and DJ Don Cannon-produced track. By this point back in 2017, Uzi was in the midst of making the jump from SoundCloud rapper to full-on rockstar, having released his debut studio album Luv Is Rage 2 just a few months before. "Sauce It Up" was the perfect reminder of not only his quick ascent but of the heights he still had to reach. For what it's worth, Uzi has always bounced between some serious introspection and serious partying, so it makes perfect sense that it sits among many other Uzi fan favorites, all the way down to the Stone Cold Steve Austin shoutout. — Sajae Elder
"New Patek"
When "New Patek" dropped back in September 2018, it was a bolt of unrepentant lightning in an Uzi drought that was canonically presumed to signal Eternal Atake. It never ended up making the final tracklist, making it a beast of its own existence: a ceaseless barrage of wrist-bound opulence that has him sampling Death Parade and shouting out the likes of Naruto and Drake. It eventually tapers off near the six minute mark, but "New Patek" sets the precedent that Uzi could do this all day if he wanted to, and you'd lap up every second. — Salvatore Maicki

"Ps & Qs"
I was working a particularly slow shift at Urban Outfitters in the Westchester Mall when I first heard the nautical, synthesized accordions of "Ps & Qs," immediately waking me from the zombie-like state my brain would enter as a defense mechanism against suburban teens. I loved Uzi for his cartoonish adlibs and boldness in calling out his nemesis by name. I took my break and set out on my mid-afternoon Pokemon Go excursion, "P's & Q's" on repeat. I often yearn for the simplicity of the Lil Uzi Vert vs. the World era. Its sequel could not have come at a better time. — Nalae Anais White
"Do What I Want"
Stockholm Syndrome is real. When Uzi released The Perfect Luv Tape in 2016, I was living in a crumbing two-story apartment in Brooklyn. My upstairs roommate owned one speaker, but it was a hulking bastard of a thing, built to transmit bass through a medium-sized venue rather than soundtrack after-work hangs at home. He only listened to two songs: "Golden Days" by Whitney and "Do What I Want." My judgement here, then, is flawed — I can't say for sure that it's the best or most compelling Uzi song, but it's the one I've listened to the most. And I do know it distills the nihilistic euphoria that made early Uzi so fun, with its shameless EDM synths negating the almost total indifference in his voice. And the fact I can still listen to it now and not instinctively tilt my head back and scream "shut the fuck up" is, on its own, a testament to its brilliance. — Alex Robert Ross
"Money Longer"
Making it big can be terminal for some rappers' creativity, as if music is a race and that first big hit is the finish line. Sure, you keep running afterward, but the urgency isn't there and the determination is draining away. Uzi avoided the pitfalls of complacency on "Money Longer," his crowning moment, rapping through a drug-fueled haze about the fast cars, jewel-encrusted teeth, and big paychecks in his line of site. Taken from his Lil Uzi Vert Vs. The World mixtape, "Money Longer" marks the moment Uzi became a major-league player. He stepped into the light by telling us he's from Mars and watching his cash pile up in real time, thus setting a blueprint for future success; the trappings of fame viewed from an alien perspective. — David Renshaw
"The Way Life Goes" f. Oh Wonder
Uzi gets deep into the remorse that comes lost love on "The Way Life Goes." Across tender melodies and spurts of fast-paced raps, he laments the elements of his heartbreak, from the power of their sexual connection to the self-imposed shame of feeling you've trusted the wrong person with your truth. Uzi tries to give himself a little optimism, singing, "I know you're sad and tired you've got nothing left to give / You'll find another life to live / I swear that you'll get over it." Uzi's sentimentality one of his best weapons. His range from an animated, adorable brother-type to a sensitive, reflective artist demonstrates the dynamic capability that makes him such a delight. — NAW
"Free Uzi"
Behind-the-scenes label intrigue helped secure Uzi a fiercely loyal, even partisan fanbase. He wasn't afraid to blame his label for the delays to Eternal Atake, naming Don Cannon and DJ Drama as the chief culprits. The open beef exploded with "Free Uzi," a remix of G Herbo's "Gangway." Utilizing an impossibly fast flow like Quavo on uppers, Uzi outlines tax issues, bemoans the "old niggas" who seek to "rob" him, and empathizes with impatient fans. The song was so incendiary that Atlantic Records pulled it from streaming services and called it a "leak" (it wasn't). A lot of artists spend buckets of cash trying to capture the anti-establishment image that comes naturally to Uzi; "Free Uzi" is pure, effortless rebellion, a snarling howl of expression loud enough to blow through the most constraining record deal. — JD
"20 Min"
As the album's final bonus track, "20 Min" sends Luv Is Rage 2 out on a dreamy groove. Calling back to a chance encounter before a gig where feelings were caught and at least one DeLorean was bought, Uzi rocks back on a Honorable C.N.O.T.E beat with wistful clarity: "I met that girl right up at my show, left her man in the crowd on the floor." "20 Min" is the sound of just another night starting to morph into something more prophetic. — SM
"Uzi"
Going deep into (or revisiting) an artist's history after they've successfully catapulted themselves to the mountaintop is one of the more rewarding aspects of music discovery — especially when taking that journey magnifies the ways artists have grown and pivoted over time. The music that has made Lil Uzi Vert a household name — otherworldly, shapeshifting, genre-advancing — is a lot different than what the Philly superstar sounded like in the early days of his career. In the early parts of the 2010's, Uzi's delivery had the type of oomph one might expect of someone from a city that breeds people who rap like they're possessed, generation after generation. On 2014's "Uzi," from his debut tape The Real Uzi, a sandy-haired Vert raps over a beat that is so 2014, you could hear OG Maco or O.T Genasis yelling if you close your eyes. Uzi's raspy yelp of a voice was was in its embryonic stages at that time, but when coupled with that type of production, it placed him much closer to an artist like Shy Glizzy, than someone like Young Thug, who he'd be grouped in with as mumble rap's poster children not much later. "Uzi" is essential song to be familiar with because it'll make you appreciate just how much Lil Uzi has put into developing artistically over the years. — LB
"Neon Guts"
Would you be surprised if Uzi genuinely had neon guts? "No," you say to yourself as he opens up stomach for all to see. "All of us, no matter, how strange, are made of the same flesh and bones. It doesn't matter what he tells us of his narcotic experiments or intergalactic tendencies there's no way this guy from Philly is any different from the rest of us." You prepare yourself for a grizzly sight, bloody muscles and organs rubbing up against one another in a beating mush. Then it happens, you're blinded by the fluorescent light as Uzi reveals his insides to be a vivid and luminous swirl. Beholden by its majesty, you wonder why you ever doubted him in the first place. Of course Lil Uzi Vert's aura is as colorful as every other single thing about him. — DR

"Super Saiyan Trunks"
Before there was emo uzi, we had a bleached-blonde version of the fit god who would deliver rapid-fire flows that involved croaks and repetitious ad-libs. "Super Saiyan Trunks," took influence from what was going on in Atlanta, which begged the question: How many bars can be stretched together ending on the same "ay," "ok," or "woah"? Uzi would put his own stamp on the flow, punctuating his endings on 808s and delivering a near two-minute frenzy of a verse. Some standout lines that unfortunately remain relevant today include "Money older than Joe Biden," and "I am so crazy like Joker." — WG
"Bean (Kobe)"
The emotional journey that "Bean" has taken fans on spans the spectrum of hysteria to abject resignation before settling on unexpected delight. When this song was first leaked it was simply known as "Rollie," and it garnered millions of views across YouTube and Soundcloud. Uzi delivers the entire package on a hypnotic Pi'erre beat — a minimal buildup, anguished crooning, and then a mosh-worthy hook. Interestingly enough, whenever Chief Keef hops on a Pi'erre's production he strays away from Auto-Tuned warbling, instead opting for clear enunciation. For many this song is the definition of "grabbing victory out of the jaws of defeat." — WG