Lil Uzi Vert Can't Be Bothered
After one of the best years of his life, Uzi has found love and fame. So what else does he want?
In Kailua, Hawaii, on the island of Oahu, there's a lavish estate at the end of a long and winding driveway so steep you have to lean forward to walk it. The view of the ocean is nearly breathtaking, and the house is beautifully modern, with five bedrooms, fold-back glass walls, and an asking price of $15 million. It's early January, and fast-rising rap superstar Lil Uzi Vert, along with a dozen or more friends and associates, has just arrived here for a month-long stay. The first gate, the one that grants access to the neighborhood, can be opened with a key code. The second, the one that grants access to the property, must be opened remotely by someone who's already inside.
One of Uzi's managers, a man in an oversized Allen Iverson jersey named Leighton "Lake" Morrison, lets me in. Not long after, I speak with Uzi briefly on the house's roof deck, while this story's photographer, who is 6'2", squats down for a better angle on Uzi's 5'5" frame. "I hate photo shoots," Uzi says unprompted, a claim he has made in some fashion in nearly all of the major interviews he's done. I offer that it's hard to tell, judging by the quality of the posts on his Instagram account, and he seems to soften with the compliment. "Instagram did just as much for me as SoundCloud," he says. We'd been introduced an hour earlier, the rapper gifting me a limp and somewhat business-like handshake before moving toward a thermostat-sized touchscreen on the wall to cue up "200,000," a recent loosie from Atlanta-based producer Wheezy that features Uzi, Shad Da God, and 2016's other most celebrated feature artist, Quavo of Migos.
Uzi is technically the odd man out in that line-up — coming from North Philadelphia's Francisville neighborhood, he's the only one not from Atlanta — but he couldn't sound more at home over Wheezy's operatic piano riffs and speaker-stretching 808 rumble. The appeal of his style, not unlike a teenaged Lil Wayne, is some combination of nasal vocal tone and penchant for melody, despite no discernible singing talent. He weaves in and out of the pocket, stuffing an inordinate amount of syllables into a bar without sounding like he's trying to make a name for himself in a cypher, a particularly interesting skill considering his city's long-held reputation for shotgun-mouthed, battle-ready MCs. Uzi's nonconformity was enough to convince DJ Drama and storied producer Don Cannon, likewise Philly natives who've made their names trading in southern soundscapes, to sign him in 2014 to their Generation Now imprint, which is distributed by Atlantic. "He is to Philly what A$AP Rocky is to New York," Drama says. "He can swag it out with cats that from the A, or wherever."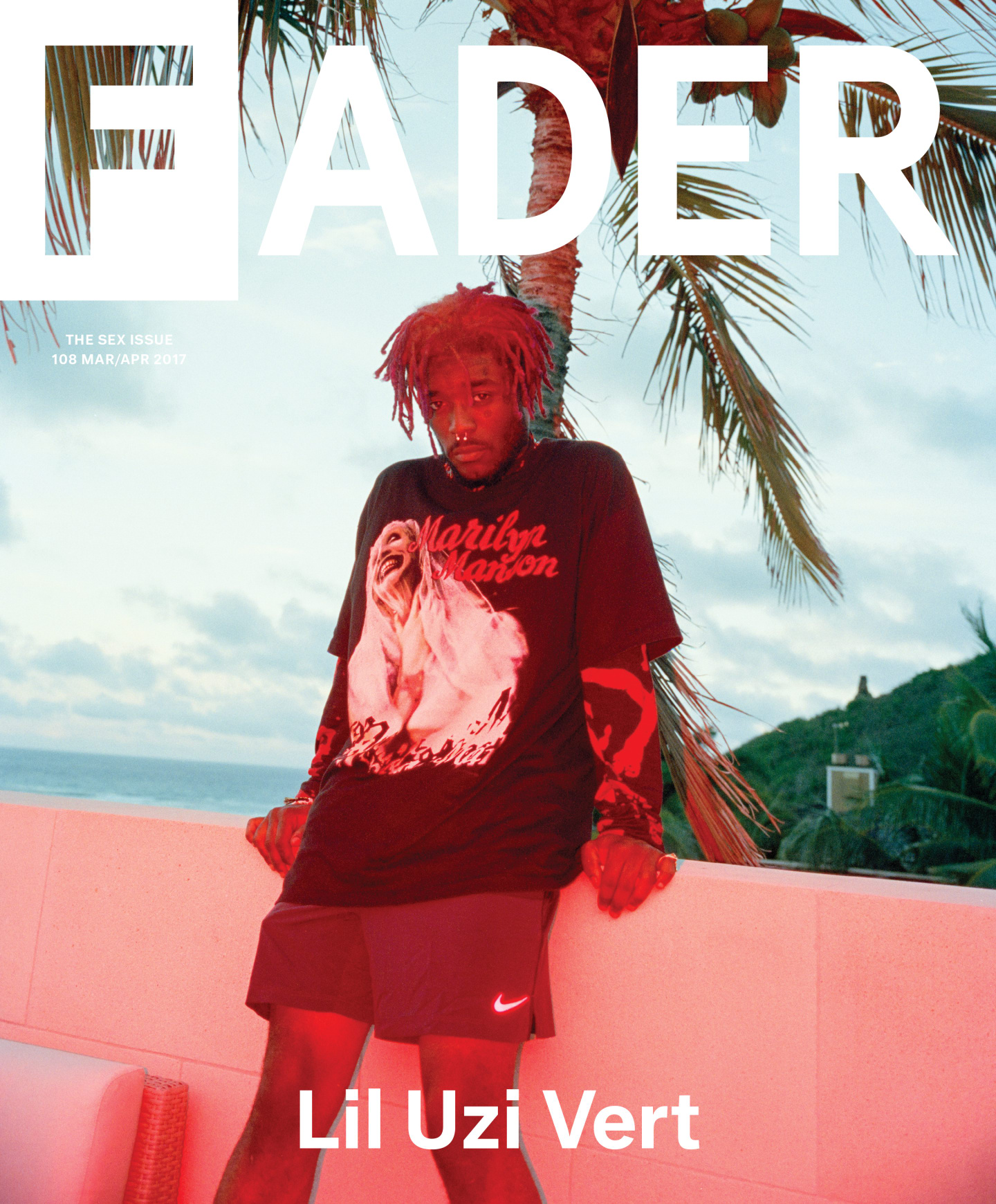 Whether appearing on club hits like Future's fantastically braggadocios "Too Much Sauce," rapping over sunny marimba on the Ronda Rousey tribute "Ronda (Winners)," or outright singing on "Stole Your Luv," a ballad that his SoundCloud account cheekily classifies as "#Alternative Rock," it's clear Uzi's inspiration has no single source. "I really realize, the world is bigger than motherfuckers that's around you," he tells me. "The world is bigger than that neighborhood, bro. That's what I realized. I said, 'Hold on, if y'all do this, y'all keep doing this, right? Y'all keep doing the same thing, your whole lifestyle: eating the same, thinking the same, doing the same activities, doing it everyday. It becomes a cycle. If it becomes a cycle, what are you learning now? Nothing.'"
In the past year, Uzi experienced a meteoric rise. April 2016's Lil Uzi Vert vs. The World brought his biggest hit to date, the gold-certified "Money Longer," and set the table for July's The Perfect Luv Tape, a tightly edited project that featured "Do What I Want," a song that soundtracked a Jordan brand sneaker commercial in October. During this time, he also released a collaborative EP with Gucci Mane, a bevy of loose singles, and notched some 33 features, all while touring consistently. SoundCloud crowned him their most followed artist of 2016, and in the second week of 2017, he achieved his first No. 1 on the Billboard Hot 100, thanks to a guest verse on Migos's "Bad and Boujee." "You've never saw what this kid has done in a year and conquered," Don Cannon says. "He's a fucking workhorse."
Up on the roof deck, I lean against the wicker couch a few feet away from where Uzi is standing and listen to him riff existentially between drags of a sturdy blunt delivered to him by "Fat," a baby-faced kid with a pristine Caesar haircut and the build of a junior varsity shooting guard.
"Being a rapper is a facade," Uzi says, glumly. He's wearing a vintage Marilyn Manson promo tee over a patterned red and black long sleeve, charcoal Nike tennis shorts, and red Gucci flip flops with tiny ghosts all over them. The next afternoon he's wearing nearly the same thing when his friends begin jumping, seemingly out of boredom, from the estate's second-floor balcony into its infinity pool. Cannon nonchalantly warns them that they need to be careful because the pool isn't deep, but Lake gets a kick out of the massive overflow spilling onto the side of the house. "You try to bring them somewhere nice," he says with a laugh. "Take em out the hood…" Uzi surveys the leap from the balcony himself and decides better of it, walking downstairs to the pool deck proper. Unable to join the fun without offering some sort of contribution to the acrobatics, he performs a running front flip into the water.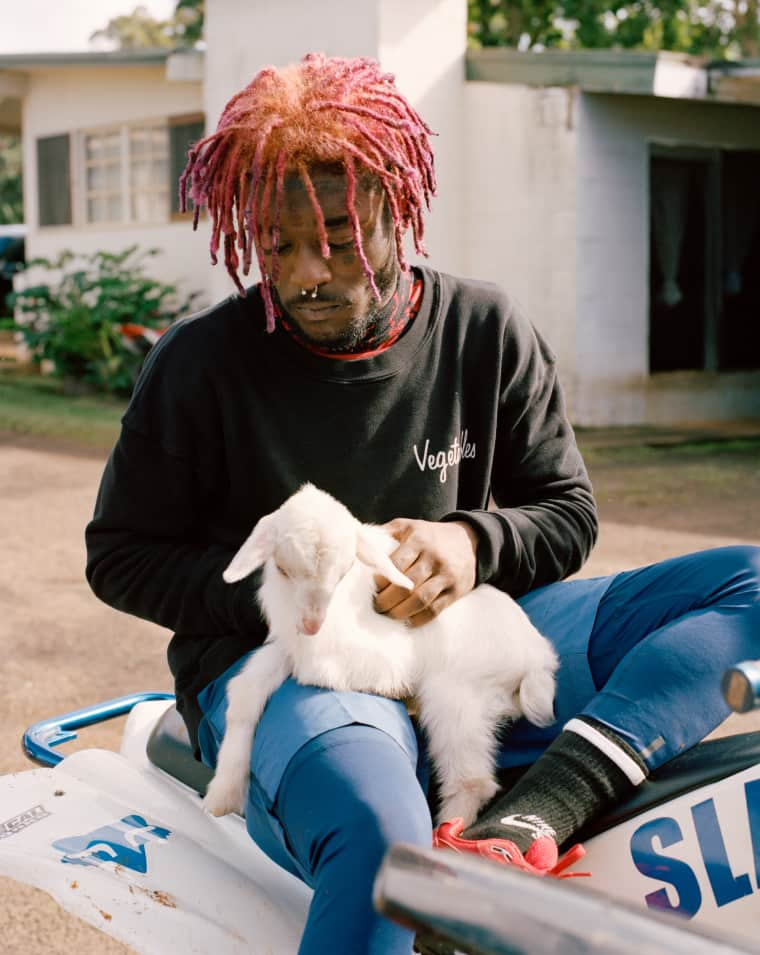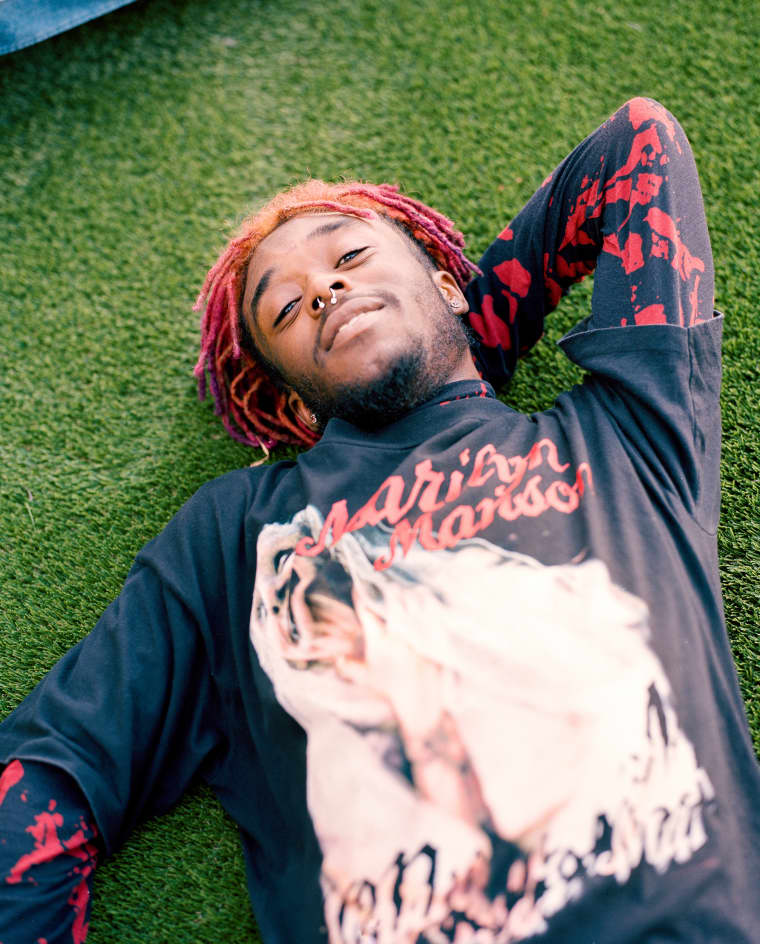 "Being a rapper is a facade." — Lil Uzi Vert
Rapping as a means of artistic expression began for Lil Uzi Vert with a bout of jealousy. Around the 10th grade, a classmate named William Aston recorded a freestyle over the beat for Chris Brown's "Look At Me Now," and the attention he got from it inspired Uzi to follow suit. On Aston's YouTube channel you can watch a 2012 video of the two of them, with another friend, as the short-lived trio Steaktown, performing their "Steaktown Anthem." The beat sounds terribly outdated now, but the video is not without its charms: in one scene, Uzi, who was then going by Sealab Vertical, does a breakdance move on a basketball court before picking up a ball, dribbling it through a crowd of friends, and completing an acrobatic layup. He's 17, before the face tattoos and colored dreads. But he was already starting to turn ears, with A$AP Rocky-like references to Jeremy Scott sneakers, codeine and Sprite, and white girls using cocaine.
In fact, it was dearly departed A$AP Mob co-founder Steven "Yams" Rodriguez who gave Uzi one of his first music industry co-signs, via Twitter in early 2014. By then, Uzi had adopted his current stage name, something he'd put together from someone describing his staccato rap style as "like a little uzi," and vertical being the direction his career was inevitably heading. He'd ditched Steaktown and honed his delivery into a detached howl tailor-made for the dank trap sound of his first radio hit, "U.Z.I.," produced by eventual Kanye West collaborator Charlie Heat. When Don Cannon heard "U.Z.I." on DJ Diamond Kuts's legendary Philadelphia mix show, he tracked Uzi down. Generation Now moved him to Atlanta shortly after he signed because, as Cannon would tell me, "I knew he was a star. And I wanted to make his life better for him and his family."
When Lil Uzi Vert got his first face tattoo he was technically homeless. His mother had just kicked him out of the house after discovering he'd quit the only job he'd ever had, working as a stock person at a Bottom Dollar. "I had a job for fucking four days," Uzi says. "I couldn't do it. I'm not normal. I was in there just thinking, Why am I doing this?" He left his mom's house and got the word "Faith" inscribed just below his hairline. "It was like, If I get this face tattoo, I got to focus," he says. "I can't go in nobody's office with a suit on with this shit on my face. I got to focus on what I want to do."
Now he has more face tats than you can count without staring. He says many of them are Adinkra symbols from the Asante tribe of West Africa. (Uzi says he has no familial connection to the Asante.) The most recognizable is a small circular character under his left eye that means "God is king." Uzi says rap is the first thing he ever focused on like this, and wonders what else he might have successfully applied himself to. "Imagine, bro, I could have been an astronaut," he says. "I mean this is cool, Hawaii. But that's more legendary. I mean I love this. I love taking care of my family, I love that. But it made me feel like I took the easy way out."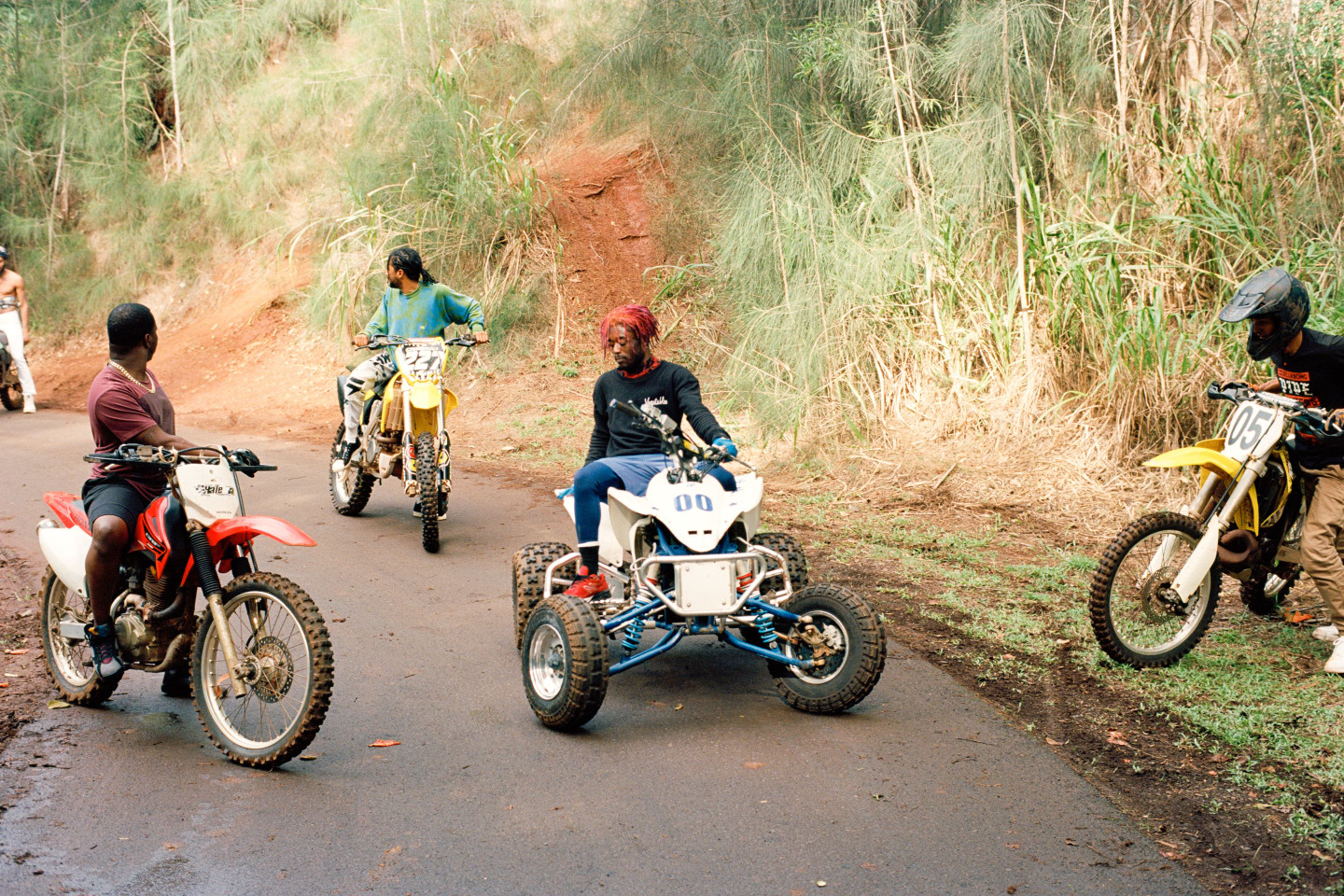 Uzi and most of his Hawaii squad want to ride dirt bikes — an increasingly popular pastime in Philadelphia and a small handful of other East Coast cities, despite being illegal in such environments — so I follow them to a farm deep in the hills of nearby Haleiwa. Along for the ride are Uzi's personal assistant, D. Rich; the aforementioned Fat; Uzi's creative director and videographer, Spike; Mean or Meany Righteous, a portly brownskinned kid who introduces himself as a producer's manager; another producer called Ike Beatz whose giant "Fuck It" neck tattoo betrays his congeniality; Cannon; and two other friends whose official roles and names went undeclared. Aside from Cannon, everyone's been imported from Philly to see the island for the first time together.
Two people missing from the outing are producer and frequent Uzi collaborator Maaly Raw, arriving later that evening, and Kesha Lee, a.k.a. K. Lee, the in-house engineer of Atlanta's Means Street Studios, who is holed up in the rented house. "I'm a quiet person," she tells me later. "When I'm around a lot of people, I don't like a lot of attention. Uzi, I think he just wants real people around him. Like, cool people, chill." Kesha has worked with him since he signed; after their initial sessions, she says Uzi told Cannon that "he didn't wanna work with anybody else." She explains: "A lot of times, more than skill, it's how you vibe with someone. With some artists, it's not so much how great [you] are, it's just someone you can be around every day."
Also absent from the Hawaii trip so far is Uzi's onetime muse, stylist, and very publicly adored girlfriend, Brittany Byrd. Since the start of their relationship in late 2014, Byrd, a California-to-NYC transplant then attending Parsons School of Design, was so consistently by Uzi's side one could be forgiven for assuming she'd dropped out of college. She had joined him on trips across the country and, in more than once instance, appeared on stage at his show to share a kiss, at his request.
That kind of public acknowledgement of a relationship with a non-celebrity is all but unheard of for young rappers, but if you let Uzi tell it, that speaks less to the shifting nature of fame — Brittany has more than 100,000 followers on Instagram — than to the insecurity of his peers. "They're scared people are gonna fuck their girlfriends," Uzi explains. About Brittany specifically, he says that she plans to visit Hawaii at some point during his planned stay. But he's also forthcoming about her recent absence on his social media. "I'm a rapper, bro. It's fucked up. Our relationship is fucked up," he says. "But, you know, I love her for her and she loves me for me. So, you know. It's always gon be good." (Through DJ Drama, Brittany declined to be interviewed.)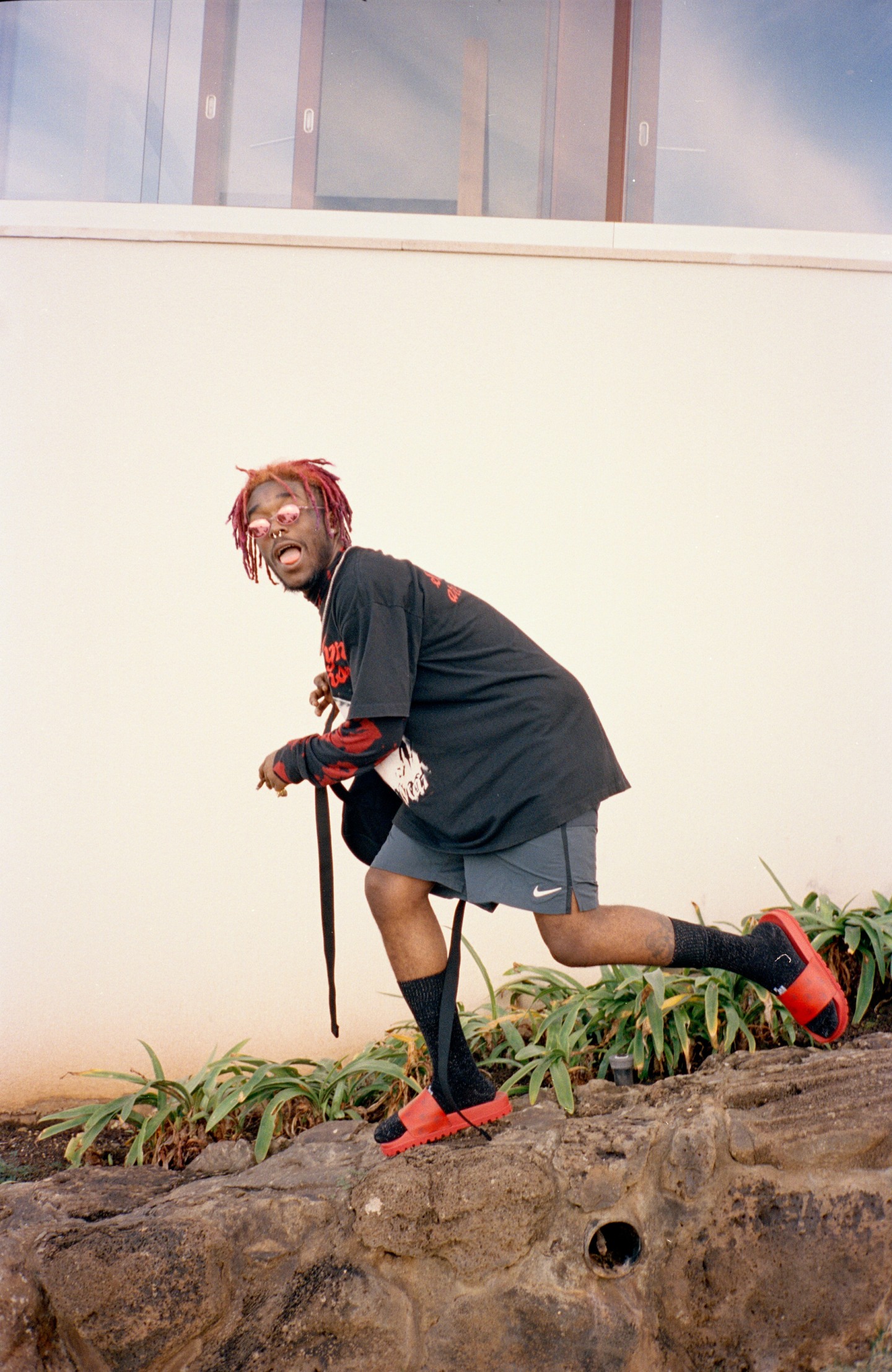 "I ain't going to lie bro, I'm here for a job. I'm here to record my album… But my friends would never have this opportunity to be here in a million lifetimes." — Lil Uzi Vert

After the bike ride and a lunch of Hawaiian shaved ice and garlic shrimp (in that order), Uzi and company load into two trucks and head back to their estate. They hit the pool, then I wait for Uzi to shower so we can sit down for a more formal interview. Somewhere throughout the day's events, however, Uzi has lost interest in having a conversation.
He makes this very clear when, after a rep from Atlantic walks me upstairs, he slams shut and immediately locks a sliding door on the second floor. He's been holed up here for an hour or so — not just showering but listening to Lil Uzi songs and playing video games. I head back downstairs. After some extended prodding, the rep breaks the news that Uzi is "being a brat" and isn't interested in sitting down anymore, nor does he want a writer to tag along with him to the evening's next planned destination, a recording studio.
The rep and the Generation Now guys — Drama, Cannon, and Lake — are all in their mid to late thirties, old enough to have actually fathered Uzi. They're all in different ways responsible for his creative output and general well-being, but in the instance of his sequester, offer very little in the way of intervention or reprimand.
Lake tells me Generation Now brought Uzi on this trip to Hawaii to rid him of distraction, and to try and put him in a different headspace creatively. I think about him splashing around in the water with his friends and remember something he told me the night before: "I ain't going to lie bro, I'm here for a job. I'm here to record my album. I would do that shit in L.A., but I didn't because my people… I've never been here, and it's cool, it's a blessing, but my friends would never have this opportunity to be here in a million lifetimes. I don't give a fuck about this shit. When I go on stage, that's the only fun I really have."
I can believe that little outside of performing would bring real joy to an artist, but being a working artist isn't just about the show, the afterparty, and the hotel. Building a genuine fanbase demands attention paid to image, branding, and strategic communication. Uzi acknowledges this very thing when he says that "rap is a facade." Was he choosing now to rage against that conceit? "Brat" is a fair judgement in the moment, but more likely an inevitable end for a 22-year-old who's earned more money than the large majority of the adults in his life.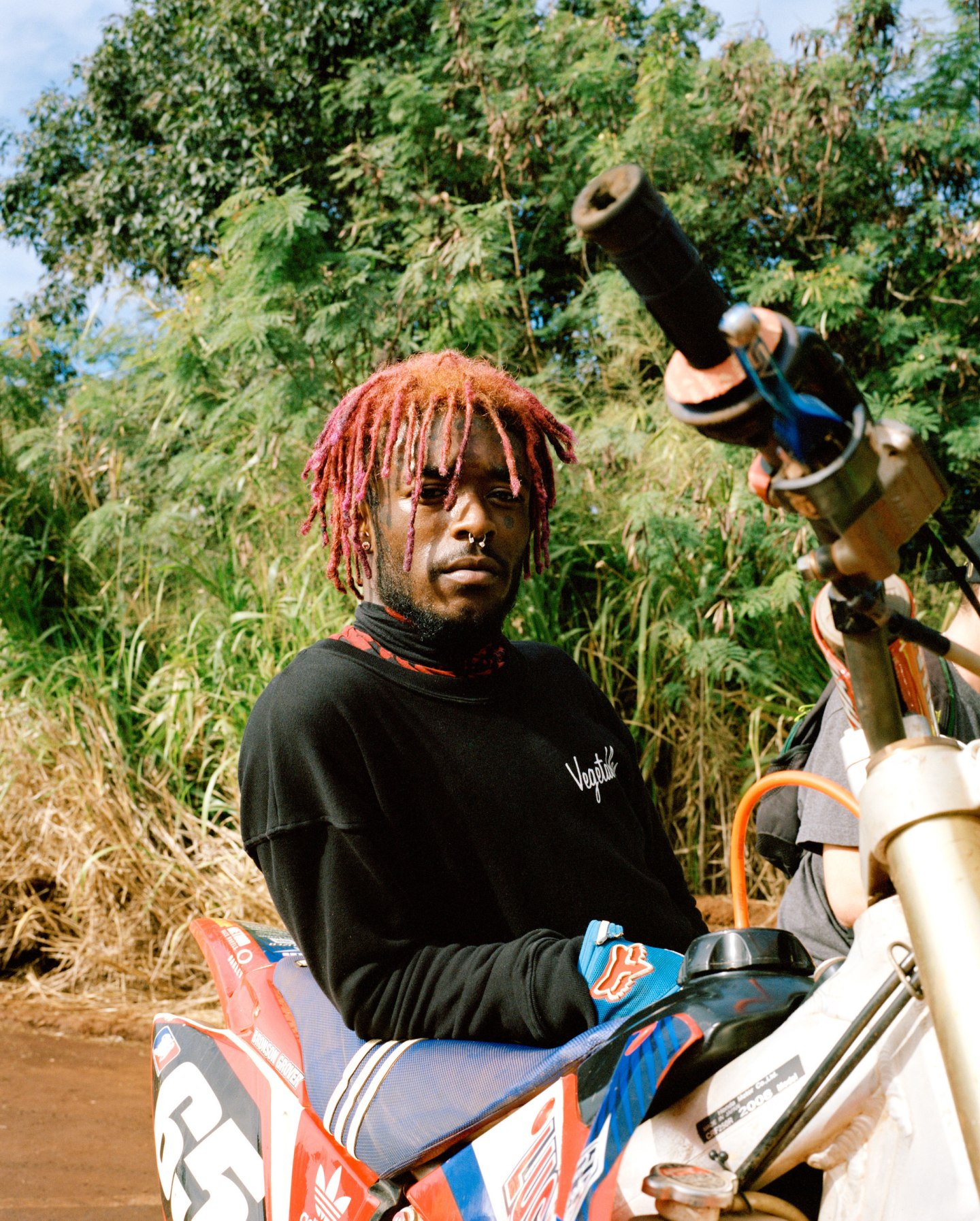 One of Uzi's favorite platitudes is that he's a rock star, and if blowing off an interview to chill with your friends isn't rock star behavior, I don't know what is. When Uzi said, "Now I do what I want," he fucking meant it. But I can't help but wonder if rap journalism on the whole is destined for "Frank Sinatra Has A Cold"-style write-arounds. Do Lil Uzi Vert fans even care about a Lil Uzi Vert interview? What should music fans even expect from the artists they love during extraordinary times like these? Who wins when access journalism dies?
Later, Uzi's engineer tells me that they weren't able to make any music during that first week of their Hawaii trip, because they "couldn't catch a vibe." Maybe Hawaii had taken Uzi too far out of his zone. Maybe luxury, to him, really is little more than distraction.

The next day, we're at a beach-like enclave called The China Walls for what was supposed to have been an hours-long cover shoot. Locals of at least intermediate swimming competency come here to surf sometimes, but more commonly to jump from a 15-foot cliff into the water. China Walls is a beach inasmuch as there is a shoreline and direct entry point to the water, but its surface is rocky layers of formed lava, which you must climb using all four limbs when you want to exit the water.
At the head of the trail that leads down to the rocks, a hired stylist has set up a makeshift clothing display rack, hanging outfit choices from the sturdier branches of a small tree. There are, amongst a trunk full of choices, light wash jeans from Acne Studios, pink athletic shorts by Thom Browne, a color-blocked blue and red J.W. Anderson sweater with sleeves so long they'd touch the ground if allowed to hang past the wearer's hands, and a vintage gold lamé jumpsuit with manicured hands painted up the legs and torso.
When Uzi arrives he walks purposefully past the set-up and heads straight for the trail. He's wearing a black cardigan sweater with no shirt underneath, a mound of diamond necklaces and pendants, black pants, and box-fresh black Gucci hard-bottoms with tiny rabbits embroidered all over them. The shoot is nearly three hours behind schedule, as Uzi had requested time at the last minute to go shopping, though producer Maaly Raw confirms they actually spent the morning playing video games. With regard to the extra outfit options Uzi was asked to provide to supplement to the stylist's selections, he has only a black Supreme hoodie. When I greet Uzi down at the cliffs I mention that one of his shoes is untied. "I know," he responds and walks off without tying it.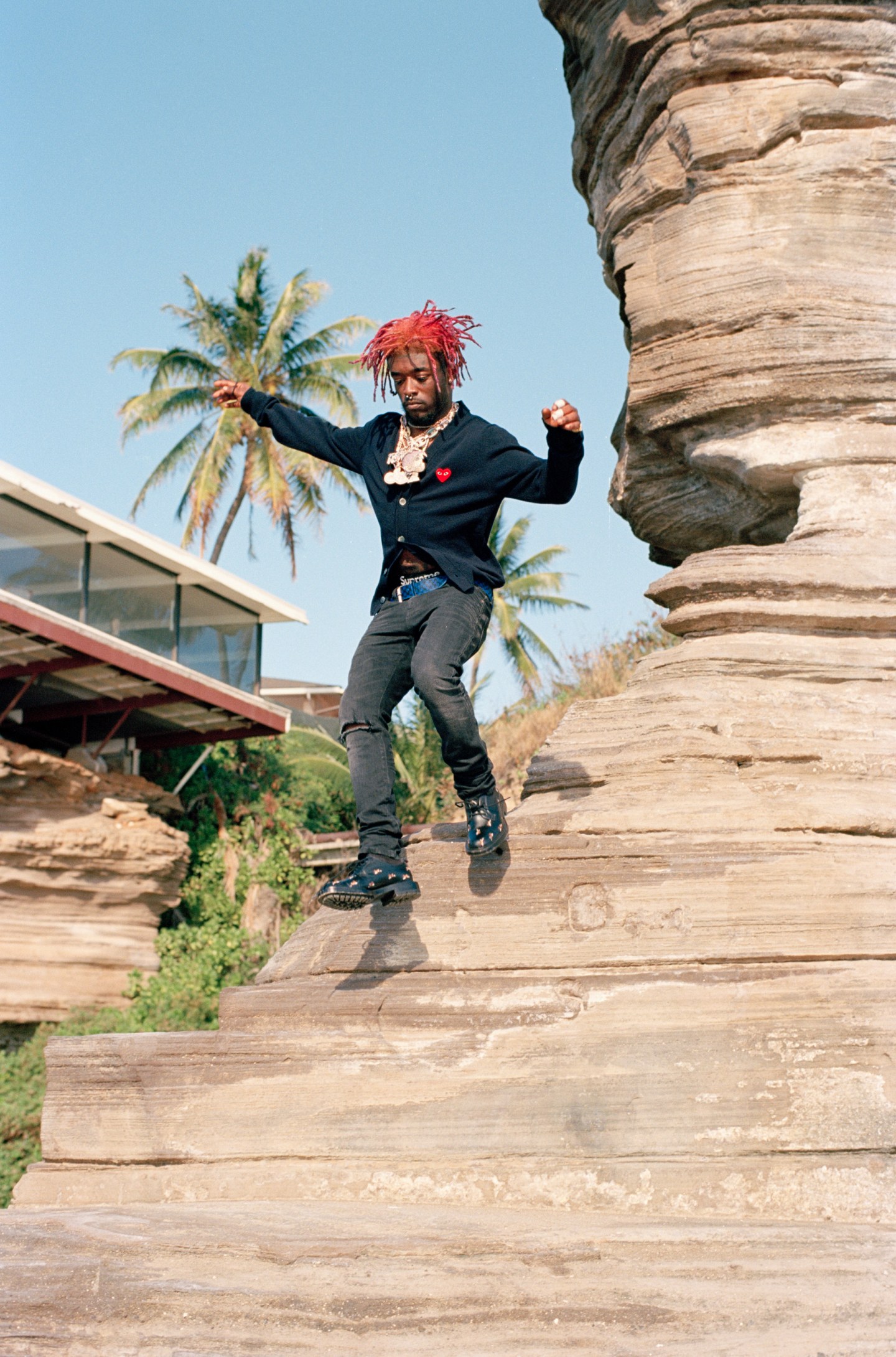 There are about twenty locals hanging out at the China Walls that afternoon, and two or three call Uzi out by name. He gives daps, takes a couple pictures, and expresses his gratitude for their support. With the photographer he is less cordial. Before a half-hour has passed, he seems physically unable to disengage his frown. He appears in the throes of some form of torture no one else on site can see or comprehend.
The shoot is momentarily derailed when a group of high school kids arrive and begin smoking blunts a few feet away and Uzi is instantaneously lured into their throws. It isn't long before he's in the center of a yearbook style group photo, surrounded by a flock of shirtless and bikini'd Hawaiian kids, who rotate in and out to get pictures with their respective phones.
In between setups, Uzi can be found at the cliff's edge, yelling at Don Cannon and DJ Drama. "This is dumb!" he says. "I'm the smartest fuckin person on this Earth but now I'm gonna act like I'm dumb!" After Uzi is perched in the middle of some foliage to capitalize on the shadow some of the leaves cast onto his face, the photographer's request to shoot without jewelry sends him into a mini tantrum. "There better not be no pictures of me in this magazine with no chains on," he says as his security guard stands behind him, unfastening them one by one.
Because at this point Uzi and I have yet to sit for a proper interview, at the shutter of the final shot of film, I begin my line of questioning immediately, as was DJ Drama's recommendation. The shoot has brought us all the way over to the opposite end of the beach, a ways down from China Walls's sole entrance, and Uzi isn't trying to hang around. We begin walking back toward his crew. His answers are clipped.
I ask about his life before rap — "Just chillin' I swear" — and about his penchant for melody. "It's trap singing. It's fun. It sounds good and girls like it." I try to talk to him about authorship and what seems like a two-way flow of creative influence between Uzi and his peers: "I ain't competing with nobody," he says. "Only person I'm competing with is myself. I'm competing with time. You'll never ever beat time. Once you beat time, guess what, you die and time beat you."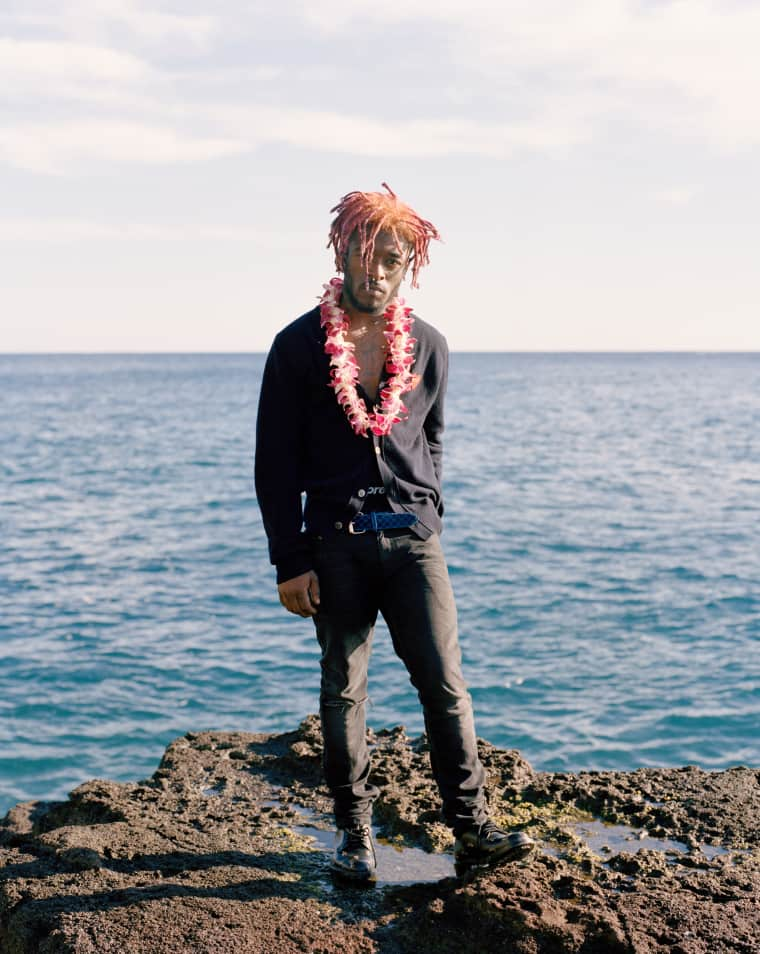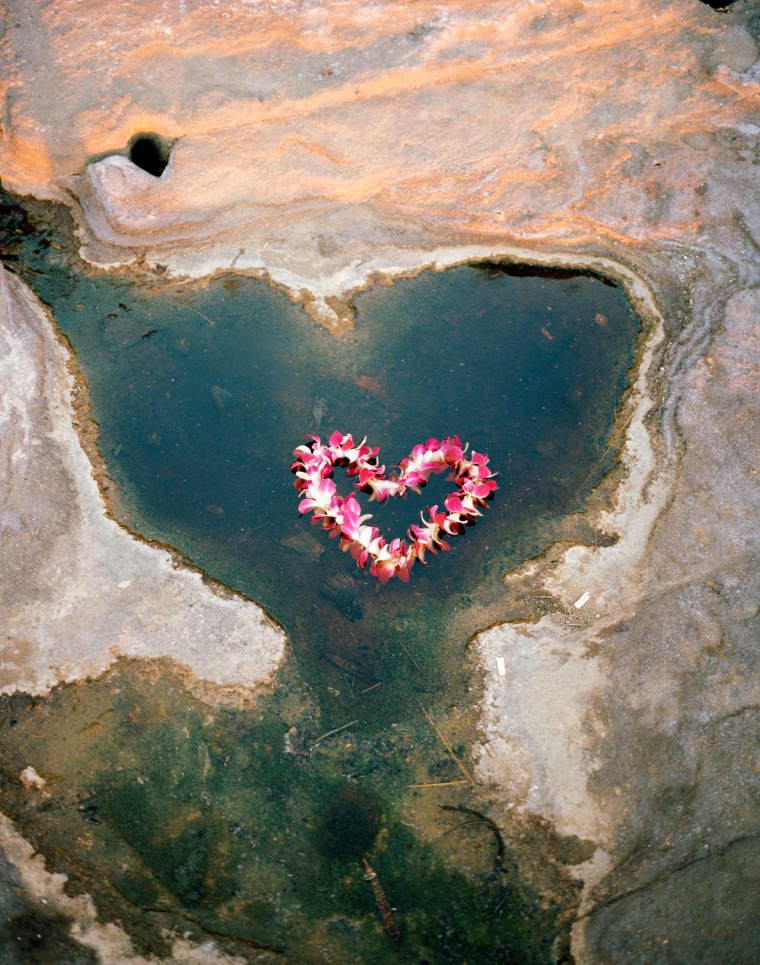 "You wanna know what the curse is? I gotta take care of my family. That's why I can't stop. If I ain't have to take care of nobody, best believe I'd be regular as fuck." — Lil Uzi Vert
I ask him about the juxtaposition of his own music and the kind of hard-edged, technically proficient battle rap Philly is known for, hoping to address how he seems to have sidestepped his city's style. "Philly's cool," he says. "Philly's a nice city. I don't know, I been to a lot of places that I performed. I would say everywhere is similar, but you know everybody talk different." I mention that his music often seems, to me, more palatable to women than that of his peers and ask if this is purposeful. "If you notice when I was taking those pictures I didn't listen to one word that the guy said," he says proudly. "I only listened to the girl. I don't like boys. For what?"
As we reach his entourage, Uzi kicks off his Gucci shoes and hucks them one after the other as hard as he can into the ocean. (I couldn't help but look it up: they retail for $950.) He wriggles out of the rest of his outfit and changes into a black silk pajama set.
We continue talking. At one point, he walks in circles around me, so that I have to spin continuously with his movement to ensure the integrity of the tape recording. He's honest when he's not dismissive, but he makes a point to break our conversation to engage nearly everyone he walks past, whether members of his own crew, the shoot staff, actual fans waiting for a chance to approach him for a photo, or just beachgoers subtly curious as to who he is and why he is leading a group of fully clothed adults across the China Walls surface.
I knew after we had the following exchange that I'd gotten pretty much all that Lil Uzi Vert was willing to give me:

Drama said he and Cannon wanted to bring you to Hawaii as a reward for all your hard work, I said. They feel like you wouldn't reward yourself if it weren't for them...

"I don't know. I WOULDN'T reward myself. I'm already rewarded."

What do you mean?
"Oh, I'm already rewarded. I'm not dead and I don't live where I was born. I got to be able to move, so I'm already rewarded. Shit ain't for me."

What's not?
"This rap shit. I hate it."
So it's a curse that you're good at it?
"Yep. You wanna know what the curse is? I gotta take care of my family. That's the curse right there. I gotta take care of my whole family. That's why I can't stop. If I ain't have to take care of nobody, best believe I'd be regular as fuck."
But you'd still feel the need to create, wouldn't you?
"Yeah, I'd make babies."