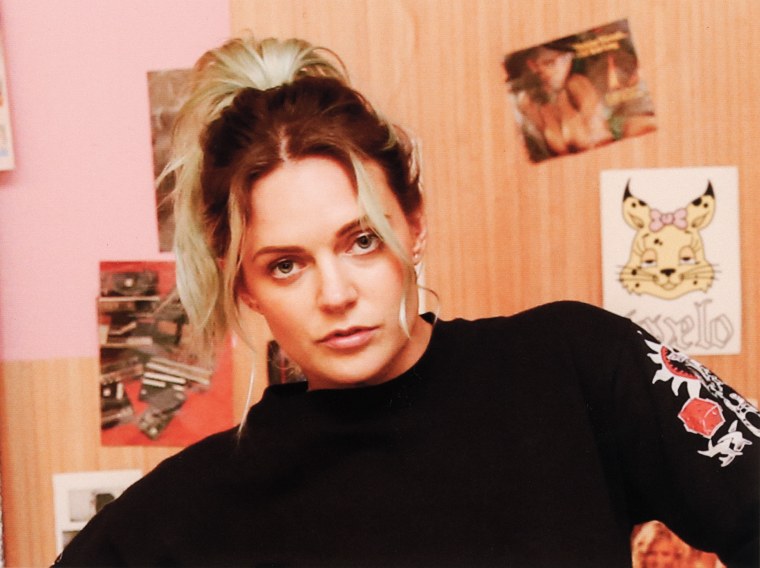 For a lot of pop stars, quarantine entails a lot of time spent alone, but not so for Tove Lo. The perennially underrated Swedish pop rebel has four housemates, a coup which means that she's never without an opportunity to socialize when in quarantine. From the sounds of it, that's no bad thing: when Lo calls me from the home she bought last year in Los Angeles, she makes it clear that the communal atmosphere of her home is a welcome distraction from the world outside. "I go in and out of feeling really worried and scared or everyone," she tells me. "At other moments, I'm just enjoying time at my house, trying to read books and be creative. I don't have to be home alone, which is nice."
For Lo, the seriousness of the pandemic hit quickly. She landed in Glasgow for the opening night of her European tour, and quickly saw the rest of the dates fall like dominoes. "I was kind of like, is this even happening?" she recalls. "It was a strange feeling that there were no restrictions yet when we flew into Europe. [After Glasgow] I was kinda feeling like 'It's not up to me, I have to just accept what happens.' And now I literally haven't left the house once."
Luckily, the house provides Lo — who has been on a tear of late, already having released a handful of singles since last year's great Sunshine Kitty — with ample opportunity to play convoluted games with her housemates, take yoga classes via Zoom, and, crucially, reacquaint herself with production and beatmaking in her makeshift home studio. Read about how Tove Lo isolates below.
Hosting themed dinners
Tove Lo: We started having themed dinners a few days ago. First one we did was apocalyptic glamour, or post-apocalyptic black tie, so we all kind of dressed up, blasted classical music, played all these games. Other themes are Disney Princess, Adam and Eve this weekend — just pick some leaves and be naked around the dinner table. It's just trying to keep things interesting, I guess. We haven't themed the food yet. I feel like for Adam and Eve… what would we eat? The forbidden apple?
Playing extreme versions of beer pong
We have a ping pong table, so we've been coming up with various versions of beer pong with new rules and new ways to play the game, just out of boredom. One of the ways is that you play with the paddles — you put four cups of beer in the middle of each square on each side of the ping pong table, then you try to hit the ball into the cup or hit the cup with the paddles. It's a lot harder. But you're also playing for points — if you lose a point you have to drink, if I hit the opposite side's cup of beer they have to drink and drink because they lost the point, unless they hit the ball back, in which case we have to drink. It all basically leads to a lot more drinking than normal beer pong. We also play a beer pong round robin, where everyone is running around the table, because there's five of us. Maybe it sounds really complicated, but it made sense at the time.
Making raw weed brownies
I learned how to make raw weed brownies right after my vocal cord surgery, when I couldn't smoke. I wanted to find a creative way to get stoned, and so I found this recipe. I adapted it myself, a bit: I just grind up weed really fine, and let it simmer in a lot of coconut oil for two hours — the longer the better, but two hours is usually fine — and then I strain it into a bowl of ground up oats, cacao, [natural sweetener] monk fruit, cashew, almonds, and dark chocolate chips. Then you roll it up into balls and put it in the freezer, and it's super yummy. It's a bit dangerous because it's not that easy to know the dosage, but it's really good.
Making beats and writing music
Making music [in quarantine] is interesting because I'm trying to rest my voice a little, it's a little bit tired after all the touring. This tour took a lot out of me — it was an amazing tour, and I wouldn't have done it differently other than not cutting it short, obviously — but I just had to take a little vocal break. I've been learning Ableton and going back to making beats and stuff. When I write I usually write lyrics and melody, and I don't spend a lot of time at the computer making the tracks. It's been really fun getting into that again. I'm gonna make it a proper studio, but just setting it up and making it cozy has been nice too.
In a way, learning production helps a lot, because time just flies when you've been sitting for four hours without even looking up. I find it very soothing. The loss of schedule is really good for creativity, I think. But the feeling I can't shake is the feeling of worry, for the world in general. That lingers with me. I think we're gonna see a mix of really happy songs being created, just wanting to forget about everything, and a whole lot of 'world is ending' themes, and a lot of dark tunes coming out as well. My new music is leaning towards the darker state, but I think that's also because I'm in a post-tour depression as well. I was supposed to play my final show last night in Stockholm and see all my family and friends. That felt really sad to miss out on, so the weird feeling of not knowing when I'm going to see my family is hitting me pretty hard.
What's the first thing you're going to do post-quarantine?
Depending on what the travel thing is, I'm probably going to try to travel home to see my family in Sweden. First thing, I dunno. Go down to the beach, go surfing, that would be amazing.