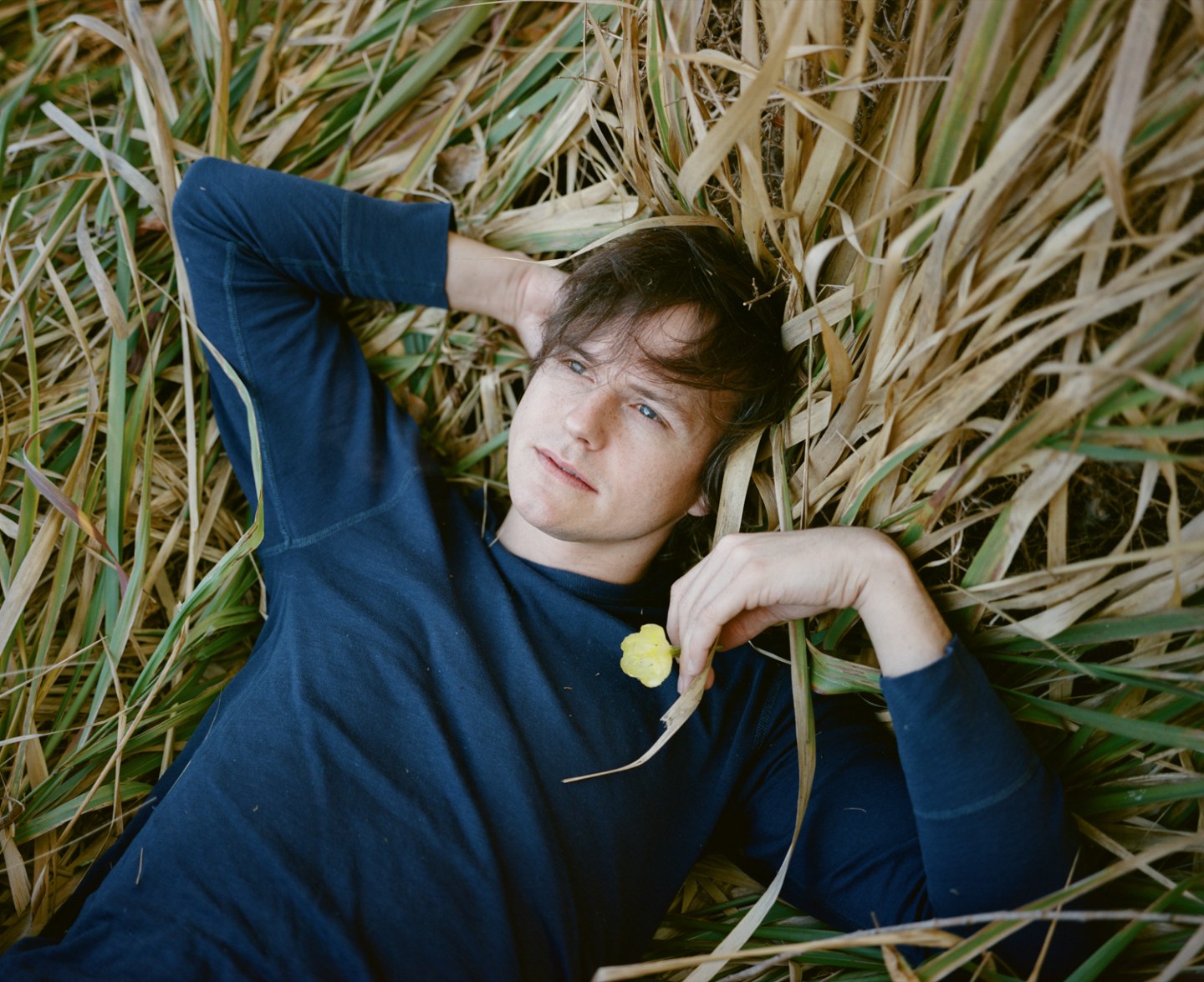 When comedian Whitmer Thomas began writing his new stand-up special, The Golden One, he Googled the precise age at which youth is considered to be over. He read that it was widely believed to be 29. Thomas, 29 at the time, freaked out. "I worried that I hadn't achieved the things I wanted to as a young man," he says now from his home in Los Angeles. "When I think of being successful and rich I'm doing it as a 21-year-old dumb idiot."
Thomas had added reason for an existential crisis. He'd been dropped by his booking agent after deciding to incorporate music into his act, and his career was plateauing. He had started writing songs as a way to deliver material that focused heavily on a troubled childhood in Alabama that was overshadowed by the death of his mother, a musician herself and an alcoholic. The parallels between a mom who never quite "made it" and her son, flailing and looking for direction, were almost too on the nose.
Thomas picked himself up, though, and delivered an hour of beautifully dumb and painfully tender comedy that debuted on HBO earlier this year. Produced by A24 and with the assistance of fellow musically-minded comic Bo Burnham, The Golden One is a comedy special delivered from the heart. Recorded at Alabama's Flora-Bama Lounge, where his mom and aunt's band Syn Twister would perform regularly when he was a child, Thomas tells jokes about how being from the south isn't good for an emo band and why bigots shouldn't have fringes, between conversations about his mom's life and the fallout from her death.
The punchlines are broken up by Thomas performing his own songs, which, like all good comedy songs, are as catchy and emotional as anything delivered with a straight face. "Partied To Death" is stoney-faced coldwave tune about problem drinking while "Dumb in Love" is an ode to big riffs and the simple desire of wanting to "fuck like I'm not registered to vote." Elsewhere the songs touch on addiction ("The Co-Dependent Enabler"), failure to perform ("Eat You Out"), parental pressure ("The Golden One") and having a tough older brother ("Brother Is Bigger"). Thomas' writing style owes more to the comic bent of Silver Jews' David Berman, who puts emotion first and allows comedy to follow, than a comedy-first act like Flight of the Conchords. Ahead of the physical release of Songs from The Golden One on Hardly Art, Thomas spoke with The FADER about the origins of his songs, how he came to use them to tell his story, and why Blink-182 are underrated comic geniuses.

The FADER: How did the songs from The Golden One begin life?
Whitmer Thomas: When I originally wrote those songs they were coming from a sincere place. There were no real jokes. The song "Dumb In Love" was more of a pop-punk thing while "Partied to Death" was about how I was riding a motorcycle with my dad and my mom was having issues with alcohol. When I listened back to the demos, though, I just found them embarrassing. I felt a failure trying to be a serious musician, so I stripped all of the metaphor from the lyrics and leaned more toward the comedy. I thought that might be funny and started incorporating it into my stand-up. So the album began life as a standalone thing but I don't think I could ever show people the origins of those songs.
Some of the songs are still pretty serious though.
"The Golden One" and "Hurts To Be Alive" are pretty straight, I suppose. To me, they're funny. People do find those two, in particular, really resonant. I am being sincere in the songs. I always think it'd be funny if a musician explained the hell out of a song before they performed it. I hope in the future I can toe the line of absurd comedy and a sincere love of song. It doesn't bother me when there's a sad moment in a funny movie. Stand-up can do the same thing.
The songs were not part of your act to begin with, right?
I was just doing jokes. I was doing a show called The Golden One about my childhood, and the arc was the redemption of my dad. There were many times where I would bring my keyboard to a show and think maybe I'd be brave enough to play a song but I'd never do it. It was even difficult to commit to telling the story of why the show was called The Golden One. It wasn't until I started playing the songs that the show really came together. Doing music created more parallels between me and my mom.
What were the parallels that struck you the most?
I remember being on stage and my stand-up agent had just told me they didn't want to work with me anymore as they didn't know how to pitch me. I was so bummed out and depressed. Playing shows was how I made a big part of my living. I started booking shows myself and performing these songs. I was on stage at one of those shows and started talking about my mom's failure and it was really hard to admit that had happened to her. I was thinking about what a trip it was that I am actively failing too. I was around the same age as she was at her peak and I'm [regressing]. She had so much faith in me, she literally called me her Golden One, and here I was going backwards.
What were some of the highlights of your mom's musical career?
Her band Syn Twister moved to Nashville when they were young and got asked to be part of the house band on a TV show there. They got fired from that job but then they moved to Jamaica, where they'd hang out with people like David Bowie and Jimmy Buffett. Later on they opened for Hall & Oates and were part of a cool music scene in Aspen. She'd tell me stories of hanging out with Hunter S. Thompson and Steve Martin and singing back-up for Bob Marley and The Wailers. They did shows with Toots and the Maytals, too. People were throwing money at them to get them in the studio and make them into something but life got in the way. They never ended up with a proper record deal but there are remnants of her career: old photos from shoots in New York, potential album covers, and things recorded in fancy studios. There's just a lot of tragedy around my mom. She was married to a guy who wasn't the coolest and it just didn't work out. Eventually that guy went to prison and my mom moved back to Alabama and her and my aunt started performing at the Flora-Bama. That's where they really found their legs, as a house bar band. People are very familiar with them in the local area.
How did it feel when your own career was struggling and you were on stage talking about how your mom had never quite made it too?
Dude, it was dark. I really struggled and kept thinking that my mom tried so hard at this. I'd watch her try and fail repeatedly and then there I was, broke and with nobody interested in me. It was tough but I was lucky to have comedy as a way to talk about it. Exploring it on stage was a great way of getting through that.
Did any songs on the album begin their life as jokes in your set?
I tried to tell "Partied to Death" as a joke so many times and it never worked. The punch line was "My mom partied to death" and it would get the occasional chuckle but no more. Then, when I put it into a song and sang it people would laugh at how ridiculous doing that is. The same for "Hopes and Dreams," where I joke about comparing my dreams to my dad's and how pathetic mine are in comparison. When I sing that it comes as a real surprise and people laugh.
Why do you think singing a punchline gets a different reaction to just saying it?
It's a pretty known comedy hack. It's a nice break from having to listen to a story. It gives it a different vibe.
What did [executive producer] Bo Burnham bring to the special?
He texted me early on and said he wanted to figure out how to make it into a special. Our first conversation about it was where I would want to shoot the special. At the time I wanted to make a comedy version of Stop Making Sense or Nirvana's Live at The Paramount. Bo watched those with me and knew they were cool but felt the show should be done at the Flora-Bama as I mention it in the show. That meant I had to speak to my family about it, especially my aunt as she's the gatekeeper as the only living member of Syn Twister. So Bo pretty much cornered me into filming there and then just told me to keep things weird.
Is it hard to tell such a serious and sad story in a humorous way?
All my favorite movie characters are the ones that are trying to hard to connect but are just too dumb to do so. The best scene in any movie is in Dumb & Dumber when Jim Carrey is crying out of the window and telling Jeff Daniels that he just wants to go to a place where he can plug into the social pipeline and the beer flows like wine. He's crying and the the shit he's saying is sad but it's also so dumb that it becomes the funniest thing. That's what I respond to. If I had my way I'd be this comic who's a really good writer and can go on stage and tell really dumb jokes for an hour. I'm just not able to write that many jokes. It's fun to be vulnerable and say some funny shit. It's the best of both worlds.
Are there any bands or artists you can identify that tow a similar line between humor and sincerity?
Blink-182 is the perfect example of that. They have desperately sincere moments and then the next song will be about having sex with a dog. They are the king of that to me. David Byrne, too, has these beautiful songs but then you think about a lyric like "Heaven is a place where nothing ever happens" [Talking Heads "Heaven"] and that's just a perfect joke. He's got a ton of new one liners. I also think Matty Healy of The 1975 could make a really good joke writer.
Were Blink-182 your favorite band growing up?
Yeah, they were huge. My brother bought me their debut album [1995's Cheshire Cat] and I brought it home and my mom sat down with me and encouraged me to play bass to one of the songs. It was just so accessible. Blink were the gateway to all cool music for me. I heard Tom DeLonge talk about The Descendents and so I listened to them and then I discovered The Cure through Mark Hoppus.
You talk in the special about "flailing" through life and feeling like you had a lot of loose ends. Has that changed with the release of the special and album?
Definitely, you can't even imagine. I talk to my aunt now, a lot. Me and my brother play music together. There are so many full circle moments and it seems that it shifted the plates to tell a happier story for the rest of my family going forward. We can talk to each other now.
And are there plans to officially release any Syn Twister music?
My friend Melina, who plays as Jay Som, is mixing a bunch right now. They're demos but she's mixing 12 that we're planning to release at some point. The plan is definitely how to get them streaming online and to find a label to put them out physically. I just want to be able to hand my aunt a Syn Twister vinyl record.
Songs from The Golden One is out now via Hardly Art. The Golden One is streaming on HBO Go/Now.