Here's how to self-isolate like comedian Cat Cohen
Rising NYC comedian Cat Cohen talks about how Gossip Girl, Oreos, and journalling are getting her through COVID-19 quarantine.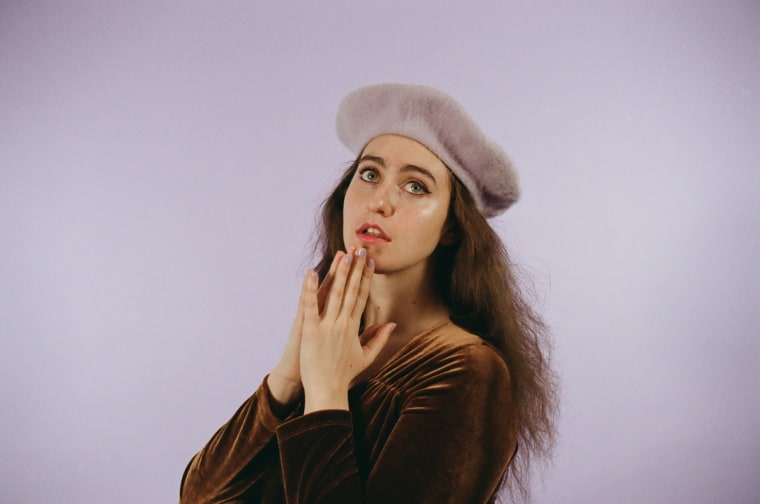 Seconds into our phone call, Cat Cohen sighs. "I keep thinking 'Am I dead? Is this all a dream?'" she tells me, "But it's actually gonna go ahead and be real life." The rising NYC comedian is quarantining with her boyfriend's family in upstate New York ("Lucky me, I'm a little princess!") and is still adjusting to the reality of her new life under COVID-19, which has shifted from a schedule that included a weekly gig at Club Cumming as well as tour dates in London and Australia, to one largely consisting of doing live shows on Instagram and eating Oreos for breakfast. "It literally just changed my outlook on life, being in nature and not in my tiny little apartment," she tells me. "My apartment literally has a half mini-fridge, like in a dorm room, so we couldn't even get enough groceries. It was chaos."
Forced lockdown is, of course, devastating for everyone, but this bump in the road feels particularly unfortunate for Cohen, who, with her archly glamorous musical comedy shows, hilarious Twitter caricatures, and podcast Seek Treatment with Pat Regan, has been on an upward trajectory for the past year or so, landing glowing press in The Cut and the New York Times and appearances on Broad City and High Maintenance. "I still am kind of in denial as to how long I'll be here," she says. "I had to cancel a bunch of shows [while in London], which was a bummer. Once I got back to New York, I was really happy I had made it home, because it was absolute chaos." Below, read about the activities that are getting Cohen through quarantine, including (reluctantly) journalling, watching Gossip Girl, and more.
McCary Caroline: Summer Intern✨
written with @Steven_Markow pic.twitter.com/zf4cQ83MD8

— Catherine Cohen (@catcohen) July 20, 2018
Journalling
I have famously never read [Julia Cameron's self-help book] The Artist's Way, but I've gifted it to people who have wronged me, and I know that one of the main tenets of it is to do three pages of journalling every morning. Every morning I'm trying to do three pages, and I'm making my boyfriend do it as well. It's funny, because we just watched the Masterclass that David Sedaris did, and he does this thing where he reads from his diary, and they're all these beautiful, fully-formed stories that are so hilarious and charming, and my journalling is literally like, 'Fuck, why does my butt hurt the window is too close to me help help hahaha what's happening I'm horny.'
Watching Gossip Girl for the first time
It's an exquisite experience. It's the perfect show, it's reminding me of my favorite place on earth, New York City, Leighton Meester's performance is iconic, she's incredible. I'm just lovin' lovin' lovin' it. I love the heightened drama. I love drama.
We took a break to start watching Love Island, but right now [in Gossip Girl] they're all out of high school, which is kind of difficult, in terms of storytelling. Some of them go to NYU but some of them are just around — Serena is like, at the dorms but she doesn't go there, and I'm like, 'Okay, Serena, seek treatment, you need help, get out of the dorms!' Serena is convinced that she can't go to Brown until she knows who she is and what she wants, and I'm like, 'No one knows who they are and what they want before college, they do that after college.'
Playing The Sims
When I was younger, I would literally be absorbed by The Sims for like, days at a time — blacking out and my parents were ripping me away from the computer being like 'You need to live in our world'. But it hasn't been able to do that now — I've been kinda distracted. Maybe part of me is afraid to really dive in in the way that I want to. But when I was younger, part of the thrill was like, leaving the house, doing what I want, kissing people. Now it's like, I can do that, so there's less of a thrill in making my Sim woo hoo, or whatever, because I've done it. But there's still some magic to it. I like building the house.
Doing therapy via telephone
I find it so not helpful doing therapy in quarantine. I screamed at my therapist yesterday. She's amazing, and I love her, but I don't know what she can say to help me at this point — we're all just walking around being like 'What the fuck's happening?'
I'm gonna stick with it, because I think it's important to be in therapy, but at this point… I literally was like, 'Is the session over?' and I looked at my phone and it had been three minutes and 37 seconds. I'm not loving it right now. I think like… normally, I'm so busy and distracted that it's nice to go to therapy and sit down and work through shit, but right now all I do is work through shit, so I'm like, 'This again?' when she calls me. I famously — in New York I usually go twice a week, and one time my dad was like 'You need therapy' and I was like 'I'm already in therapy', then he was like 'Go more,' and I was like 'I go twice a week,' then he was like 'Okay, get a new therapist.' [Laughs] But now I'm doing once-a-week phone sessions, so maybe things will evolve. Every hour is a different month in this new life.
What's the first thing you're going to do post-quarantine?
I'm dying to do a live show, to be at Club Cumming, packed in with 100 sweaty people, singing my little songs and getting drunk and dancing around. I do it every week normally, so it's been sad. I miss the thrill of live performance. I've been doing Instagram live videos, and it also is fun and nourishing and grounding, but it's completely different.