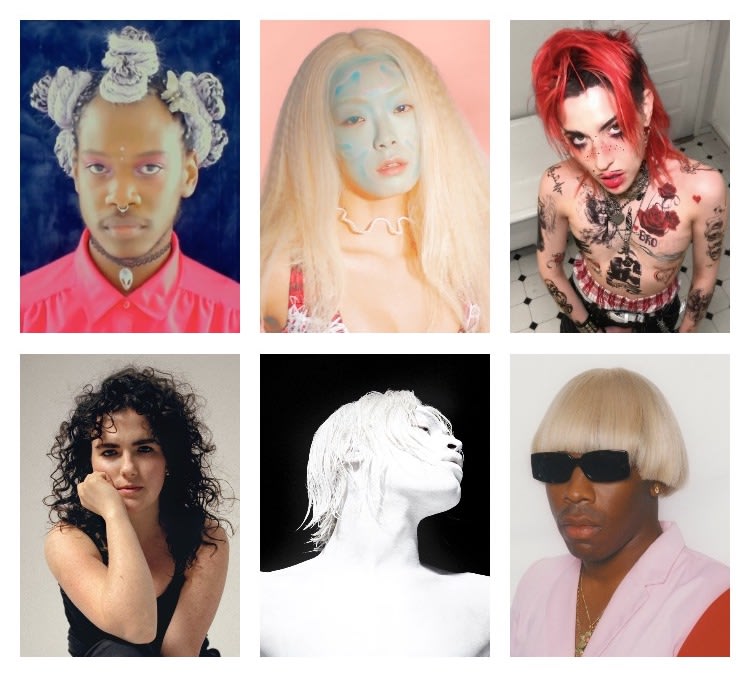 Another Pride month has come and (almost) gone. With most of the world out protesting the systemic police brutality against Black people, or stuck at home due to the pandemic that never really went away, this year's Pride was perhaps one of the least felt in decades. That's okay. We don't need more rainbow-colored Svedka bottles and street parties for straight allies. Pride month is due for a major overhaul, and that starts with addressing how LGBTQ culture has never been as monolithic as capitalist structures would like to assume it is.
It's a mentality that trickles into our music, too. What typically gets to qualify as a gay anthem, and why does it have to involve a pop diva delivering big-budget empowerment? Don't get it twisted, I love Chromatica as much as the rest of you, but this year especially, it feels like we could be pushing deeper into the spectrum of the queer experience. It feels like we could ask for more from the messages we establish as anthemic. Below, we've gathered 20 songs that fit the bill.
Lynks Afrikka - "Str8 Acting"
I've been clamoring for an electroclash revival ever since the world decided to collectively forget about CSS, and "Str8 Acting," the best single by British producer, drag queen and performance artist Lynks Afrikka, hits the spot. A bizarre ode to misandry, "Str8 Acting" lampoons the sleazy idiocy of the straight clubbing scene, providing a wry, bitchy commentary on heterosexual politics. — SD
Masarima - "Freak Like U"
This sizzling cut out of Naples arrives without much by way of context: nobody really knows who Masarima is, and "Freak Like U" is the only release under their name. But on this dance floor, that anonymity only further fuels the elastic disco rush. As Italian as hot sampietrini slicked with Campari, it's the kind of track that instantly transports you to some forgotten fantasy vaguely reminiscent of that dance scene in Call Me By Your Name, if it was cast with gay actors — SM
SOPHIE - "Immaterial"
A lot of queer literature and art speaks to a common desire to exist outside the body, to be entirely free of the physical constraints that, for so many people, represent trauma, anxiety, and harm. Until hearing SOPHIE's "Immaterial," I'd never heard a song that so clearly represented not only the struggle of that feeling, but the euphoria of it — the thrill that comes with the idea of completely atomising yourself, reducing your being to nothing more than feeling. "I could be anything I want, any how, any place, any where, anyone, any form, any shape, any way," SOPHIE's proxy Cecile Believe sings on the song's bridge. It's a radical reinterpretation of a well-worn genre. — SD
Ian Isiah - "N.U.T.S"
"He's a man! He's a woman! That's a disgrace, an abomination!" The opening seconds of Ian Isiah's lead single off AUNTIE instantly pull us into a world that's inherently homophobic and transphobic. Coupled with the backsplash of funky bass, the vitriol is met with warm embrace. It's about trying to find the sweet spot between community and self-identity. "You gotta make some room for people that wanna love you," Isiah reminds us. It's something we all can work on. And who couldn't use a bit more love? — SM
Coco and Clair Clair - "TLG (ft. Kreayshawn)"
This chintzy club anthem from Atlanta freaks Coco & Clair Clair is surreal and silly, finding the duo tapping Kreayshawn for a Depop-girl take on glamorous club rap. It's a stilted, strange song, but, like most of Coco & Clair Clair's music, that's what makes it fun. — SD
Azealia Banks - "Count Contessa"
I'm a firm believer that history will eventually regard Azealia Banks as one of the most important gay icons of our generation. She consistently gives us so much more than what she's given credit for, and yes, if this was even up for debate, she can say it. Though only recently released on DSPs, "Count Contessa" has worked its way into a cult classic ever since being teased for the long-fabled Fantasea II. It's quintessential A.B., an effortless power flex over an ever-ascending oceanic rush. The reign of the "queen" is over. Make way for the countess. — SM
Gupi and Fraxiom - "Thos Moser"
Quickly tossing out references to 100 gecs, 3OH!3, Caroline Polachek, hating NYU kids, and pissing on Zedd, Gupi and Fraxiom's "Thos Moser" is less a pride anthem and more a high-speed journey to the darkest depths of bad taste. Armed with an inspiring disregard for basically all pop conventions, "Thos Moser" invokes, in four dizzying minutes, all the strangeness and anti-spectacle of partying in 2020. — SD
Rina Sawayama - "Comme Des Garçons (Like the Boys)"
To date, Rina Sawayama's entire catalog has orbited around a central belief that self-identity is something worth fighting tooth and nail for, but it's a fight that you can have fun with. On the Rei Kawakubo runway stomper "Comme Des Garçons," opulence and confidence go hand-in-hand. She slings label after label onto that fat bass line with reckless abandon, not just as a flex but as a reassurance that if "the boys" can do it, so can you. If it was cool to club, Rina would have us all learning to death drop right about now. — SM
Shamir - "On My Own"
The moment Shamir Bailey decided to stop playing by the music industry's rules, the vast majority of his supporters seemed to disappear. No worry: he's spent the five intervening years getting his revenge through releasing a series of increasingly great indie-rock records that touch on everything from country to straight-up noise. His latest single, this month's "On My Own," is, perhaps, his greatest revenge: a defiant pop-rock track about the joys of independence that swells with a simple, striking kiss-off: "Don't bargain with my worth, 'cause I don't mind to live all on my own." — SD
Georgia - "About Work The Dancefloor"
In a perfect world, Georgia's "About Work The Dancefloor" — a colosseum built out of a moment of sturdy desire — would elicit the same kind of universal gay ecstasy that Robyn's biggest hooks do. Obviously, this is far from a perfect world, but for three and a half minutes, Georgia offers one where pure attraction has the power to eviscerate the barricades of heteronormativity and socioeconomic status. — SM
The Drums - "626 Bedford Avenue"
One of the many, many downsides to Pride Month's gradual corporatization is the emphasis on dignity, self-respect, and, well, 'pride'. I've always inadvertently lived my life closer to stupidity and inanity than to self-respect, and so JVN-style self-empowerment isn't really something I can relate to all that much. A song like "626 Bedford Avenue," then, from The Drums' hugely underrated latest record Brutalism, is perfect for the messy freaks among us, who might relate more to a chorus like "626 Bedford Avenue / I think I regret that night of kissing you / I should have left when / You laughed at my shoes" than to any squeaky clean "yass"-es. — SD
TR/ST - "Iris"
If different colored irises are supposed to take on different meanings, I'm hard pressed to imagine which shade Canadian synth lord Robert Alfons was looking at here. The second track on The Destroyer - 2 rips into a chasm of ambivalence, deepest desire ensnared in a web of mourning. It's a delirious and crushing pursuit, but an unbelievably gorgeous one at that. — SM
Shopping - "Expert Advice"
Constant questioning is mandatory to the queer experience, and it's something that Glasgow-L.A. trio Shopping always keep at the forefront of their work. All of the disco-punk fury of their wildly danceable new record All Or Nothing comes to a head eight tracks deep on "Expert Advice." It's the sound of someone splitting apart due to information overload, a sharp rebuke of "the same old story" and societal norms. Somehow, through all the tight rigidity, they tap into something truly boundless. — SM
Lala Lala and Grapetooth - "Fantasy Movie"
A lot of Lala Lala's 2018 record The Lamb focussed on the unique internal pain of reclaiming your life after a traumatic experience. "Fantasy Movie," her 2019 collaboration with Grapetooth, on the other hand, is about pure, overwhelming infatuation. "Can you tell me what it's like when you walk in a room?" she asks, "What's it like to be so magic that I can sense you walk away?" Simple and starry-eyed, it's an intoxicating fantasy. — SD
Bladee and Ecco2k - "Girls just want to have fun"
Bladee and Ecco2k want it all and then some. "Girls just want to have fun" is a high flying feat of flinching intimacy that elicits all of the sensory tingles of the most insane 5 Gum commercial. "Someone like me, love me, touch me," Ecco begs in skyscraping falsetto, before instantly retracting. "Let me go, you can't hold onto a ghost, fold in on myself I fold so, so close." Drain Gang have never sounded so liberated in their conflicting desires. — SM
Tyler, the Creator - "A Boy Is A Gun*"
Here's one for the petulant gays: a swooning love song that finds Tyler, the Creator trying his best to issue romantic missives, only to dip right into whining. "I want your right near" turns into "You invited me to breakfast, why the fuck your ex here;" "I see you as a 10" devolves into "Stay the fuck away from me." Angry baby representation matters! — SD
Dorian Electra - "Daddy Like"
Over the past few years, Dorian Electra has built something akin their own Marvel cinematic universe, one where they can assume the role of any superhero they need to. On "Daddy Like," they're the big provider, thrusting on top of a massive synthscape and promising your rent is getting paid. It's an audacious move, magnifying the daddy trope with laser-focused vision. But Dorian is sincere enough to make it truly slap. — SM
Tama Gucci - "I Let You (ft. X-Coast)"
Prowling over skittering cyber goth production from X-Coast, rising Miami star Tama Gucci lays down the law: you can fuck with me, but only because I let you. This is doubtlessly one for the subs, but with such domineering and thunderous presence, Tama Gucci warps what it means to be in control. We'll gladly let him. — SM
Rostam - "Bike Dream"
Rostam's 2017 single "Bike Dream" is a beautiful, bittersweet daydream: a fairytale love song about an imagined romance that races through the highs and lows of a relationship in miniature. The small, finely-inscribed details of "Bike Dream" — mentions of reading the New Yorker in bed, a sunbeam hitting the floor — give it a magnetic, lived-in quality that seems to carry through all of Rostam's music. Like most fantasies, "Bike Dream" is almost better than the real thing. — SD
Perfume Genius - "Jason"
"Jason," the baroque highlight of Perfume Genius' Set My Heart On Fire Immediately is warm and weird, the story of a one-night-stand with a straight man. Oddly dispassionate and almost anthropological in its lyricism, "Jason" touches on a common experience with unusual, but welcome, reverence and grandeur. — SD