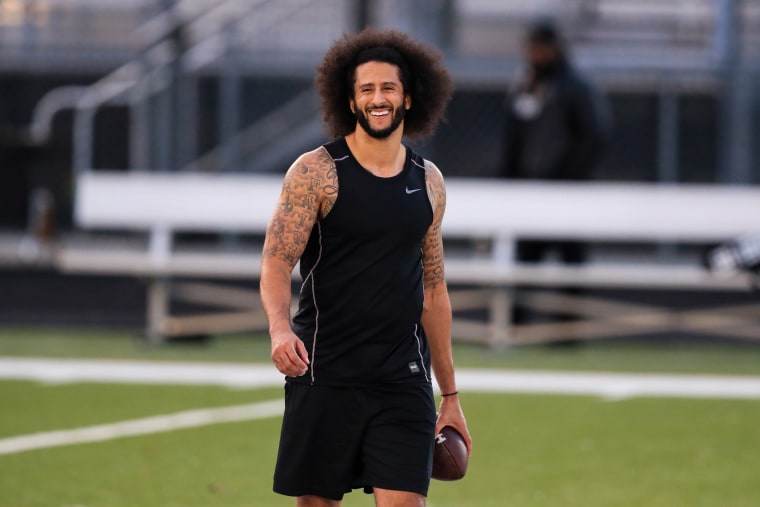 The Walt Disney Company has signed a first-look deal with Colin Kaepernick, the former San Francisco 49ers quarterback and icon of the Black Lives Matter movement, according to The Hollywood Reporter.
The deal between Disney and Kaepernick's Ra Vision Media will foster the creation of fictional and non-fictional entertainment created by Black and Brown artists that focuses on the themes of "race, social injustice, and racial inequality." The productions will air across different Disney platforms including Hulu. An ESPN documentary series about the last five years of Kaepernick's life was announced along with the partnership.
Kaepernick celebrated the deal in a statement: "I am excited to announce this historic partnership with Disney across all of its platforms to elevate Black and Brown directors, creators, storytellers, and producers, and to inspire the youth with compelling and authentic perspectives... I look forward to sharing the docuseries on my life story, in addition to many other culturally impactful projects we are developing."
Disney executive chairman Bob Iger promised "diverse and inclusive content that resonates and matters" in a statement of his own: "Colin's experience gives him a unique perspective on the intersection of sports, culture, and race, which will undoubtedly create compelling stories that will educate, enlighten and entertain."
Colin Kaepernick's football career was cut short after he spearheaded the protest of kneeling during the national anthem before games. The controversy became a political flashpoint in the United States and beyond, and Kaepernick was left without a football team when his contract with San Francisco expired.
NFL Commissioner Roger Goodell recently admitted that the NFL was "wrong" for not listening to the peaceful protests started by Kaepernick. In June, Goodell "encouraged" an NFL team to sign him.