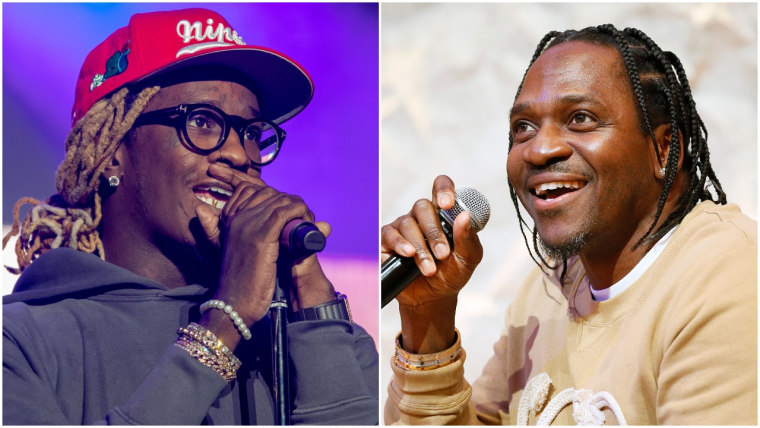 "You know reality bites/It's chess not checkers / Those empty threats only sound good on your records / If the patois is not followed by blocka / It's like marked for death Screwface, without the choppa / Let 'em rush the stage when you made like Sinatra / Only to hide the blade, flyin' back through LaGuardia / I might even buy a home out in Mississauga"
Young Thug addressed the verse in his Instagram story on Monday evening, insisting that he and his label mate Gunna were unaware of the verse's content. "I don't respect the pusha t verse," Thug wrote, "I don't have nun to do with y'all beef and neither does Gunna, and if I knew it was about him I would've made changes on our behalf." Thug, who has faced homophobic accusations for most of his career, concluded his statement with "this rapper shit so gay."
Pusha-T responded on Tuesday morning on his own Instagram story, backing up Thug's claim that he didn't know about the verse's content. "NOBODY knew what the verse was abt," he said. "The label heads that stopped it didn't even know. They ONLY ASSUME because HE TOLD THEM!... And If HE'LL TELL record executives abt rap verses, God only knows what else HE'LL TELL! I don't deal with Police Work, Police Rappers or Police Niggas!!!"
However, Pusha followed up with two more instigating statements aimed at Thug. "You were the last verse added to the song and that's ONLY because I requested YOU!!" The statement concludes with Pusha dismissing Thug's criticism. "I WOULD NEVER look [for] or need YOUR respect for what [it is] I bring to this rap game!!"
The FADER has reached out to representatives for Young Thug and Pusha-T for comment.
"Paranoia" was originally recorded for Pop Smoke's posthumous debut album Shoot For The Stars, Aim For The Moon. The album was released last week and is on track for a No. 1 debut.