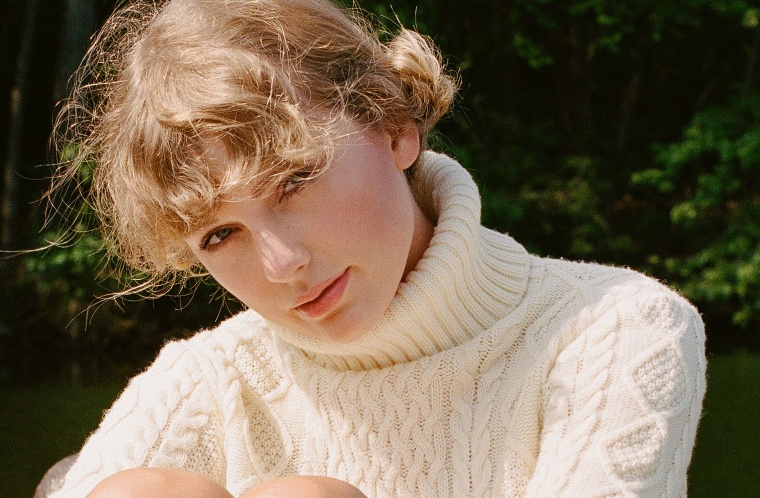 It's a common refrain of university poetry lecturers that every sonnet was either about love, death, or time. The same is true of Taylor Swift songs: although the style, sound and context of her music has changed significantly over the course of her career, she has never wavered from the purity or the overwhelming nature of those three topics. Even on recent records, as her gaze has drifted — towards the toxicity of fame, the casual cruelty of the public eye — she has retained a unique omniscience, a tendency to consider the foibles of her own life in terms of then and now, present and future.
Nearly 15 years in, Swift is still writing songs about those three topics, but her point of view is far from stilted. On Folklore, Swift's eighth album, released this morning with less than a day's notice, the pop megastar recalibrates her field of vision once again, putting forward a collection of grand yarns and candid fables that zoom out to explore the strange, circular nature of time, the way love can wither and flower over a lifetime. By intention, it is less a collection of songs about Taylor Swift than it is a collection of Taylor Swift songs: namechecking the Romantic poets and drawing explicitly from the most esoteric annals of modern American history, Folklore is an endearing attempt on Swift's part to showcase her art on her own terms, outside the realm of tabloid fodder.
Produced and co-written largely by The National's Aaron Dessner, Folklore represents a distinct pivot from the glamorous, aggressive pop that comprised Swift's last three records. Rather than shoot for chart hits, this album finds Swift picking and choosing elements from the pop forms she perfected with Jack Antonoff — her key collaborator since 2014's Grammy-sweeping 1989 — and tying them to strands of modern rock, folk, and adult-contemporary. The result is, much like Swift's masterpieces Red and Lover, a tonal and emotional mish-mash that, while lengthy, still showcases some of the most nourishing songcraft that modern pop has to offer. Loose and low-key in its execution, the musical palette of Folklore is largely simple, clean, and tasteful; with the exception of some delightful excursions into dream pop ("Mirrorball") and Bon Iver-aided minimalism ("Peace"), the arrangements here largely cede space to Swift's lyrics.
In releasing Folklore as a surprise and alluding to fiction in its title, Swift has distanced herself from the forensic analysis that tends to dog her releases, and, from the album's earliest moments, she makes the most of this new freedom. Lead single "Cardigan" is a narrative that seems to span years, vividly evoking two-timings and lost loves over Dessner's deft synthesis of orchestral folk and rhythmic pop, while opener "The 1," a rootsy spin on Lover's palette-cleansing opener "I Forgot That You Existed," conjures images — a bus stop, a Sunday matinee — that Swift hasn't been able to convincingly relate to since her teenage years. (Swift's records used to be filled with clearly fictitious narratives, like the wedding gone awry in "Speak Now" or the camp Shakespearean fantasy of "Love Story.") These songs are epic, aphoristic things, that simply wouldn't work if hampered by the constricting spectre of realism so often forced upon Swift's music (and the music of other women in pop.) Across Folklore, she displays a fascination with the warp and weft of a life, as opposed to just the embroidery — the way a childhood haunt can become a place of romantic significance, or a heated moment can morph into a rose-tinted memory. The instant thrills that came with connecting lyrical details to specific moments in Swift's life may not be a part of Folklore, but the intricacies of these songs more than make up for their absence.
In its most plangent moments, Swift manages to deftly weave the tales of her characters with her own life, in ways alternately casual and crucial. "The Last Great American Dynasty," a tale of ailing WASP heiress Rebekah Harkness, rewrites the "best night ever" fantasy of 2012's similarly-themed "Starlight" into a bittersweet story of weddings that are "a little gauche," parties that are "a little loud," before revealing, in the song's final lines, that Swift now lives in Harkness's former house. Harkness, a real historical figure, was a famed socialite and patron of the arts in her time who died young, her reputation gone up in smoke — a fate Swift herself was partially facing a few years ago. Here, and elsewhere on Folklore, time forms a dizzying loop.
Whereas past albums may have found Swift commenting on her own legacy on a metatextual level — 1989's conception as an album to win the Album of the Year Grammy, for example, or Reputation's doubling as a statement on her public image — Folklore sees her take a different tack. Here, Swift cannot help but consider the impact not of individual career points but of her life as a whole. References to her own funeral abound ("If I'm dead to you, why are you at the wake?" she asks on "My Tears Ricochet"; "All my elegies eulogize me," begins "The Lakes") while some songs dedicate themselves entirely to considering the invisible links that exist across time. "Invisible String," a spare highlight that plays like a hi-gloss remake of Sufjan Stevens' "Should Have Known Better," hinges on eons-apart visits to Nashville's Centennial Park, and wonders in its chorus: "Time, mystical time / Cutting me open, then healing me fine / Were there clues I didn't see?"
Listening to Folklore and taking in its alarming scope of reference, I can't help but think of something Joanna Newsom said around the release of her last album: "When I crossed that line in my mind where I knew I was with the person that I wanted to marry, it was a very heavy thing, because you're inviting death into your life. You know that that's hopefully after many, many, many, many years, but the idea of death stops being abstract, because there is someone you can't bear to lose. When it registers as true, it's like a little shade of grief that comes in when love is its most real version. Then it contains death inside of it, and then that death contains love inside of it.'" Folklore and Newsom's Divers are, of course, fundamentally incomparable records, but I can't help but feel that the former is animated by something akin to the latter's inverted death drive; the romance that bloomed on Lover here manifests as a new awareness of the impact we have on others, the constant spectre of danger that hangs over those we love. The concept recurs on the piano ballad "Epiphany," a vignette from the eyes of a nurse: "Someone's mother holds your hand through plastic now / Doc, I think she's crashing out / Some things you just can't speak about."
This interest in the looping nature of time seems to have significant cachet at this point in pop history: Gaslighter, the long-awaited Chicks (formerly Dixie Chicks) comeback record that was produced by Antonoff and released last week, also zeroes in on shared and repeating histories. The existence of Gaslighter in itself seems to emphasize the theme: when Swift first emerged in the early 2000s, it was hard not to hear the influence of Chicks lead singer Natalie Maines, her voice's yelps and sneers seemingly modelled on Maines's. In turn, nearly 20 years later, The Chicks are mounting their return with a record shaped profoundly by Antonoff, a figure given a platform and credibility by Swift. (On a more minor, perhaps unintentional, level, Folklore seems to display a dialogue with modern indie rock, too, two of its tracks aesthetically and melodically referencing pop-shoegaze upstart Hatchie, who herself appeared to draw influence from Swift on her 2019 song "Her Own Heart.") These cycles of influence exist outside the album's universe, of course, but the way they so serendipitously dovetail almost serves as a proof of concept.
As if to underscore its thesis — that the entrails of Swift's personal life need not be the focus of her records — Folklore's most intimate song is also the one that most listeners won't be able to hear. "The Lakes," the album's romantic, pensive final song, is only available on physical editions of the album. "I'm not cut out for all these cynical clones," Swift sings, "These hunters with cell phones." It's the closest she gets all album to the tell-alls of Lover or Reputation. But the point is clear: Swift's work runs far deeper than tell-alls.