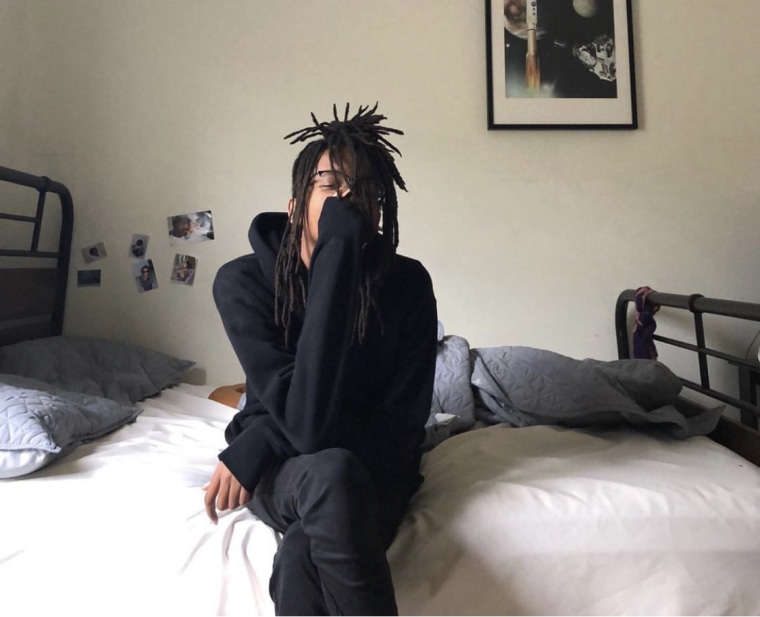 5 Fast Facts is The FADER's quick introductory series to a new musician we're excited about, told to you in their own words. Today's Q&A comes from osquinn (found on streaming services as p4rkr), a 15-year-old transgender rapper/producer/singer whose lovingly crafted, whose hypercolor hip-hop landed her a 100 gecs cosign.
osquinn is p4rkr, p4rkr is osquinn
I go by both, but p4rkr represents my deadname before I came out as trans, sort of like someone I used to be. So, I go by both.
O.G. drill music is the foundation
I grew up listening to Chicago drill. Stuff like Lil Jay, L'A Capone, lots of Young Pappy, Lil Herb (not G Herbo), P Rico... I could go on for days. Most people don't think I'm into that type of music because I'm normally really passive. Other genres of music people don't expect me to like is UK drill and black metal. Weird combination when put together, but in the grand scheme of things, I like all genres of music... except country. That shit's boring.
Artists in her collective and wider scene are constantly pushing her
With the music scene I'm in, I was inspired by them to make the type of music I make now. I discovered an artist in this scene named Saturn around this time last year and I was like "Damn ,I need to step my game up," because before I was making phonk/trap metal type stuff. After awhile, the scene noticed me which was surreal because I looked up to them all. The scene itself is made up of lots of people and collectives. The collectives I can name off the top of my head are slowsilver03(the one I'm in), Bloodhounds, Novagang, Noheart, Helix Tears, Scenegirl Fanclub, and a few more that I can't remember.
Retro-ish video games are the go-to internet remedy
I like to unwind from the internet by putting my phone down to play games on my PS3. Games I play frequently are Battlefield 4, Skyrim, Payday 2, Saints Row 2 & 3, and Skate 2. Usually I'll stay up all night playing these games and listening to music, which calms me down no matter what mood I'm in beforehand.
Her debut album is in the works
I'm currently working on a full-length project with lots of big names listed as features — I wouldn't say big as in mainstream big, but big as in underground big. I'm pulling a few strings and setting some things up so I can officially get started on it.