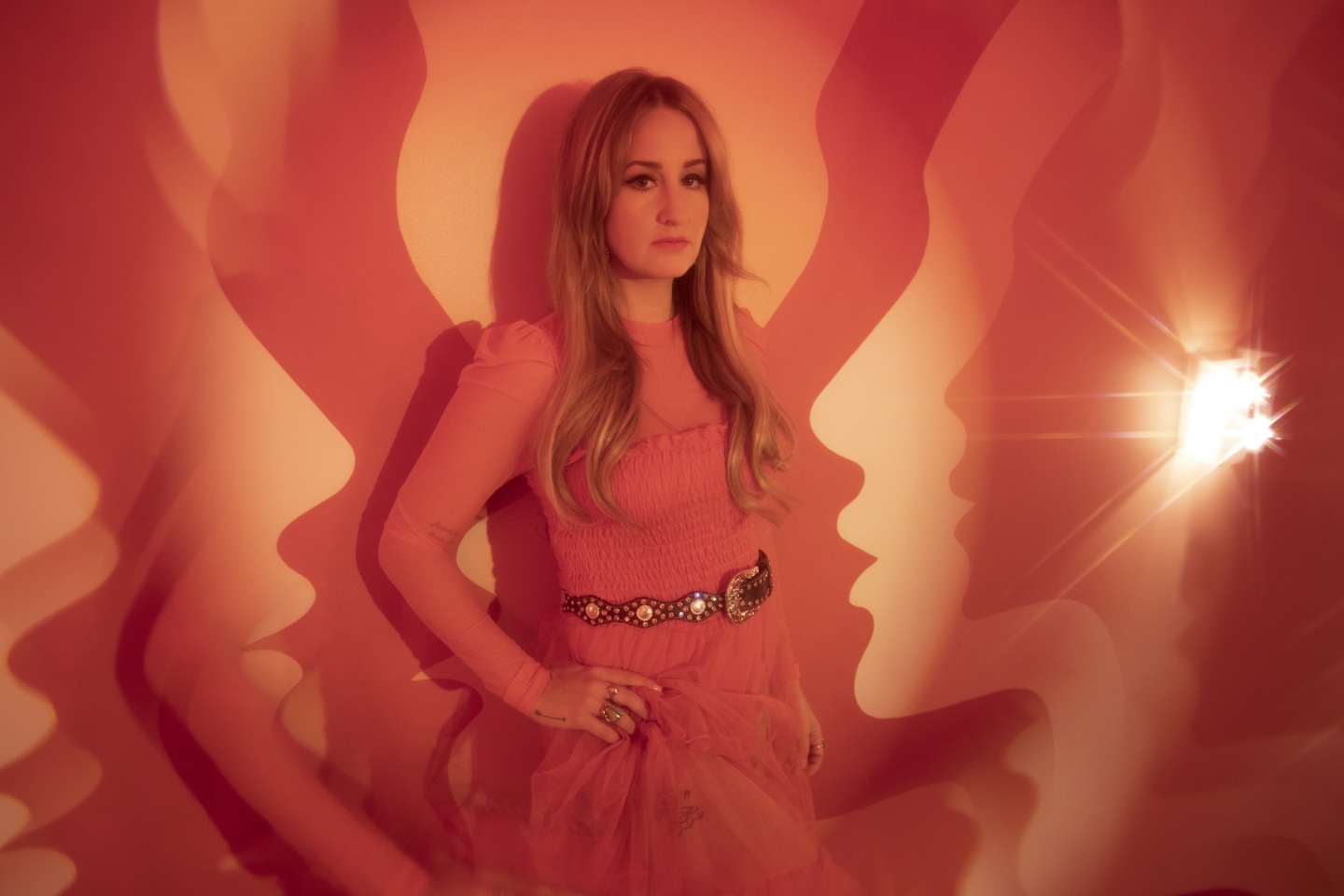 "People love an underdog," Margo Price said over drinks at a Brooklyn bar in March, before lockdown put an end to preparations for her third album, That's How Rumors Get Started. "I've always said that. You know, now I have a home, a nice car, I still don't really feel like any kind of winner."
Though she may not feel like a winner, it's hard not to see her as one. Price was nominated for a Grammy in 2018 for Best New Artist, has garnered fantastic critical acclaim, and has been a pillar of the Nashville music community since her debut album, Midwest Farmer's Daughter, was released in 2016. She has refused to stay silent on the issues and obstacles she and other women in country music experience, and throughout it all has maintained a semi-normal personal life, raising a son and daughter with her husband, musician Jeremy Ivey.
While her previous records tackled the many, often contradictory rules society has for people and women in particular, That's How Rumors Get Started is full of songs about the many intricacies of personal relationships. Produced by Sturgill Simpson, Price's third album (and first since signing for Loma Vista) rocks and rolls over 10 tracks that pull inspiration from southern rock, gospel, and many more genres. Over drinks in the springtime, shortly after the Price had played the legendary Tibet House Benefit at Carnegie Hall, she sat down to talk about the long journey to this album's release, working with Simpson, producing for outlaw country legend Jessi Colter, and the endless struggle to get country radio to recognize women as just as capable of songwriters as men.
The FADER: You've been sitting on this album for a while.

Price: I definitely was not expecting to get pregnant, and it was the surprise that I didn't know I needed. It wasn't a vacation, I'm busier than I've ever been. It just took a while, and then I changed labels and [dealt with] all the contracts and the lawyers, and the business side of things.
What made you switch labels?

I had a two-album deal with Third Man, and it ran its course. Loma Vista seemed like a good opportunity and I wanted this album to be completely different than my first two. It felt good to do everything completely different — to record with a completely different band and to work with different people that have a different outlook.
What brought you to a place where you're talking more about personal relationships in your songs?

Everything that's happened in the last three years, there's been times when it's been a little polarizing and [I realize] how that affects relationships. Some of it's been good, some of it's been really bad. I hadn't really written about love and relationships in a while. I've got the political songs there in the back pocket.
What do you mean by polarizing?

Being in the public, wearing my heart on my sleeve, and being really open about a lot of the skeletons that are in my closet. It affects you. It's not like I'm hounded by paparazzi or anything, but you lose a little bit of your privacy. My husband doesn't always tour with me, so we've ended up spending a lot of time apart, a lot of time away from each other. He's there raising the kid and I'm out on the road. It gets lonely. It gets weird.
Society expects women to take care of the kids.

Price: I have tremendous guilt. As a mother, I want to be with my kids all the time. But that's not healthy either. I've been doing a lot of that. I've been home a ton, and I can be a little bit reclusive when I am there. So this week [on tour] has been good to be able to write and do things, and not just be waking up and nursing a baby all day long and cleaning the house. I think it's good to keep yourself and not to get completely lost in marriage or in having children.
You have to stay yourself, or you'll lose yourself.

Price: I saw my mom do it. I saw her give up everything for her family and, God bless her. She's still helping me right now, she's a really selfless person. I'm more selfish I guess, but I think it's good. I think it's good to show your children that. It's important to let them know that they can follow their dreams and not do everything the conventional way.
I'm fascinated by the way that class is portrayed in country music — we love to talk about people who are down and out and getting beat up by society. You've talked so much about being homeless and not having a steady place to live, to having your own place. How have you navigated that?

There's a lot of things that I feel like I kind of started to kick the door down on, and then people that are more successful take those things and run with them like they were their ideas. I still don't feel like I'm accepted by the Nashville establishment or the country music industry, and that's fine with me. I don't give a fuck about them, and that's why I don't even really want to make a country record, you know? I wanted to make something different. Not that I think the alternative rock [or] whatever industry is gonna be any less sexist, probably.
I'm curious to know what the breakdowns are of radio formats. I think that country music listeners still listen to the radio, and people that listen to other country music don't. So that's why there's still money in it. But I don't like any of the songs on country radio.
It's been so interesting to see CMT's push for equal play lately.

That is very cool, and I think Leslie Fram [SVP at CMT]... we need people like her in there, pushing for it.
Do you feel it's inspired in part by you? You've been talking about this for years.

I wasn't the first one to do it, for sure. The first generation was, like, Loretta. It was a different fight back then, but at the same time it was kind of the same. I don't think I single-handedly started it, but I was definitely talking about the Me Too movement in music on my first record with songs like "This Town Gets Around." That song scared people, a major label didn't want to release it. I went in for a couple meetings up in a fancy highrises down on Music Row. I was like, "You need someone who's going against the grain, and I'm that fucking person."
They didn't put it out; Third Man ended up putting it out. Thank God for them, or I would still be fucking waiting tables. The subject matter scared people. They were like, "You can't say 'it's not who you know / It's who you blow.'" Aside from sexism, there's ageism and there's racism. Establishments [like country music] are rampant with those problems. It's just a very white, straight, male industry, where they're objectifying women. I just don't want any part in it.
Do you feel like going to Loma Vista is your way of breaking out of that Nashville thing?

Third Man couldn't be any more removed from the establishment. I love them, and I will always be family to them. I adore everybody there. I do want to break the Americana glass ceiling — I feel like I've hit this level and I want to do different things. The reason that I wanted to make this record and make it not super country, even though country is the biggest thing now — you got Diplo in a Nudie suit — I wanted to make it because I want to reach other people. I think a lot of people have a stigma with country music and they're not going to listen to it because it's labeled that way. And I've made all sorts of different kinds of music in my life. I mean, I was in a punk band, I was in a rock and roll band, I was in a soul band, I was a folk musician. I'm looking for something that will outlast this country resurgence. Because, ultimately, the bubble is going to break, and it's going to be onto the next thing.
What was it like having Sturgill produce this? How was that relationship?

Price: He's great. I knew him before either of our careers took off. My husband met him working in a grocery store, smoking pot outside in the alley. We would pick on the porch and kind of jam. He approached me about doing my second record, and I told him no because I can be very strong-willed and very hard-headed, and his reputation precedes him. I thought this could ruin our friendship, if we work together and we have fights or something. But he was just so adamant about it: "You let me produce your record, I'll make it sound better than anybody." He was confident as hell and he was the most enthusiastic. And it was amazing. We got along really well and he had great ideas. Like on "Heartless Mind," he stacked three solos in the middle and ran one of them in reverse, and it turned out way more rocking than I could have imagined.
I'm sure people probably wanted a classic country record from him and I working together, but like I said, I think it's good songs, and it's good production, and he had great ideas and helped me build a band. When we did some overdubs with my vocals, he had me do it with no headphones on, and I just sang in the room with the track coming back at me through some speakers, kind of quietly. I just belted, and I feel like I got the best vocal performances I have thus far. A lot of it was due to him.
And you ended up doing some production work of your own — you worked on a new Jessi Colter album.

Yes. It's in the mixing process right now, and her son, Shooter, is mixing it and doing some really psychedelic stuff. She's a legend, and I can't believe I talked my way into it.
Was that one of those moments where you're just like, "Let me in this door"?

Price: Yeah. She heard a cover I was doing of one of her songs, "Why You Been Gone So Long?" This was maybe four or five years ago. She got my number from a friend and called me. I've just been a fan of hers for so long. She is the original Lady Outlaw and nobody else can fill that role. People can say it's other people, but it's fucking Jessi. I ended up going to stay at her house in Arizona. We went out and got some Italian food, drank some wine, came back to her house, and she just started playing me all these new songs that she'd written on her piano. Nobody plays piano like her. I was, like, "Jessi, these songs need to be recorded. These are some of the best songs that I've heard." I talked her into letting me do it. I was like, my band will play on it, and we'll figure out all the money and stuff later. We can do it for super cheap. I was pregnant while I was producing that. I mean, I was like, eight months pregnant.