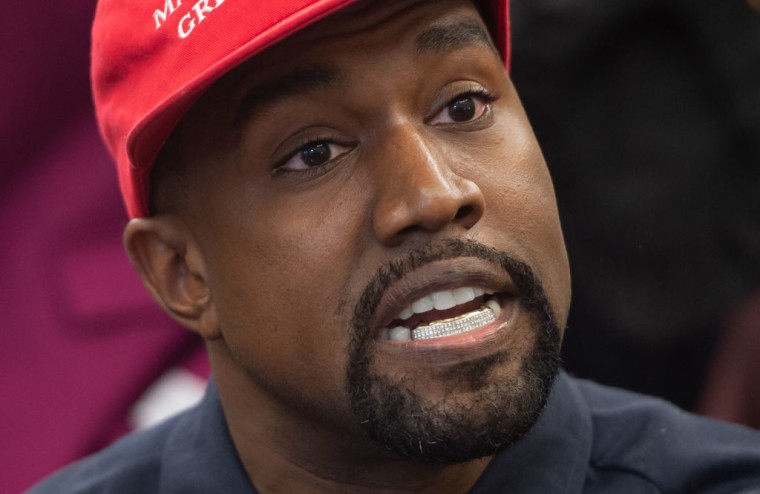 Kanye West's links to GOP politicians has turned up a third name after he officially submitted signatures to appear on the presidential ballot in Wisconsin on Tuesday. VICE News reports that the signatures were dropped off by experienced GOP operative Lane Ruhland. Ruhland declined to confirm her role in West's plans when asked by a reporter working for the publication.
Ruhland is one of a small number of GOP election lawyers in Wisconsin and a former legal counsel for the state Republican Party. She is also representing Trump's re-election campaign in a federal lawsuit against a tiny TV station in the state. That lawsuit involves a Democratic super PAC advert that ran on TV stations in Wisconsin earlier this year.
VICE News states that Ruhland "currently works at Husch Blackwell, a national law firm. Before that, she served in a number of fairly senior roles in Wisconsin GOP circles." These include director of environmental and energy policy at Wisconsin Manufacturers and Commerce, "a GOP-leaning business group that often helps fund Republican candidates."
News of Ruhland's involvement in West's nascent bid to become president follows the revelation that the rapper has also used Chuck Wilton to secure a place on the ballot in Vermont and Gregg Keller in Arkansas. Keller has previously worked with prominent Republican politicians including Mitt Romney while Wilton will serve as a delegate for President Trump at this year's RNC in Charlotte.
In July West was polling at 2% nationally. His new album Donda, scheduled for a July 24 release, has yet to be seen. The rapper and designer's wife, Kim Kardashian, has expressed concern for her husband's mental health following her husband's recent public appearances and statements.