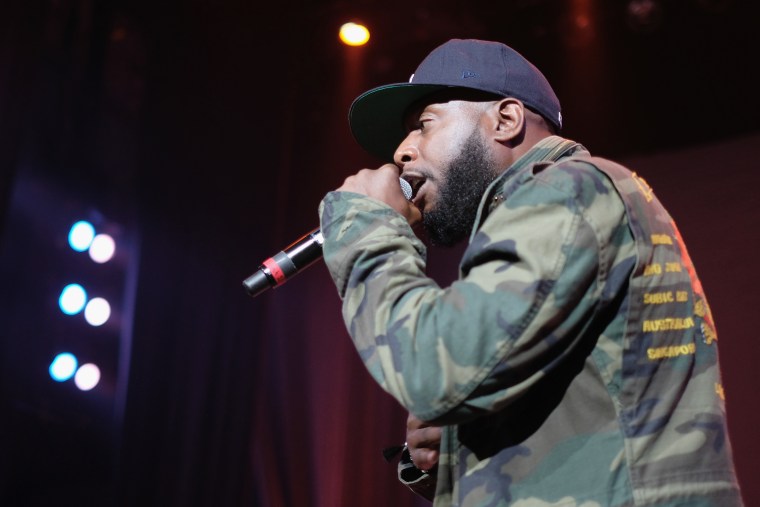 Twitter has confirmed that it has permanently suspended Talib Kweli's account after he spent the better part of July harassing 24-year-old activist Maya Moody.
While the rapper made an announcement with claims to have left the platform on his own to focus on Patreon back on July 23, Twitter has confirmed that his account has been suspended indefinitely. "Twitter's purpose is to serve the public conversation," the platform said in a statement. "Violence, harassment, and other similar types of behavior discourage people from expressing themselves and ultimately diminish the value of global public conversation. Our rules are to ensure all people can participate in the public conversation freely and safely."
For several weeks beginning on July 10, Kweli had continuously tweeted about and to Moody in response to a tweet she made in reference to a larger conversation about colorism. Moody quoted a tweet listing rappers married to Black women, which included Kweli, adding: "Literally almost all of them are married to lightskinned women but that's a conversation for another day."
Kweli would later reply, "Nah let's have this convo today. Are we talking all of my relationships? My children's mother as well? Or are you only talking about who you think I'm currently in a relationship right now? I mean, is any of this really any of your business?"
From there, Kweli went on a weeks-long tirade against Moody, responding to and continuously tagging her to reignite the argument, and posting old tweets (which Moody later indicated were doctored) in an attempt to discredit her stance. He said he would continue until Moody apologized or deleted her account. On at least one of these days, these directed interactions went on nonstop for 12 hours, and Kweli even went as far as accusing her of being aligned with white supremacists. Some Twitter users doxxed Moody in defense of Kweli, posting her and her family's personal information including their places of residence and her stepmother's employer and salary information. Others threatened her with kidnapping, assault, and murder.
Kweli took the discussion to other platforms, making her the topic of an hour-long Instagram Live cast. The rapper defended himself in an email to Jezebel, stating that Moody was lying. "I've never cyber harassed anyone in my life. I responded, on Twitter, to the lies that Maya posted about me," he said. "When you respond to someone who posts lies about you, that is not harassment."