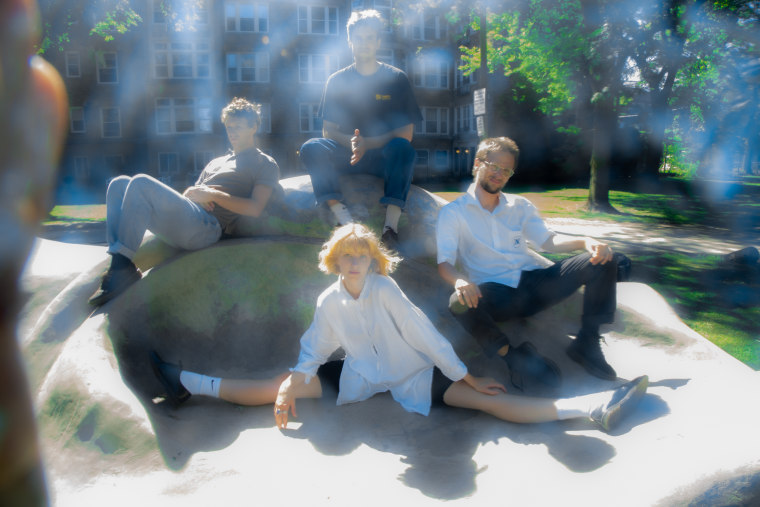 Chicago-via-Madison indie rock four-piece Slow Pulp wrote an album's worth of material last year, while touring across North America with Alex G. But when the band's lead singer, Emily Massey, was diagnosed with Lyme disease and chronic mono, they scrapped the record entirely and started fresh on a set of songs that better reflected her life as she suddenly knew it. As COVID-19 started to shift the world off of its axis and the writing sessions for what would become Moveys — their self-produced debut, due out October 9 via Winspear — wound down, Massey's parents were involved in a serious car accident. So, once again, Massey set about grappling with her new reality in a hurry.
The result of that those final catastrophes is "Falling Apart," premiering at the foot of the page along with a video directed by Jake Lazovick. It's a muted and slow-moving song, underscored by frequent Alex G collaborator Molly Germer's violin, but articulates what's now a familiar feeling for most people — that unexpected but inevitable rush of emotion that comes after weeks of pretending things are going to work out just fine.
"Life felt completely surreal, [and] everything had drastically changed and at such a rapid pace," Massey says of the time the song was written. "It was especially strange because everyone was experiencing the same thing at the same time, but couldn't be physically with each other to support each other. I felt like I couldn't process any emotions I had about the whole ordeal because I had to keep it together to take care of my family. It became easier to stay numb, and create a facade that I was doing ok, than it was to release any type of healthy emotion for a long time. Luckily I did allow myself to have a full on breakdown induced by a stubbed toe and confusion over taxes, sometimes it's the littlest things that finally get you."

Watch the video for "Falling Apart" below and pre-order Moveys here.
Embed: