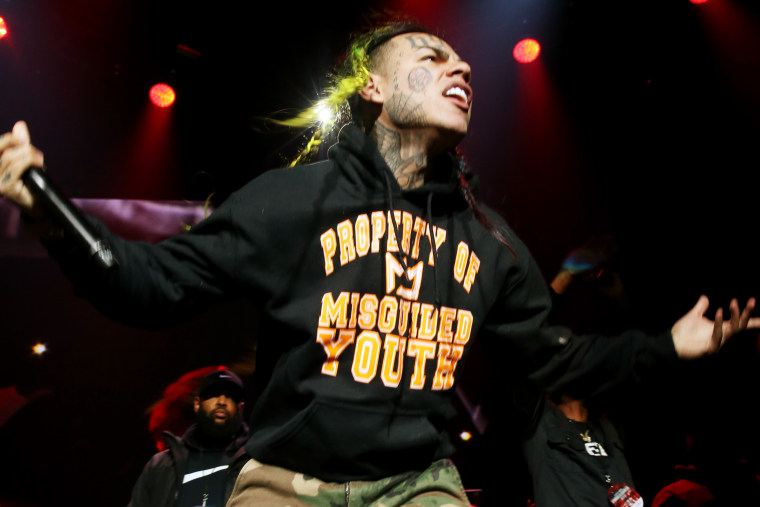 Since his release from prison this year after cooperating with federal authorities, 6ix9ine has become an even more polarizing figure in hip-hop, and has doubled down on his most trollish impulses in order to stay relevant. He's embraced his reputation as a snitch (his upcoming album is titled TattleTales) and devoted himself to remaining a spectacle in the age of algorithms. Of course, 6ix9ine himself may not see it that way: on Wednesday, The New York Times shared a somewhat-revealing and wholly revolting interview with 6ix9ine, wherein the rapper favorably compared himself to Tupac Shakur.
The conversation turns to Shakur when the interviewer, Joe Coscarelli, asks about 6ix9ine's conviction for using a child in a sexual performance. 6ix9ine points to Shakur's own sex abuse conviction in 1995 — and falsely states that Shakur was convicted of rape — in order to exonerate himself: "Is Tupac Shakur loved or hated? Loved! What's the difference between me and Tupac Shakur? I never caught a rape charge — ever."
Coscarelli brings up the respective qualities of Shakur and 6ix9ine's catalogs, and cites Tupac's tendency to "give back through his work." In response, 6ix9ine plays Tupac's song "Troublesome '96" on his phone, and asks the interviewer, "What's the difference between that and [the 2018 6ix9ine song] 'Billy'? 'A born leader, never leave the crib without my heater!' You're telling me he gave back through his art? You're lying to me."
6ix9ine says that the music he creates benefits the world, and its "turn up" quality is dictated by modern trends. "I got to feed what, in 2020, is relevant. I got to feed the masses. There's no difference between me and Tupac Shakur."
Elsewhere, 6ix9ine mercifully declines to comment much on the Black Lives Matter movement, jokingly suggests that he'd vote for Trump, and discusses the allegations of domestic abuse levied against him by his ex-partner Sara Molina. Read the full interview here.