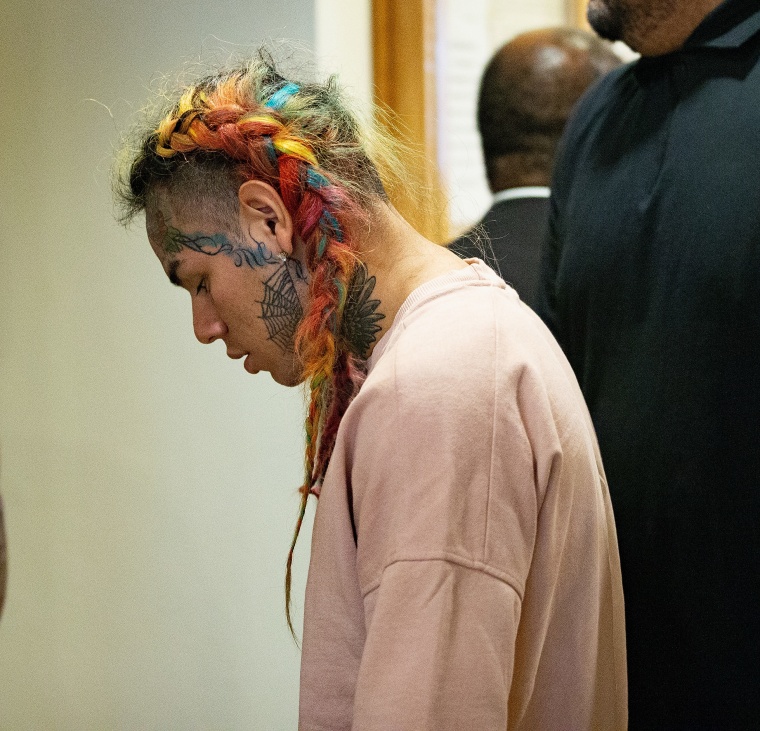 Rapper 6ix9ine is being sued for "child sexual assault, child sexual abuse and infliction of emotional distress," TMZ reports. The new lawsuit stems from a 2015 video in which New York City prosecutors alleged that 6ix9ine can be seen groping a naked 13-year-old and sitting her on his lap. In 2018, 6ix9ine secured a plea deal of four years probation after pleading guilty to one count of Use of a Child in a Sexual Performance.
The unidentified girl from the video, now 18, is reportedly behind the new lawsuit. She claims that she was under the influence of drugs and alcohol when she was sexually assaulted by 6ix9ine associate Tay Milly, who is also named in the lawsuit. The documents allege that three sexually explicit recordings were made and uploaded to the internet.
6ix9ine first spoke publicly about the video in 2017 in an interview with DJ Akademiks and misrepresented its contents and the case against him. He claimed the 13-year-old girl was actually 17 and said he did not touch the girl. In a 2020 interview, he used his 2015 charge to favorably compare himself with Tupac Shakur.
The FADER has reached out to 6ix9ine's representative for comment. In a statement to TMZ, 6ix9ine's attorney Lance Lazzaro said the rapper will "defend the lawsuit vigorously."
If you or someone you know is suffering from sexual abuse, please call RAINN's National Sexual Assault Telephone Hotline at 800.656.HOPE (4673)