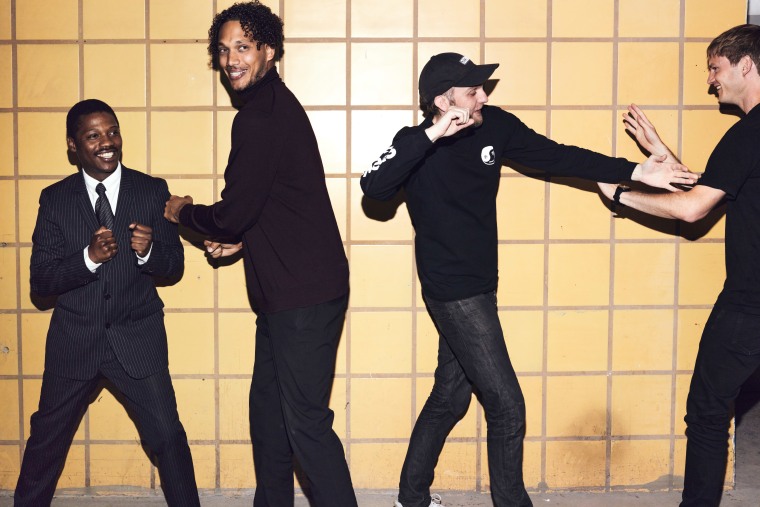 If nothing else, 2020 has proved to be a fruitful time for the disciples of Studio Barnhus, with the Stockholm label consistently generating ample bozo whimsy through quarantine livestreams and releases such as Axel Boman's "Eyes of My Mind," Bella Boo's Once Upon A Passion remix album, and the label's most recent compilation Serenity Now, Insanity Later. Still, the label has kept some surprises up its sleeve, one of them being the self-titled debut album from Off The Meds — the self-proclaimed "techno boy band" of Kamohelo Khoaripe, Carli Löf, Måns Glaeser, and Adrian Lux.
Formed in the wake of a party a few years back, the project fuses shimmering acid house with the guttural, Zulu-Tsotsitaal-English deliverings of Khoaripe for a wholly kinetic experience. Last week, the group unleashed the album's first single, "Karlaplan," a warm and undalating track that Glaeser likens to "George Michael trying to do drum and bass." In the Swim Club-directed music video, which we're premiering here today, that energy is transcribed into a palatial action sequence.
With Lux away at school (they joke that he's either studying Portuguese or gynecology), we caught up with Khoaripe, Löf and Glaeser from their studio in Stockholm to learn a bit more about how Off The Meds came to be. Watch the premiere of "Karlaplan," and read our conversation, below.
How are things going over there in Stockholm?
Glaeser: We're fine. We didn't really apply the rest of the rules that the rest of the world had. We kind of just went on with our lives. We're used to not standing more than two feet away from anyone, anyway! It's in our bloodstream.
I'm glad you guys have maintained some kind of normalcy, but I'm bummed that this album is coming out and we can't go out and dance to it.
Glaeser: You can dance at home! The album's not made for the club. It's made to go on the train.
Löf: That's not true!
Glaeser: I mean, it's not a club album in that it's made for listening. Some albums are just twelve dance tracks, but we gave it some thought.
Kamo, you moved out to Sweden in 2013, right? How did you meet these guys?
Glaeser: I had an afterparty at my house, and both me and Kamo were there. Quite inebriated, I said, 'your voice is amazing and you should make music.' My friend had a studio across the street from where I live, so we called him in the middle of the night. I brought Kamo in and we made our first track, "Gerass," that night. That track was made in one take — we used everything that Kamo laid down, not even editing anything.
Khoaripe: It was a freestyle!
Glaeser: We said, "maybe this was a fluke, let's see what happens if we do another track." That track was "Currency Low," off the first Studio Barnhus compilation. After that, we knew it was a match made in heaven.
At what point did you guys decide that it was time to call this a band?
Khoaripe: Me and Carli had went to the studio and recorded a bunch of tracks together. We emailed the vocals to everyone, and we all decided we should have a name for this. Adrian came up with the name, actually.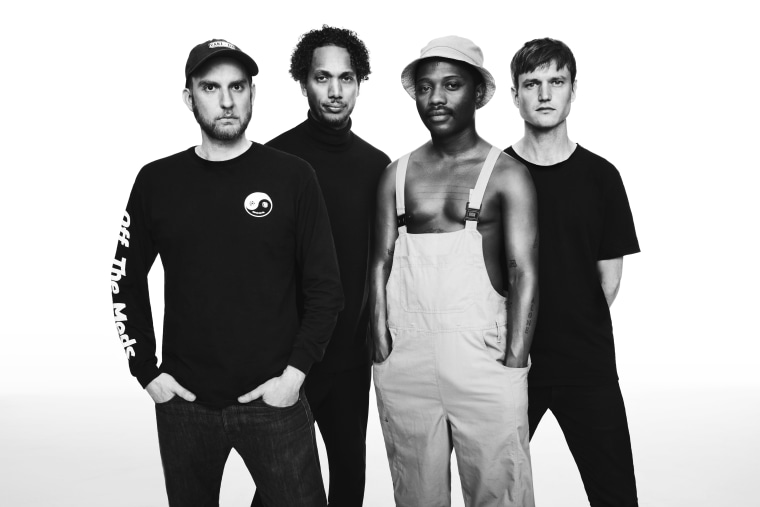 I love that "Karlaplan" is the first single from this record because it has all this restraint — in a good way. The album is so off-the-walls, and this song feels almost like a precursor to all that.
Glaeser: Me and two friends were at another studio fucking around. We came up with a little thing — the chords — and I said, 'this has to be Off The Meds.' We brought it here and finished it in like an hour. It was so fast. We literally farted it out.
Khoaripe: I wasn't there for the whole thing. I came to the studio a week after, and once they played me the song, I didn't even want to do vocals at first because it sounded so good. Hence why I'm apologizing in the lyrics. The hook is Tsotsitaal slang for "big tune."
How did this video come together?
Glaeser: Swim Club asked us if they could make the video, they're so talented.
Löf: They wanted to shoot it on real film. We filmed it in Stockholm at this weird, old church — it's shaped like an octagon, and they use it as an event space for Fashion Week.
Glaeser: We had a Russian sword specialist come in and just got nuts. The story, it just is what it is. It's an homage to the eighties movies we grew up on.
Khoaripe: Like Jean-Claude Van Damme-style. We shot the video back in January.
So you guys have been sitting on this for a minute!
Glaeser: We kind of had to, with the pandemic.
Löf: The beginning of the year was the first plan.
Glaeser: It got kind of delayed, but, you know, it's all good.
Khoaripe: Internal issues. People got dumped, people got divorced, people got married, one guy got shot… I'm just kidding.
Glaeser: But we're all single… you can put that in the magazine.
What do you think people should expect from this album?
Glaeser: Again, for me, it's an album to listen to while taking a train down the coast of the French Riviera.
Löf: For me, it's a club album.
Khoaripe: For me, it's every day. You can go to the bar on Monday and jam it, go to a rave on Friday and play it, go to the cafe on Sunday and play it.

Off The Meds is out November 20 via Studio Barnhus.